New Park Coming to Hainesport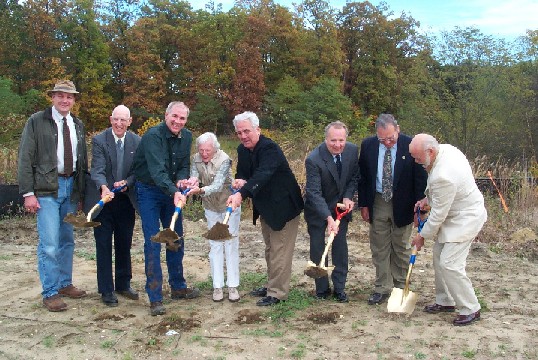 Burlington County officials today broke ground for a new 115-acre park along the Rancocas Creek in Hainesport Township.
The site, called Long Bridge Park, is located off of Route 541 (Mount Holly Bypass) and is scheduled for completion in January. The park will offer wooded trails, picnic facilities, wildlife observation shelters, play areas, and restrooms.
"This rustic, natural park is a wonderful setting for a family outing of hiking, biking, birding, and picnicking. It's a convenient getaway for surrounding populated areas," said Freeholder Director Vincent R. Farias.
Director Farias and Freeholder William S. Haines, Jr. broke ground to start construction, along with county and Hainesport Township officials. "This park is in a great location along the scenic Rancocas and in the central part of the county to provide easy access to some wilderness for County residents," Haines said.
"We are excited to preserve this beautiful wooded property with prime wildlife habitat and access to the Rancocas Creek," Haines said. The park will include two miles of trails, picnic facilities including three shelters, three wildlife observation shelters, two age-appropriate play areas, restrooms and parking. The park will also provide a rest stop on the future county parks system canoe trail. The county has been buying properties along the Rancocas Creek to allow water access and to be able to extend trails from the Delaware eastward to Historic Smithville Park and beyond. Last month, the County opened the new 55-acre Amico Island Park at the mouth of the Rancocas on the Delaware River.
Burlington County purchased the site in 2001 for $4,350,000 using 50 percent county open space funds and 50 percent Green Acres grants. Command Co. Inc. of Medford, NJ was awarded the construction contract to build the passive recreation amenities based on their bid of $1,517,625.00.
The park can be entered from Deacon Road off of Route 537 or Route 541 South between Rancocas Road and Route 537.
For more information, call the Division of Parks at (609) 265-5858.
Pictured are (left to right)
Burlington County Parks Superintendent Jeff Kerchner, Hainesport Councilman Bill Boettcher, Freeholder Bill Haines, Barbara Rich of The Rancocas Conservancy, Freeholder Director Vince Farias, Hainesport Deputy Mayor Bruce MacLachlan, DEP Division of Parks and Forestry Director Jose Fernandez, former DEP Commissioner Bob Shinn of Hainesport.
Article continues below
---
advertisement


---
Author:
Press Release
Archives
---
More football commitments trickling for South Jersey football players
Former Glassboro Star George Johnson Almost Vaulted Team to NFC Title Game
A Running Start
For the Love of the Game
Usual Powers on Top in Wrestling
The South Jersey Fab Four
Lighting the Way
Setting the Stage
Big Words: Twins!
Ready to Grow
Home of the Brave
How Can I Ever Thank You?
One of All-Time Best Coaches Resigns
Walk of Fame: Ella Hampton
Jersey Fresh
More...