Music and Theater at Rowan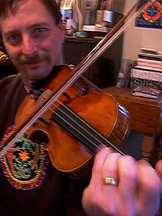 Bringing together the euphonium and the tuba, Rowan University's
EU-TU Quartet
features a premiere composition as part of its concert on Monday, February 14, 2005 at 8pm in Boyd Recital Hall. The varied program includes a new work for tubas and percussion by Rowan faculty member Denis DiBlasio, as well as other original works and diverse music from the Baroque period through the 20th Century. The Quartet is comprised of Tyrone Breuninger and Rick Linn on euphonium and Owen Metcalf and Harry Salotti on tuba. Percussionist Ryan Holquist will join them for this performance. The quartet started a number of years ago as a social gathering among the musicians. The players soon realized there was potential for this group to reach an audience, and so the quartet was formed. Since that time, they have performed in academic settings at a number of colleges and public schools, in addition to their other public appearances. The EU-TU Quartet concert is free and open to the public. Seating is on a first-come, first-served basis. Boyd Recital Hall is located in Wilson Hall on the campus of Rowan University. For directions and additional information, contact the Rowan box office at 856-256-4545.
Each year, a select group of students in Rowan University's Department of Music are chosen as winners in the annual Student Soloist Competition. Representing the university's finest musical talent, they take center stage once again as part of a performance by the Rowan University Orchestra on Tuesday, February 15, 2005 at 8pm. On the program will be clarinetist Michiko Chiba performing Mozart's Clarinet Concerto; soprano Nicole Dietz singing Donizetti's "O mio Fernando" from La Favorita; soprano Crystal DiGiovacchino singing "Norina's Aria" from Donizetti's Don Pasquale; Christina Fish on oboe d'amore performing Bach's Oboe d'amore Concerto; pianist Stanislav Jar playing Prokofiev's Piano Concerto 3; pianist Alexander Timofeev playing Rachmaninoff's Piano Concerto 3; Robert Vieira on violin performing Tchaikovsky's Violin Concerto; and soprano Jennifer Weir singing "Jewel Song" from Gounod's Faust. Under the direction of Salvatore Scarpa, the orchestra performs Aaron Copland's "Four Dance Episodes" from Rodeo in addition to the soloist performances. In addition to conducting Rowan's orchestra, Scarpa is professor of Conducting, Trombone and Theory. He is also Assistant Conductor of the Pennsylvania Ballet, Conductor of the Atlantic Brass Band and Bel Canto Lyric Opera Company. He holds degrees from Eastman School of Music (M.M.) and Rowan University (B.M). Scarpa's career as a trombonist has been focused on the world of jazz, popular music and recording. He has also been a member of the Bay-Atlantic Symphony and performed extensively in classical venues. This concert will take place in Pfleeger Concert Hall, located on the campus of Rowan University. Admission is free and open to the public. For more information, contact the box office at 856-256-4545.
Tennessee Williams' steamy southern story, Orpheus Descending, is brought to the stage in a production by Rowan University's Department of Theatre & Dance and Campus Players, February 24 - 26, at 8pm, February 25 at 10am, and February 27 at 3pm. Director Elizabeth Hostetter points out that while written nearly 50 years ago, "the play still speaks to our time." She notes that Orpheus Descending presents complex and genuinely rendered characters and "invites us to reconsider what it means to be an outsider in a traditional community." In his introductory notes to the 1957 play, Williams writes that Orpheus is, "The tale of a wild -spirited boy who wanders into a conventional community of the South and creates the commotion of a fox in a chicken coop. But beneath that now familiar surface is a play about unanswered questions that haunt the hearts of people..." Williams explores the suppressed yearnings, unrequited love, and quite desperation in his trademark style creating characters that come alive on stage with vivid humanity. Hostetter leads a team of faculty members and artists including: Bart Healy, set design; Tom Fusco, technical direction; and Bob Thorpe, lighting design. The cast includes Lauren McClellan, Angie Jerbase, Meredith Parker, Maria Wilson, Sarah Rigle, Christopher Legentil, Harmony Ingraham, Nick Meo, Peter Comperatore, Michael James Sheehan Jr., Brian Lynch, Tim Rinehart and Ra'Shanna Rasor. Hostetter is an assistant professor in the Department of Theatre & Dance. She formerly taught at Stephen F. Austin State University and as a visiting professor at Randolph-Macon College in Ashland, Virginia. Among her more recent directing and acting projects include Love Letters to Stalin, Emmy Göring Stands by her Man, The Crucible, The Love of the Nightingale, Arms and the Man and For Colored Girls Who Have Considered Suicide/When The Rainbow Is Enuf. Her interest in German theatre earned her a National Endowment for the Humanities Award to study Bertolt Brecht in Berlin. Tohill Theatre is located in Bunce Hall on the Glassboro campus of Rowan University. Tickets are $10, general admission, $5 for students, staff, alumni and seniors. They can be purchased in advance or at the box office on the night of the performance. For reservations or other information call the box office at 856-256-4545.
Article continues below
---
advertisement


---
Author:
Press Release
Archives
---
More football commitments trickling for South Jersey football players
Former Glassboro Star George Johnson Almost Vaulted Team to NFC Title Game
A Running Start
For the Love of the Game
Usual Powers on Top in Wrestling
The South Jersey Fab Four
Lighting the Way
Setting the Stage
Big Words: Twins!
Ready to Grow
Home of the Brave
How Can I Ever Thank You?
One of All-Time Best Coaches Resigns
Walk of Fame: Ella Hampton
Jersey Fresh
More...