A History Lesson on Battleship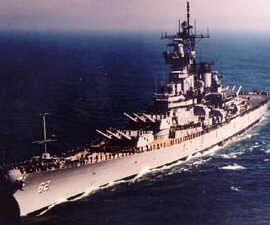 The Battleship New Jersey will host students from the LEAP Academy in Camden, NJ, for a special on-board class on the USS Mason, a navy destroyer that was manned by an all African-American crew during World War II. Several wives of Philadelphia Flyers professional hockey players will participate in the lesson, held on Tuesday, February 12, and join the students on a tour of our nation's most decorated battleship immediately after the class.
African Americans' naval service stretches back to the beginning of the nation. Thousands of black men fought in the American War for Independence, many in the new Continental Navy. In the Civil War, blacks made up a substantial portion of the Union Navy's enlisted personnel -- 30,000 sailors. But in 1919, the Navy closed the door on opportunities for African Americans by halting Navy enlistment. Due to attrition, just 0.55% of the Navy's enlisted forces were black in 1932, while seventy years earlier, during the Civil War, it had been 25%. Why did this happen? One of the Battleship's education lesson plans examines the role of African Americans in the US navy from 1904 to the present day. The focus of the lesson details the historic journey of the USS Mason. Learn how the impact of this crew helped lead to President Truman's Executive Order 9981 that fully integrated the US Armed Forces.
The Battleship New Jersey Museum and Memorial, located on the Camden Waterfront, offers individuals and group tours from 10 am to 3 pm Friday through Monday throughout February. Beginning March 1st, the Battleship will open daily from 9:30 am to 3 pm. The Battleship also offers overnight encampments for families and youth groups. Guests spending the night get dinner and breakfast served from the chow line, a tour of the ship, a ride on the 4D Flight Simulator and the opportunity to sleep in the bunks that the crew of the USS New Jersey. Ask about our Dietz & Watson "Rations" lunch program or one of our combo tour packages, including the Fish N Ship tour, which offers a special combination deal with the Adventure Aquarium. For more information, call 856-966-1652 or visit the Battleship at www.battleshipnewjersey.org.
Article continues below
---
advertisement


---
Author:
Press Release-Battleship New Jersey
Archives
---
More football commitments trickling for South Jersey football players
Former Glassboro Star George Johnson Almost Vaulted Team to NFC Title Game
A Running Start
For the Love of the Game
Usual Powers on Top in Wrestling
The South Jersey Fab Four
Lighting the Way
Setting the Stage
Big Words: Twins!
Ready to Grow
Home of the Brave
How Can I Ever Thank You?
One of All-Time Best Coaches Resigns
Walk of Fame: Ella Hampton
Jersey Fresh
More...