The Key to Recycling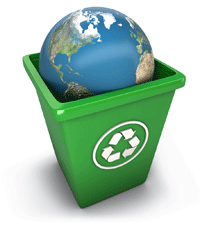 Want to encourage recycling? Put a hole on the lid of recycling bins. It's that simple.
According to a Rutgers University—Camden researcher, a passion to protect the environment doesn't exactly encourage recycling. Adaptations to recycling bin design may be the best motivator for green behavior outside of the home.
Sean Duffy, an assistant professor of psychology at Rutgers–Camden, has found that recycling rates increase by 34% if there is a hole on the lid of public recycling bins. He and colleague Michelle Verges of Indiana University recently published their research in the journal Environment and Behavior.
"People generally discard waste while in the process of doing something else, like talking on the phone. Perhaps the little hole increases the salience of the bin, the visual equivalent of screaming, 'Yo! I'm a recycling bin.' Or maybe there's something fun and child-like about dropping an object through a tiny hole," Duffy speculates.
Prompted by how many people talk about their eco-consciousness, the Rutgers–Camden psychologist rummaged through actual trash cans to discover that most people aren't recycling properly.
"People fail to recycle for a number of reasons, including misinformation and forgetfulness," Duffy notes. "We began noticing a pattern: regardless of the receptacle's label, recycling bins with little holes in the lids contained recyclables and almost nothing else, while those that lacked such holes were basically used as trash cans, even though they were recycling bins."
The heroic hole in question measures about 6 inches in circumference, large enough for bottles made of glass or plastic. In the research team's one-month study they observed 10 waste stations in a five-story academic building. Each station consisted of three container types: commingled glass, plastic, and aluminum; trash; and paper. Not only did the little hole increase recycling rates, but it lowered the amount of contaminants entering the recycling stream by 95%.
"Why it works is unclear, but the important thing is it works, and if you are designing or purchasing new recycling bins, and if you don't like picking through trash, I suggest that buy the one with the little hole."
Duffy directs the Rutgers–Camden Culture, Cognition, and Development Laboratory that explores how children and adults perceive the world. A resident of Philadelphia, Duffy attended the University of Chicago, where he received his bachelor's, master's, and doctoral degrees.
Article continues below
---
advertisement


---
Author:
Press Release--Rutgers-Camden
Archives
---
More football commitments trickling for South Jersey football players
Former Glassboro Star George Johnson Almost Vaulted Team to NFC Title Game
A Running Start
For the Love of the Game
Usual Powers on Top in Wrestling
The South Jersey Fab Four
Lighting the Way
Setting the Stage
Big Words: Twins!
Ready to Grow
Home of the Brave
How Can I Ever Thank You?
One of All-Time Best Coaches Resigns
Walk of Fame: Ella Hampton
Jersey Fresh
More...