Yes You Can!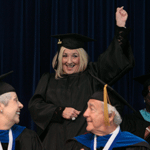 Some people just aren't serious about college when they're fresh out of high school. Some people can't find the time for higher education when the demands of home and work take precedence. And some people never give up on their dream of earning a degree.
All of those statements apply to Candace Pew, who first enrolled at Camden County College when it opened in the fall of 1967 and just graduated with her associate's degree.
"I started my educational journey as a naïve 17-year-old in the 'peace and love' era of the late '60s," recalls Pew, 60, who resides in Westville, N.J. "I didn't complete my studies here at CCC then because I didn't take my college education seriously."
Pew says she focused more on socializing than studying during her first stint at CCC, which consisted of the 1967-68 term. She returned for the 1971-72 school year and did well, but dropped out to get married. She was less than two dozen credits shy of her associate's degree.
The following decades held many things for Pew – marriage, motherhood, employment with the state Department of Labor – but no more college and no degree. And that troubled her.
"I was able to advance in my career with the college credits I did earn and my hard work and dedication to do a good job," she says. "But for years I have been embarrassed that I did not have a degree."
Inspired by her son, Frank, who was working on his bachelor's degree at Neumann University, and convinced by her husband, Alan, that she could, indeed, begin her educational journey anew, she returned to Camden County College in the fall of 2006. Although it was 39 years after she had first stepped foot on the Blackwood Campus, encouragement from an academic advisement session and an encounter that followed assured her that it was the right time for her to finish the education she'd begun so many years before.
"My guidance counselor, Marie Cifelli, showed me I could accomplish the credits needed to graduate even though I worked full-time," Pew recalls. "So I took my course selection over to the Business Office to pay my bill before I lost my nerve, and the gentleman who assisted me said, 'Candace, welcome back! It's been awhile.' I don't know his name, but his words strengthened my determination."
With support – and a bit of pushing, when necessary – from Frank, Alan and her sister, Mar, Pew attended her classes, did her readings, turned in her homework, overcame her test anxiety and completed her papers. In December 2009, she earned the last credit she needed to finish her associate's degree in literature and philosophy. In May, she became one of the 1,737 members of the Class of 2010.
In recognition of her perseverance and her status as a member of the charter class of Camden County College students, she was invited to join the commencement platform party. She marched out with CCC President Raymond Yannuzzi, keynote speaker Professor Jeremy MacInerney of the University of Pennsylvania and the other participating dignitaries and enjoyed an up-close view of all of the proceedings. During the ceremony, she and student speaker Falio Leyba-Martinez presented Outstanding Alumnus Award winner Trymaine Lee with his award medallion.
She reveled in every minute. And she hopes that her story helps others make the choice to complete the education that means so much to them.
"Now I am a proud graduate of CCC," says Pew, who was just promoted to chief of employment and training programs at the Department of Labor and Workforce Development. "If I could sum up this experience in three words, they would be, 'Yes, you can!'"
Article continues below
---
advertisement


---
Author:
Press Release--Camden County College
Archives
---
More football commitments trickling for South Jersey football players
Former Glassboro Star George Johnson Almost Vaulted Team to NFC Title Game
A Running Start
For the Love of the Game
Usual Powers on Top in Wrestling
The South Jersey Fab Four
Lighting the Way
Setting the Stage
Big Words: Twins!
Ready to Grow
Home of the Brave
How Can I Ever Thank You?
One of All-Time Best Coaches Resigns
Walk of Fame: Ella Hampton
Jersey Fresh
More...