Backyard Habitat Workshops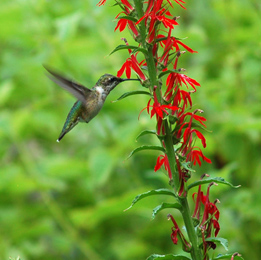 No matter where you live, or how small your backyard, your outdoor space can be transformed into a haven for showy hummingbirds, colorful butterflies, nesting and wintering birds, caterpillars and much more.
Let backyard habitat expert Patricia Sutton show you how in a series of five "Gardening for Wildlife Workshops" held at the Nature Center of Cape May this March and April. These workshops are designed for those who wish to create their own backyard paradise for birds, butterflies and many other species of wildlife. Sutton is the author of the New Jersey Audubon booklet, "Backyard Habitat for Birds, a Guide for Landowners and Communities in New Jersey," along with numerous other nature books.
The first workshop, held on Saturday, March 5, and entitled "How to Create a Backyard Habitat for Wildlife," provides the foundation for the workshop series. "In the 'Go Green' movement," Sutton explains, "all too often yards are forgotten and, in fact, many yards are the antithesis of green." The first and most important step is to "Go Native," she asserts, to favor native plants and wildlife-friendly practices. Sutton will showcase native trees, shrubs, vines, wildflowers and even weeds that are most beneficial to birds and other wildlife.
From the perspective of a life-long naturalist intimate with the workings of the natural world, Sutton will share countless common-sense garden maintenance techniques that will help property owners avoid common practices that actually harm rather than benefit nesting, migratory, and wintering birds, as well as frogs and toads, butterflies, dragonflies, and other beneficial insects.
Sutton's second workshop, "How to Create a Butterfly & Hummingbird Garden," will follow the next weekend on Saturday, March 12. Pat covers the basic how-to's for creating a butterfly and hummingbird-friendly garden and yard. It is often as simply as planting Sweet pepperbush over Crape myrtle or Joe-pye weed, Purple coneflower, New England aster, and goldenrod rather than marigolds. Double the size of your parsley patch and be amazed by all the Black swallowtails it will attract. Sutton will explain how simple it is to attract hummingbirds, which can easily fill your gardens from late April through early October. The program features wildlife gardens in South Jersey that have successfully transformed typical backyards into dazzling gardens ablaze and alive with butterflies and hummingbirds.
Saturday, March 19th's workshop is "How to Create a Wildflower Meadow & Wildlife Pond." Learn how to enhance your backyard landscaping for wildlife by creating a wildflower meadow. Clouds of butterflies and nesting bluebirds can still be found where meadows abound. If you (or your corporate headquarters) have more lawn than you need and mowing gobbles up precious time and expensive gas, consider turning some of this lawn into a wildflower meadow. Even a small meadow will make a big difference to wildlife.
Frogs, toads, and dragonflies all need freshwater ponds for egg laying to create future generations. Even a tiny pond will attract and support them. Learn what a true wildlife pond is and how simple it is to create – with no need for running water, filters, fish, and all the fuss.
Monarch butterflies will be the focus of March 26th's workshop, "Milkweeds for Monarchs." Monarch butterflies make the most amazing migration of any insect in the world. Join Pat to learn all about their life cycle and their journey from Mexico to the U.S. and Canada and back to Mexico for the winter months. Their future depends on healthy milkweed stands here in the U.S. where their numbers multiply (spring through fall). There are many different and beautiful native milkweeds that you can plant in your own or in community gardens to help create a path of milkweed from Mexico to Canada that will benefit Monarchs. Plant it and they will come!
Sutton's final workshop, while humorously titled "Battlestar Backyardia – Battling the Alien Invaders," tackles a serious gardening issue. The April 2nd workshop will teach you how to deal with invasive species. Many are not aware of the damage wreaked by the planting of non-native, invasive problem plants. In a very short while these plants can invade the neighbor's yard, properties down the street and even nearby preserves. The invasion of non-natives has taken a big toll on butterflies and moths (that need native plants to lay their eggs upon) and insect-eating birds looking for butterfly and moth caterpillars. Sadly, most nurseries contribute heavily to this problem by offering for sale many known culprits, plants outlawed in surrounding states as well as plants that the State of New Jersey is spending enormous amounts of money to control and remove from natural areas. This program will showcase key invasive plants, help you learn how to identify them, and offer suggestions on how to control or remove these plants if they find their way into your garden.
All workshops take place from 10:00 a.m. to 3:00 p.m. at the Nature Center of Cape May, located at 1600 Delaware Ave., in Cape May. Each will include a question-and-answer session and a visit to a nearby backyard habitat. During a working lunch, participants will have the opportunity to discuss their own gardens.
The program fee for each workshop is $45, reduced to $35 for New Jersey Audubon members. Sign up for all five for a discounted rate of $125 members and $150 nonmembers.
Attendance is limited to 30 participants per session, so call 609-898-8848 right away to reserve your spot.
Photo Caption: A Ruby-throated hummingbird sips nectar from a Cardinal flower. Upcoming gardening for wildlife workshops taught by Pat Sutton at the Nature Center of Cape May will show gardeners how to achieve this in their own backyards. Photo by Patricia Sutton.
Article continues below
---
advertisement


---
Author:
Press Release--Nature Center of Cape May
Archives
---
Family Fun
Live from the White House
Collingswood
Stepping Up to the Plate
Local Story
Lingering Questions
Still Fresh
Under the South Jersey Sun
Riverside Retreat
Against All Odds
Like a Girl
Going Her Own Way
Fall In
Aiming to Please
Walk of Fame: Natalie Hope Sommermann
More...