The Foundation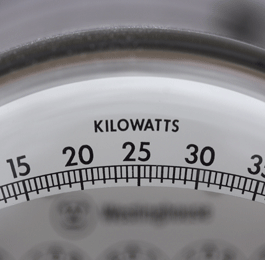 …From the pages of House & Home…
Educational Elements
What to know about ... Summer energy efficiency
With summer in full swing, and the air conditioner constantly on, most of us have probably taken a look at our electric bill recently and wondered what we could do to lower it. While turning the air conditioning to a higher temperature is always an option, during especially hot days that option hardly seems viable. Here are some other alternatives you can consider to help make your home more energy efficient this summer:
• Change your filters: Some homeowners could not tell you the last time the filters were changed on their heating/ air conditioning units, a fact that can seriously detract from the efficiency of your units.
• Close the curtains: Sure, that summer sunshine provides a cheery atmosphere to your home, but it also heats up every room it enters, making your AC have to work that much harder to cool things down. Investing in shades specially designed to block light and sound may be costly up front, but you'll save on your electric bill in the long run.
• Check for cracks: This is important not only for summer-time efficiency but winter as well; you don't want what's outside getting inside, no matter the temperature. Take the time to inspect the windows, doors and other areas that may be prone to nooks and crannies that allow heat to get in, and fill them with a quality chaulk or apply weatherstripping.
Green Thumb
What's growing on us this month … Climbing plants
Plants and flowers that attach to and climb up fences, walls, and even decks and pergolas can be attractive ways to enhance your outdoor environment. Here are some of our favorites to consider to bring your vertical spaces to life:
• Wisteria: Blooming during the spring in red, blue, purple or white, wisteria can grow up to 10 feet or more in a year. It drapes beautifully over porches and pergolas with a sweet vanilla-like scent.
• Golden Trumpet: Also called allamanda, the golden trumpet is grown in tropical gardens during the summer and fall. It is native to South and Central America, and its moist, yellow petals require plenty of sunlight and water.
• Morning Glory: Hence its name, this sweet-scented vine blooms early in the morning in purple, red, blue, pink or white. It can grow up to 10 feet within one growing season and complements walls and fences well.
• Golden Hop: This vine produces bronze-colored leaves that change to a bright green over the spring, summer and fall seasons. They quickly mount homes and fences and can grow 15-25 feet high.
Simplify: Tips & products to de-clutter and de-stress
Getting your shed together
Now that mowing, weeding and watering is a weekly landscaping chore, it's probably a good time to get your shed into shape. A well-organized shed will make the tasks at hand go much more smoothly. You won't waste time looking for your clippers, or dragging bags of mulch and potting soil out of the way to reach the weedwacker. Here are a few tips to organize this seasonal storage spot:
• A clean slate: Empty the shed of its contents, plug in the leaf blower and blow out cobwebs and dead leaves. Since it's still early in the season, it's not too late to take stock of what you need to keep vs. what needs to be tossed. Putting only the essentials back into the shed will cut down on clutter.
• Say yes to shelving: Sheds are nothing more than a shell to keep tools dry and out of sight. Shelves will add function, allowing you to organize items like watering cans, gloves, weed killer or plant food, keeping them up off the ground where they are sure to get buried by bigger items.
• On the hook: Avoid tripping on hoses or stubbing your toe on a shovel by hanging them up with hooks or handles. Tall tools can be put upright and kept from toppling over and smaller hand tools can hang within easy reach.
Covet: Must-have products for the home
Koubachi Wi-Fi Plant Sensor
Do you have bad luck keeping houseplants alive? Do you struggle to know how much water or sunlight a specific flower needs? With Koubachi, a new and futuristic plant sensor run by Wi-Fi connection, you will be able to determine exactly how you should take care of your plants—indoors or outdoors. Put the sensor into the flower pot with your plant, and it will measure the moisture of the soil as well as the energy level of the sunlight before giving you advice—sent directly to your smartphone or tablet—as to what you should do next. This device is available on SmartHome.com for $99.
Who Knew? Unusual uses for common products
Eggshells
After a big Sunday breakfast, save those eggshells for any of these interesting uses:
• Soil fertilization: Eggshells are rich in calcium and other minerals that will add nutrients to your soil. Crush them up and mix them in with compost or potting soil.
• Fending off bugs: Scattering eggshells around vegetables and flowers will deter slugs and snails, and the smell will keep deer away.
• Improving your cup of Joe: Eggshells can cut the bitter taste of coffee. Add crushed shells to the coffee grounds before brewing for a better-tasting caffeine jolt.
Kids Corner: Liven up the little spaces
Filament Cinzia Kids Rug
Active young ones will feel like they are playing outdoors while in their room when they look down at their Filament Cinzia Kids Rug. Made of 100 percent premium-quality wool, this durable—yet soft—7-foot-wide rug creates the illusion that a hopscotch grid was drawn from chalk on an asphalt ground outside. Looking at the design, it tempts your child to throw a stone onto the grid before hopping and skipping into a room full of outdoorsy adventures. (AllModern.com, $280)
Bookmark: Add this to your bookshelf
Making a House Your Home
If you know any newlyweds or someone living on their own for the first time, this book from interiors writer and stylist Clare Nolan is an ideal gift to help them feel at home in their new space. With the help of over 300 photographs, Nolan encourages homeowners to collect inspirational photos and create a moodboard, then pieces together practical and visually appealing solutions—like hanging artwork or combining an office and bedroom—for every room in the home. (Kyle Books, June 2014, $25.85, Amazon.com)
Home Front
Brighten Up
Nothing says cheerful like the color yellow. Think smiley faces and sunflowers. With the sun shining more often, we felt inspired by this beaming color, which boosts optimism and enhances concentration. No matter the shade, adding yellow elements to your décor will grab people's attention and bring a smile to their face.
Star Bright
Pillows are a surefire way to add color to your home. Thrown on sofas or chairs, they add comfort and style effortlessly. Trina Turk's Mojave throw pillow features a geometric star print in a vibrant, modern yellow color. Made of 100 percent linen and filled with a 95/5 feather-down insert, this pillow exudes designer Turk's signature "California cool" fashion sense, giving your home the energy it was missing. Available for $130 at ZincDoor.com.
Shine a Light
This Lemon Zest Bold Stripe Ovo Floor Lamp elevates what floor lamps should be. Hand-crafted by artisans in California, this Color + Plus lamp has a stripe pattern giclee-printed translucent shade, brushed steel finish stand, and measures 60 inches tall. Even at night, this lamp will bring a burst of color and light to any room it's placed in. Available at Lamps-Plus.com for $250.
Pull a Fast One
Think of all the knobs and handles in your home: kitchen cabinets, bathroom drawers, bedroom dressers, office desk. Which of these could benefit from a quick facelift? Wherever you decide, don't miss out on these Preppy Knobs, made of ceramic with a brass stem and nickel-plated finish. The yellow and white stripe pattern is subtle but with just enough pop to make them worthy of replacing those plain old knobs you have now. These yellow Preppy Knobs are available for $9 each at PotteryBarn.com.
Don't Be a Square
When thinking of places to add a burst of color, why not look down? An area rug is an easy piece that can be updated each season, and the carpet squares from FLOR are the ideal way to customize the floor space available. With patterns like Chenille Charade in a maize color, or Ambrosia in marigold, the squares' rich texture and functionality will stand up to foot traffic without sacrificing looks. These carpet squares are made in the U.S., interchangeable, and available at FLOR.com for $18 to $22 a square.
Published (and copyrighted) in House & Home, Volume 14, Issue 12 (June, 2014).
For more info on House & Home magazine, click here.
To subscribe to House & Home magazine, click here.
To advertise in House & Home magazine, call 610-272-3120.
Article continues below
---
advertisement


---
Author:
Mylin Batipps, Edited by Liz Hunter
Archives
---
Family Fun
Live from the White House
Collingswood
Stepping Up to the Plate
Local Story
Lingering Questions
Still Fresh
Under the South Jersey Sun
Riverside Retreat
Against All Odds
Like a Girl
Going Her Own Way
Fall In
Aiming to Please
Walk of Fame: Natalie Hope Sommermann
More...