Shipshape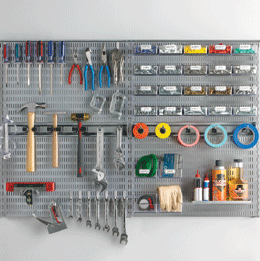 …From the pages of House & Home…
Everything you need to know to when it comes to organizing your garage
With the warm weather finally here to stay, most of us have found ourselves spending more time outside. From soccer games and bicycling trips to gardening and landscaping, there's a lot that can be done outside to enjoy the sunshine. Of course, most outdoor activities require equipment to be enjoyed properly, and unless you have a closet or shed designated for storage, it's likely everything ends up in the garage, along with all the other necessities for the various seasons.
With all that we store in our garages, it's no wonder that most of us long for a garage makeover. Not surprisingly, "If only" seems to be a common catch phrase when people are discussing their garages—"If only I had one more cabinet in the corner" or "If only I could actually park my car in here," for example. If you think your garage is beyond being organized, the good news is there are ways for you to get back on track. With the help from our experts, your garage can go from chaos to coordinated in no time at all.
Purge
No one likes throwing items away that could potentially be useful down the road, but if you haven't used something for an extended period of time, it may be worthwhile to get rid of it and make space for other items, says Steve Chaloult, owner of Floorguard, which serves Delaware, New Jersey and Pennsylvania. "If you haven't used something in a year, you probably can put it away somewhere, like in the attic," he says. "If you haven't used it in three to five years, it's probably time for a yard sale. It's all about limiting clutter through being realistic. It's the mindset of, if you're going to bring something new in, then you let something go."
Nina Smith, organization expert for The Container Store in King of Prussia, Pa., says you also need to consider what items you may be storing in your garage that don't belong there in the first place. "Keep in mind there are several items you should generally avoid storing in a garage due to varying weather conditions like heat and humidity," she says. "These include important documents like birth certificates, a marriage license or school and medical records, as well as photos, handmade crafts, delicate clothing like a wedding gown or sentimental baby clothing, food and candles."
Water-based latex paints should also not be stored in the garage, because they are susceptible to a freeze cycle, where they will freeze and thaw and not look the same as they used to, says Terry Kenny, owner of Garage Concepts of New Jersey in Millville, N.J. Kenny adds that items you brought from your home to utilize in the garage, like old kitchen cabinets, should also probably be removed.
"A lot of times homeowners will take old fixtures or kitchen cabinets and move them outside to add to the garage, but a lot of these items are not meant to be out in the weather," he says. "While they're protected from rain, they're still going to deal with damp, humidity and cold. A lot of these types of fixtures were not meant for garages. They're also really not that useful, and in the long term they'll end up not looking that well."
Prioritize
Once you've gotten rid of whatever you may not need anymore, it's time to take stock of what you're left with and what is really important to you. Having your holiday decorations out all the time probably isn't a priority, although being able to actually park your car in the garage is. Also realize that what you think is important today may not be as important five years from now.
"For most families, their needs are not going to be static," says Les Hutton, owner of GarageTek of North and Central Jersey. "If it's a family that has kids, the kids are going to grow, and likely play sports. Your needs are going to change and evolve over time. You can't just assume that what I need today is what I'm going to need down the road. Try to incorporate flexibility."
Hutton adds homeowners need to consider whether they're looking for their garage to be aesthetically pleasing or organized and functional. "Very often, the garage is the primary entry and egress, not only for the family but for friends and family and guests as well," he says. "You can go from one extreme that is strictly functionality, or in this case, you want it to look good when people see it."
Being honest about what you want out of your garage and what items in there are important to you will help with the next phase of the makeover, which is planning for the storage you're going to add.
Plan
"It may seem like an obvious statement, but try to store items near where they will be used, and keep items that are used often in really easy, accessible spots," says Joanne Landis, a representative from Closet City in Montgomeryville, Pa. "For instance, if you're an avid bicyclist, having to move the car each time you want to get the bike out because it's hanging on the very inside wall will get old really quickly. A little bit of planning in advance of rearranging your garage will go a long way in making the most of your space."
For those items that you don't need daily, Paul Greskovoch, owner of Garage Craft Interiors in Warminster, Pa. suggests storage hoists. "Basically it's a 4-foot-by-4-foot platform that is attached to an awning crank that can get items off the floor—seasonal things like cushions from lawn furniture," he says. "There are also ladder hoists that allow you to take large ladders and store them flat against the ceiling rather than against the wall."
For items that are used daily, Greskovoch says craft wall, or slat wall, is popular. "It allows you, as you put it on the surface of the walls, to go not only east and west but also north and south so you can take a lot of items and put them into a small piece of geography."
As Landis points out, however, "someone who is not inclined to hang up tools will not benefit from a slat wall full of hooks and racks; drawer units may be a better solution for that person." She also says shelving may be helpful. "Open shelves are perfect for people who tend to forget what they have or where they've put it—which also works well if children will be storing their own gear. Shelves are easier for kids to load and unload their stuff, and there's no worry that fingers are getting pinched in cabinet doors," she says. "However, for someone who has a collection of hand tools that they use on a regular basis, the hooks on a slat wall prove to be handy and time saving."
As a general rule, Smith says, "When it comes to storage in a garage, typically, 80 percent of items can be kept on shelving—the other 20 percent, such as small handled tools, gardening helpers and sports gear, can generally be stored on a hook. We suggest using a combination of shelving, drawers and hooks to keep everything organized and easily accessible."
Storage options to avoid are cardboard boxes, which can get wet easily and fall apart due to bug infestations, according to Landis, as well as big, tall, deep cabinets in which items can get lost, adds Hutton. "What ends up happening if it's just a big box is all the stuff just gets thrown inside, and initially it's out of sight, but then you open the door and everything falls out. It's just a total jumble inside. If you've thrown skis and golf clubs in there, it's going to be a problem when you want it. It's better to have a specialized fixture for skis, a bike, helmets, bats and balls."
Because your garage can be such an important storage space, Chaloult suggests it may be worthwhile to hire someone to help you with the task of organizing it. "The wall systems people can purchase at big box stores often don't do what people need them to, or it can't handle the loads they want it to," he says. "Doing it yourself is always a perceived money-saver, but in actuality you may end up costing yourself a whole lot more time and money than having someone put something in there that will last you 20 years."
Put it to use
Once you've organized your garage, make sure to keep it that way. The saying, "A place for everything and everything in its place," is particularly applicable here, especially when you have limited space. "When you're done using an item, whether it's a tool or toy, put it back where it belongs—now—before you start another project or go in the house," says Landis. "Tossing it on the floor, work bench or, worse yet, on a pile somewhere, will turn your tidy garage into a cluttered eyesore quickly. You've worked hard to get the garage all shipshape, and this simple act of putting things away when you're done will be a major factor in keeping it that way."
Smith also says that going through every now and then and getting rid of items you're no longer using is important. "As with any area of the home, it's important to continually edit your space," she says. "Keep a 'donate' bin handy to encourage everyone to clear through the items they are no longer using on a regular basis."
RESOURCES
Closet City
Montgomeryville, Pa.
(215) 855-4400
ClosetCity.com
Floorguard
Serving Delaware, New Jersey and Pennsylvania
(888) 836-4698
Floorguard.com
Garage Concepts of New Jersey
Millville, N.J.
(888) 581-8170
GarageConceptsNJ.com
Garage Craft Interiors
Warminster, Pa.
(215) 443-0458
GarageCraftInteriors.com
GarageTek of North and Central Jersey
Serving North and Central Jersey
(908) 580-0077
GarageTekNCNJ.net
The Container Store
King Of Prussia, Pa.
(484) 235-5825
ContainerStore.com
Published (and copyrighted) in House & Home, Volume 14, Issue 12 (June, 2014).
For more info on House & Home magazine, click here.
To subscribe to House & Home magazine, click here.
To advertise in House & Home magazine, call 610-272-3120.
Article continues below
---
advertisement


---
Author:
Amanda Hamm Hengel
Archives
---
Family Fun
Live from the White House
Collingswood
Stepping Up to the Plate
Local Story
Lingering Questions
Still Fresh
Under the South Jersey Sun
Riverside Retreat
Against All Odds
Like a Girl
Going Her Own Way
Fall In
Aiming to Please
Walk of Fame: Natalie Hope Sommermann
More...