Backyard Oasis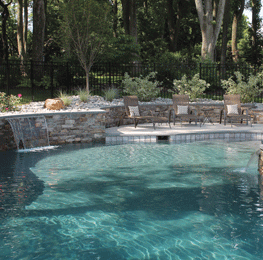 …From the pages of House & Home…
Create a one-of-a-kind aquatic resort.
Deciding the size, shape and style of your pool is just the beginning. Adding special features and designer touches will transform your underwater oasis into something uniquely yours—whether you dream of an unassuming elegant retreat or a backyard that resembles a tropical paradise.
Before you dive into constructing the pool of your dreams, call in the professionals to help bring your dream pool to life.
Fashionable features
One of the most popular features homeowners are choosing to add to both new and existing pools is a sun shelf, which is a lounging area that includes chairs and an umbrella in shallow water about 4 to 18 inches deep, notes Mike McCool, general manager of Swim-Mor Pools in Mount Ephraim, N.J.
Jeff Renneisen, director of sales at Aqua Bello Designs in Plumsteadville, Pa., agrees and says sun shelves are ideal for all ages.
"Young children like to play in this area, which is similar to a baby pool, and adults enjoy cooling off without fully committing to jumping in the pool," he explains.
Natural elements, such as stone tile and decking, are also popular pool features, says Margaret Augustyn O'Donnell, owner of Waterscapes, A Clear Difference, in Cinnaminson, N.J. O'Donnell believes a quality-built custom pool that integrates the full yard and home into the design transforms the entire estate, thus increasing its value as a whole.
"Trendy features can quickly look outdated, not integrate well with the backyard and can decrease the value of the property," she reveals.
The topography of the yard can lend itself to beautiful vanishing edges or walls. Often an overflow trough can be a feature of its own, and Waterscapes has created unique spillways, fountains and detailed treatment of back walls, allowing for a lower patio and giving new dimension to a sometimes forgotten area, adds O'Donnell.
The 'finished' product
When asked what one feature he'd recommend adding to an existing pool to make it stand out, Renneisen advises homeowners to upgrade their plaster to a quartz or pebble finish.
"The new plasters today offer a long-time warranty and also come in darker finish colors which will help out greatly with your pool water's heat retention. This is a great investment and it looks beautiful. The choices vary from a small pebble finish to a smooth, polished quartz," he remarks.
McCool says quartz and pebble finishes offer a homeowner the best bang for their buck, between the brilliance of the colors, durability of the materials, and the added bonus of picking up several degrees in the water by absorbing the sunlight with the darker colors.
In addition, new tile, coping and decking "can do wonders" for a pool by tying in elements from the home and making everything look fresh and manicured, says O'Donnell.
Extending the season
If you love relaxing by your pool in warm months, chances are you'd love your very own spa to warm up on a winter's night, soothe sore muscles and unwind.
Good news: According to Renneisen, one of the best ways to increase the value of your pool is to add a spa, simply because it can extend the season in which you will enjoy and use this investment.
"Spas can be either attached or detached to the pool and they will extend your season well into the fall or be used in early spring for the cooler months of the year," he says.
Today, it has become much more common for customers to ask for swim spas and lap pools. People who enjoy an active lifestyle desire to have somewhere at home that they can use as exercise as well as a place to relax by the water, notes Renneisen.
Looking ahead
Some of the latest trends are in automation. Homeowners can now conveniently control the temperature and functions of their pool remotely from an iPhone and/or tablets.
"This is great if you are not home and think you may like to use your spa that evening. You can now use the app to control the spa temperature, and when you arrive the spa will be waiting for you to enjoy," remarks Renneisen.
McCool mentions two additional, and polar opposite, trends over the last few years: On one hand, homeowners are gravitating toward the more natural-looking pool with freeform shapes built into the landscaping with a natural stone coping such as bluestone, non-glossy earth-toned tiles and a lagoonish coloring quartz or pebble for the surface.
"On the other hand is the homeowner looking for a more contemporary look by combining the elegance of Old World travertine with the brilliance and flash of glass tile that come in a variety of dazzling colors and color combinations," he explains.
Upgrading the workings of the pool itself is paramount, adds O'Donnell, noting that converting to salt is a constant request that is not just a trend but time tested. Green and more efficient equipment, such as solar heating, is crucial, she concludes.
RESOURCES
Aqua Bello Designs
Plumsteadville, Pa.
(215) 353-0657
AquaBelloDesigns.com
Swim-Mor Pools
Mount Ephraim, N.J.
(856) 456-3332
SwimMor.com
Waterscapes,
A Clear Difference
Cinnaminson, N.J.
(856) 786-8988
NJWaterscapes.com
Published (and copyrighted) in House & Home, Volume 14, Issue 12 (June, 2014).
For more info on House & Home magazine, click here.
To subscribe to House & Home magazine, click here.
To advertise in House & Home magazine, call 610-272-3120.
Article continues below
---
advertisement


---
Author:
Beth Puliti
Archives
---
More football commitments trickling for South Jersey football players
Former Glassboro Star George Johnson Almost Vaulted Team to NFC Title Game
A Running Start
For the Love of the Game
Usual Powers on Top in Wrestling
The South Jersey Fab Four
Lighting the Way
Setting the Stage
Big Words: Twins!
Ready to Grow
Home of the Brave
How Can I Ever Thank You?
One of All-Time Best Coaches Resigns
Walk of Fame: Ella Hampton
Jersey Fresh
More...