Standing Out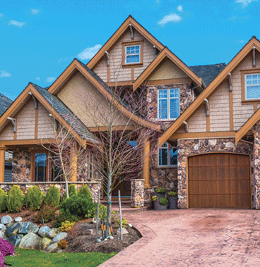 …From the pages of House & Home…
Ideas for making your home's exterior grab peoples' attention
You want your house to shine, inside and out. However, keeping the exterior eye-popping is no easy feat, especially with the harsh winters and summers we have in our region. Much care must be given to the outsides of our homes, and there are areas to which we should pay considerable attention. From the color of the paint to the beauty of doors and windows, there are things we can do to return our abodes to their former glories—or even bring them to a new level they have never had before.
But homeowners remember, doing things yourself or going for an easy, cheap fix may just end up costing you a lot more in the end.
Paint trends and advice
If you want to make an immediate impact, nothing beats a new coat of paint. It offers a sort of transformative quality, completely changing the way people look at your house.
"Trend-wise, it seems like a lot of homeowners are turning towards lighter, medium colors, such as blues for their home, [as well as] modern-style looks," says Zachary Wright, marketing manager and design adviser for Four Golden Brothers, which serves all of New Jersey and the Philadelphia area. The company provides interior and exterior painting, wallpaper installation/removal, deck staining/refurbishing, drywall, sheet rock, carpentry, cabinetry, kitchen and bath remodeling. "Popular colors, aside from the classic black and whites, are blues and earth tones (tans and light browns)," he says.
Wright says that in order to have a long-lasting result for an exterior paint job, you should use vinyl-safe paint, and that proper preparation is absolutely crucial. This includes sanding, washing, caulking, checking for rot in the wood and more. "Bad prep work will lead to a poor product in the end," he says.
This isn't just for the paint job, either, says Wright. "For decks, porches and fencing, like any other work, the prep work is key to the success of the job," he says. This means that a good power-washing and cleaning is critical for a good painting/staining. "Also," he suggests, when picking materials for the project, "don't shoot for the least expensive stain. You get what you pay for and it will show in how long it lasts."
Doors and windows make a big impact
Removing your old tired doors and windows and replacing them with energy-efficient, beautiful items breathes new life into the home, says Gary Calvert, window and door specialist for CornerstoneHome at Somerville Lumber, which serves all of central New Jersey, particularly Hunterdon, Somerset and Middlesex counties. Calvert has spearheaded this part of his company's operation, working with the staff to make sure new doors and windows are involved in the design of the house.
In the past, door materials almost always used to be wood and steel, although steel was mainly used just for inside garage doors and back doors. But in the last 10 years, the growth of using fiberglass has exploded. "The development of fiberglass has led to a very strong material, one comparable in strength to steel. It is graded three to five times more energy efficient than wood doors," says Calvert. However, what has also sold people on the use of the product is the evolution of finishing techniques, which has allowed these doors to become very attractive.
"The finishing has to be realistic. People want the doors to really look like real wood doors," he says. The fiberglass finish is hand applied, typically using small artistic brushes. These doors can be stained with a grain and can mimic the look of mahogany, oak or cherry, among others.
"In the last few years, there has been a lot of interest in having decorative glass on doors," he says. "It used to be stained glass. Also, the amount of glass, or thickness, has gone to one size: ¾ inch. It's that or nothing." That's because that thickness goes a long way to assist in energy-efficiency and security.
The trend in hardware has gone from brass to black, brushed nickel or antique bronze with matching hinges. It is also part of a more advanced locking system. "When people replace doors, they are a major investment. So the doors are more durable, stronger and better looking than before. But it's not just the door. The door is just part of a custom-designed entryway system," he says. "It is the centerpiece of the home and is often the first thing people notice, so it's all about integrating the style and look of the house, the surrounding windows, and more. Everything should be specially designed to match."
To this end, people have also embraced the use of bigger sidelights, the window areas to the left and right of the main door. These not only let light into the home, but also add to the perception of a very large front entrance. Your entryway takes on a new look, one that adds style and functionality to the house.
Speaking of windows, when it comes to considering new or replacements ones, the products of choice at CornerstoneHome at Somerville Lumber are custom-designed Anderson Architectural and Specialty windows. Top-rated by Consumer Reports and including Low E glass to reduce infrared/UV rays, they are made to any shape or size and can be any color or even stained. Made from composite materials—such as wood and vinyl clad—the glass part of the window is larger than most and the window can come in colors to match your home. And if you're looking for inset windows, Anderson has a line which can be installed quickly and are very efficient.
CornerstoneHome at Somerville Lumber also sells Lemieux Door's Torrefied Collection, which are made from real natural wood that is heated to such a high degree that their chemistry changes. Unbelievably strong, these doors come with a 20-year warranty. "Old wood doors would crack after daily use for so long, but not these," he says.
So what should people know when it comes to the windows and doors they use to beautify their homes? "Consider your return on investment," says Calvert. "Good, quality windows may cost more, but they dramatically increase efficiency through their insulation and construction. When you buy a cheap inset window, for example, the vinyl has to be thicker to support the frame," he says. "That means you'll lose window space. They also don't keep noise out. Inexpensive windows fail."
Regardless of how you want to make an impact—through a beautifully painted exterior or a superiorly made door or window, your house can easily be remade. All it takes is some vision and a willingness to see your home through new eyes. Just be sure to go with quality products and quality workmanship. It will make all the difference in the looks your home elicits today and way into the future.
RESOURCES
CornerstoneHome at Somerville Lumber
Bridgewater, N.J.
(732) 356-1975
CornerstoneHomeShowroom.com
Four Golden Brothers Painting
Mount Holly, N.J.
(609) 668-9135
FGBPainting.com
Published (and copyrighted) in House & Home, Volume 14, Issue 12 (June, 2014).
For more info on House & Home magazine, click here.
To subscribe to House & Home magazine, click here.
To advertise in House & Home magazine, call 610-272-3120.
Article continues below
---
advertisement


---
Author:
Daniel Sean Kaye
Archives
---
More football commitments trickling for South Jersey football players
Former Glassboro Star George Johnson Almost Vaulted Team to NFC Title Game
A Running Start
For the Love of the Game
Usual Powers on Top in Wrestling
The South Jersey Fab Four
Lighting the Way
Setting the Stage
Big Words: Twins!
Ready to Grow
Home of the Brave
How Can I Ever Thank You?
One of All-Time Best Coaches Resigns
Walk of Fame: Ella Hampton
Jersey Fresh
More...