The Foundation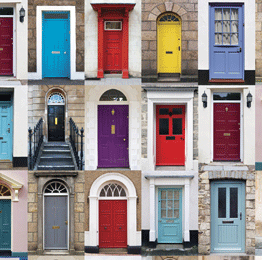 …From the pages of House & Home…
Educational Elements
What to know about ... front door colors
Your front door can set the tone for your whole house, but how do you decide which color is best for your overall exterior while still displaying some personality?
• First, consider your home's color. If the siding is light, choose a darker front door; if the exterior is dark, choose a lighter shade for the door. This will draw the eye to the door.
• Next, what is your personal style? Are you traditional, or do you follow your own design path? Traditionalists might opt for doors in black, gray or red—all classic choices. Others might go an unexpected route, choosing something sassier, like green, raspberry or orange.
• Lastly, think about the mood created with each color. Blues are associated with wisdom and loyalty and exude a serene vibe; reds symbolize energy and excitement; greens represent harmony and peace; and yellows are cheerful. What do you want people to feel when they knock? Green Thumb
What's growing on us this month … Shade Gardening
The shady spots in your yard don't have to go bare. There are plenty of plants that will thrive with little sun, yet still brighten your day.
• Hosta: These rippled leaves are dark green with a hint of blue, sometimes surrounded by a cream-colored edge. Growing best in the morning sun and shade, these plants give your garden a summery and bountiful feel.
• Rex Begonia: Their deep red, golden and green swirls are mesmerizing. Also known as "fancy-leaf" begonias, these plants can grow up to a foot tall both in homes and in shades. Moist soil is all they need to flourish.
• Astilbe: Bringing life and breath to the summertime, these flowers range from a salmon to hot pink, or sometimes red. They will complement the pool in your backyard or add color to a shady green area.
• Lily Turf: Sometimes, all that is necessary are these thin green plants that resemble grass. The lily turf is just that, with tiny pink flowers that bloom late in the summer, serving as a nice backdrop for a colorful garden.
Simplify: Tips & products to declutter and de-stress
Hidden Storage
Finding storage around our homes is a never-ending battle. There are the obvious choices: closets, cabinets and attics, but what happens when those spaces fill up? Or what if you have a bunch of little items that just can't seem to find a home? Before you buy a bigger house, consider utilizing the hidden nooks and crannies in your home, such as under beds, above the washer and even behind doors.
In fact, one new product is capitalizing on the idea of behind-the-door storage. Cabidor is a system that attaches to the hinges of any door. Shelves can be adjusted to fit any size item and retention rods will keep tall items—like wrapping paper—firmly in place. This product comes in several varieties, including a jewelry model, which includes necklace hooks, earring slots and a drawer. Prices range from $129.99 to $249.99. For purchasing information, visit Cabidor.com.
Covet: Must-have products for the home
Aquarium Coffee Table
Here's something you don't see every day: a coffee table that doubles as a fish tank. Or is the fish tank masquerading as a coffee table? Either way, this Fish Tank Aquarium Coffee Table is sure to spark some conversation at your next dinner party. Made of cell-cast acrylic, this 25-gallon tank comes complete with water pump, filter, light and gravel, and can be used for freshwater or saltwater fish. The glass top is removable for easy cleaning, and a side opening lets you feed your colorful fish friends without hassle. Available for $750 at OpulentItems.com.
Who Knew? Unusual uses for common products
Rubber Bands
A staple in your home's junk drawer, rubber bands can pull their weight in other ways, such as:
• Fixing a broom's bristles: Tie a rubber band around the bottom of a broom for about a day to bend bristles back into shape.
• Keeping a cutting board in place: Wrap two rubber bands around each side of the board to stop it from sliding across the counter while you slice.
• Child-proof cabinets: Grandkids coming over? Tie a rubber band around cabinet door handles and keep kids from getting into pots, pans or cleaning supplies.
Creature Comforts: For pets living in the lap of luxury
Outdoor Pet Bed
When relaxing by the pool, you like to look and feel your best with a nice pair of sunglasses and bathing suit, lounging in a padded lounge chair. In the dog days of summer, your four-legged friend wants to feel like a million bucks, too. With a modern chevron print and waterproof covers, P. L. A. Y.'s Outdoor Dog Beds collection will have your dog living in the lap of luxury poolside. Made for dogs ranging from 20 to 130 pounds, this pet bed is eco-friendly and machine washable. (PetPlay.com, $75)
Bookmark: Add this to your bookshelf
The $50 Home Makeover: 75 Easy Projects to Transform Your Current Space into Your Dream Place
Looking to turn an ordinary living space into a vibrant, dream room without breaking the bank? Shauna West has the key to give those stale rooms some creative and modern looks. With 75 do-it-yourself projects for under $50, West has the interior makeover you want at a bargain price. (Adams Media, July 2014, $14.96, Amazon.com)
Home Front
Coastal Chic
Whether you live in the suburbs or closer to the Jersey Shore, you can incorporate coastal décor into your home in a tasteful way. From nautical stripes to weather worn wood, these items will make you feel close to the sea any time of year.
Resort Relaxation
Lying on a towel at the beach is overrated. Sand gets everywhere, and let's face it—it's simply uncomfortable. Ballard Designs offers a solution to this beachgoers' problem with its Classic Beach Fold Chair. The solid teak frame allows for durability and a natural finish look, while the chair itself offers a sling seat with a head pillow, providing comfort for your neck. Coming in a variety of colors, it also has four adjustable positions, so you can decide on your reclining level, whether you're reading a book or working for that sun-kissed tan. Available at BallardDesigns.com for $219.
Picture Perfect
If you're tired of looking at those unoriginal picture frames hanging on your wall, it might be time for a change. Upgrade to the Cape Cod Triple frame, which holds three 4-by-6 inch photos that are sure to stand out. Inspired by the northeastern coastline, the wooden frame has a white-washed look, a weathered grain and imperfections. The wood slat varies from frame to frame with different colors and texture. No two frames are alike based on the amount of water-based paint that is used for the slat. It even has a front loading style making for easy, accessible picture changes. Available for $139 at BeachFrames.com.
Cape Cod Cool
If your living room seems a little bland, try adding a Lacoste Striped Knit Throw to give your furniture a pop of color. Its preppy style and stripes will provide both a look of sophistication and sportiness. The throw comes in a variety of colors, ranging from blue to red to green. The machine washable cotton fabric allows for easy cleaning and its 60-by-70 inch dimensions make it big enough for two. Pick up your own Lacoste Striped Knit Throw at Macys.com for $130.
Mythical Mat
Having a knack for all things quirky is what makes you unique. Embrace your style with a Trans Ocean Imports Liora Manne-Front Porch Mermaid Crossing rug. Its loop-hooked construction is made with acrylic and polyester, offering a beautiful flow of colors throughout the rug, most notably on the mermaid's tail. The Mermaid Crossing rug is sure to be a whimsical touch to any entryway. Available at Rugs-Direct.com in a variety of sizes, starting at $30.
Published (and copyrighted) in House & Home, Volume 15, Issue 1 (July, 2014).
For more info on House & Home magazine, click here.
To subscribe to House & Home magazine, click here.
To advertise in House & Home magazine, call 610-272-3120.
Article continues below
---
advertisement


---
Author:
Mylin Batipps, Ethan Stoetzer; Edited by Liz Hunter and Davin Jurgensen
Archives
---
Family Fun
Live from the White House
Collingswood
Stepping Up to the Plate
Local Story
Lingering Questions
Still Fresh
Under the South Jersey Sun
Riverside Retreat
Against All Odds
Like a Girl
Going Her Own Way
Fall In
Aiming to Please
Walk of Fame: Natalie Hope Sommermann
More...