Total Transformation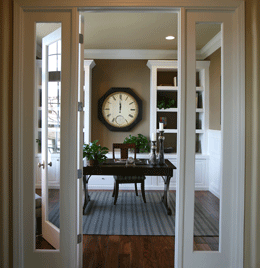 …From the pages of House & Home…
Repurposing a space for a completely new use
Graduation has come and gone, the kids are heading off to college and suddenly, you find yourself with some empty space in your home. What's an empty nester to do? Rather than letting that extra room sit empty, many homeowners are converting or repurposing that space into functional, practical areas, such as a study, exercise room, art studio or walk-in closet/dressing room.
"When the kids leave home, it's an emotional time," says Anne Thornton, president of MSI Plumbing & Remodeling, based in Lebanon, N.J. "But it's also a time to start thinking about yourself again, about creating a space that's all your own and not just the kids' house anymore."
Stephen Campbell, a draftsman at Harth Builders in Spring House, Pa., adds, "Oftentimes, what used to be the parents' house later becomes the grandparents' house. The kids will inevitably come back for the holidays and family celebrations for years to come. If you're planning to stay in your home over the long term, repurposing is a great way to use your space in a way that's most functional and practical for your lifestyle."
Whether you're converting your child's bedroom into a relaxing guest room, expanding your master bathroom a few feet into an adjoining bedroom or completely remodeling your kitchen, repurposing can make your home feel new again and help you create a space that you're proud to show off.
"Repurposing is all about focusing on the customer's wants, needs and lifestyle. What gives them the most happiness in their life? We help them design a space in their home that gives them a place to relax and escape from everyday stress, entertain and enjoy all that their home has to offer," says Chris Foti, vice president of SRA Home Products, based in Williamstown, N.J. "Many times, homeowners simply want to redo a space in their home to use in other ways. We can turn a seasonal sunroom or a screened-in porch that used to be the family hangout area into a year-round space they can use to relax and enjoy looking at the outdoors from the comfort of their own home. Or the basement can be turned into a home theater, bar area or game room to create a fun space for the adults to entertain," he says.
"Before beginning any type of remodeling project, it's important to think about what you want to do with the space," says Todd Wenger, owner of Wenger Contracting, Inc., in Chester Heights, Pa. "You may want to enlarge your master bedroom to create a master suite, enlarge your bathroom or closet if an empty bedroom is close to the master bedroom, convert the extra bedroom to an office or den, or look at remodeling your basement as an entertainment center, fitness center or wine cellar once you no longer need that space as a playroom or kids' hangout area."
Wenger recommends working with an interior designer or design-build firm to help guide the project, determine what you envision for the room and decide how to use the space most efficiently and effectively.
"If you really care about the space and its aesthetic appeal, a good design will be most advantageous," says Allison Jaffe, ASID, RID, owner of Allison Jaffe Interior Design, LLC, based in Austin, Texas, who has done projects in the Philadelphia area.
"It doesn't matter what the room's original function was. You can design any room to suit whatever fits your lifestyle and living needs. When repurposing a smaller room, you can also return the space to its original purpose later on, as your needs change."
Jaffe's most recent repurposing projects have included converting a living room space into a playroom for a client's daughter and turning a garage into a multi-purpose room that includes a workout area for the parents and a studio area where their kids can play music.
As with any remodeling project, it's important to think about your budget and what you expect from your investment.
"Before taking on any project, ask yourself how long you expect to remain in the home," MSI's Thornton says. "Put together a realistic budget and determine how you want to use the space, how much time you'll spend in the space and what your expectations are. A good designer can help you brainstorm and come up with ideas and educate and guide you through the process. It's also important to find a remodeler that you trust who will work with you throughout the project. We want you to spend your money in a way that works best for you, so it helps to know your likes, wants and needs going into a project."
"We encourage clients to think about their end goals," says Jaffe. "What purpose is the space going to serve? What types of items will go into the space? How can the space be used most efficiently? Our goal is to combine the functional aspects of the space with what the homeowner wants the space to look like aesthetically.
"We ask clients to put together idea books from websites like Houzz.com, Pinterest or other online sources to get a sense of direction for the project. We then measure the room for space planning purposes and have the homeowner draw it to scale on grid paper. You can then build the room around the main furniture pieces that will go into the space. Use of paint and lighting can then be used to enhance the room and make the space more relaxing and comfortable," she says.
"Repurposing is all about creating a relaxing space you can call your own," Thornton says. "You can create a room that can be used for personal pursuits or hobbies or a space that others can share or admire. When my own kids moved out, I put together an art studio that I can use to create, store and display my artwork. I also remodeled my old galley kitchen in a way that was most functional for me. In a sense, repurposing allows you to take back your home and gives you a chance to live for yourself. The kids can still come home to visit and use the guest bedroom when they stay overnight, but now is the time to think about yourself and what you want, how you want to live, and to create a home that reflects your tastes, interests, personal style and design," she stresses.
"When the kids are gone, it can feel like a breath of fresh air," says Campbell. "You have a chance to redesign your home in a way that makes the most sense for you, based on your budget and expectations. Your ultimate goal should be to create a space that best serves your needs and feels like the home you've always wanted for years to come."
RESOURCES
Allison Jaffe Interior Design, LLC
Austin, Texas
(512) 343-4553
AllisonJaffe.com
Harth Builders
Spring House, Pa.
(215) 654-0364
HarthBuilders.com
MSI Plumbing & Remodeling
Lebanon, N.J.
(908) 735-4438
FindSolutionsOnline.com
SRA Home Products
Williamstown, N.J.
(856) 728-5900
SRAHomeProducts.com
Wenger Contracting, Inc.
Chester Heights, Pa.
(610) 361-2860
WengerRemodeling.com
Published (and copyrighted) in House & Home, Volume 15, Issue 1 (July, 2014).
For more info on House & Home magazine, click here.
To subscribe to House & Home magazine, click here.
To advertise in House & Home magazine, call 610-272-3120.
Article continues below
---
advertisement


---
Author:
Mindy Toran
Archives
---
Family Fun
Live from the White House
Collingswood
Stepping Up to the Plate
Local Story
Lingering Questions
Still Fresh
Under the South Jersey Sun
Riverside Retreat
Against All Odds
Like a Girl
Going Her Own Way
Fall In
Aiming to Please
Walk of Fame: Natalie Hope Sommermann
More...