Rocking Renovations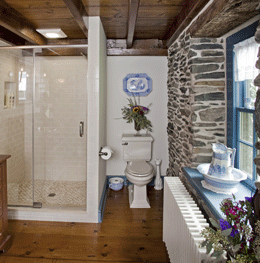 …From the pages of House & Home…
Brett King Builder-Contractor, Inc., takes a bathroom in an old stone farmhouse from ordinary to extraordinary.
Brett King was not unfamiliar with the Bedminster, Pa., home where he was contracted to renovate a second floor bathroom. In fact, he had worked with the homeowners 12 years prior when they renovated the rest of the late 1700s farmhouse, and even earned national recognition for the transformation. They had opted out of renovating the bathroom then, but eventually decided it also needed to be updated.
"It is on the second floor, tucked away," explains King, owner of Brett King Builder-Contractor, Inc., in Quakertown, Pa. "No one was using it, so it wasn't a priority. Then they decided they wanted to begin using this part of the home. The bathroom looked like it had last been renovated maybe in the 1920s, and hadn't been touched since."
Though the renovation had its challenges, King says the end justified the means, and Brett King Builder-Contractor, Inc., was recognized with a Contractor of the Year award from the Bucks-Montgomery chapter of the National Association of the Remodeling Industry (NARI) for the renovation.
The Concept
King says one of his main objectives with every project is to listen to the customers' needs and understand their particular taste and design before making any decisions.
"My favorite part of the job is listening to what's important to them, in their heart, and making it happen," he says.
Because he had worked with the clients previously, he already had a good idea of what they were looking for, and the style that they were looking to integrate from the rest of the home. "It's an old stone farmhouse, so one of our thoughts was to expose some of the stone in the room just to get an appreciation of the old stone walls," King notes.
Other considerations, including the addition of 150-year-old beams and flooring were also made, in order to restore the bathroom to the way it would have looked when the home was initially built. King says, "Because the wood was so old, it had a character and texture to it that enhanced the whole room."
The challenges
With a house built in the 1700s, there are bound to be structural issues and necessary updates. This bathroom was no exception. "The big challenge was when we took up the flooring," King recalls. "A lot of the floor had rotted away." The house had also settled over the years, so the floor was not level and the ceiling below it was sagging. A new ceiling in the first story room was necessary, as were new floor supports.
"The room was so out of level and today you walk in and have no idea how we made it level," King says. "The customer was wondering how we could make it happen, but they trusted us. They had experience with us in the past, and they knew we could make it happen."
The ceiling in the bathroom also needed to be addressed—"When we took the ceiling down, the ceiling had a lot of water damage," King says—as well as outdated electrical wiring, and new plumbing lines, some of which were added when the toilet in the room was relocated.
"We were able to take the plumbing lines and hide them where they go downstairs, so you can't tell what we've done," he adds. "It looks very natural, but it took a lot of thought to make it happen."
The finished product
What was once a nearly forgotten area of the home is now a fully functional, tastefully decorated room that carries on the look and feel of the rest of the residence. Though many challenges were encountered, King says he was able to tackle each one and the outcome was very rewarding.
"The project went great," he says. "I loved working with this couple. They've allowed me to do a number of projects for them in this home, and in their other homes. I have a lot of good memories from this project. I remember countless times of sitting and listening to their thoughts and they continued to trust my judgment."
Though this was a project involving an older residence, as a full service design/ build home remodeling company, Brett King Builder-Contractor, Inc., can handle any project. "We've done some primitive projects, but we've also done some ultra contemporary, modern renovations," King says.
"Our customers open their homes to us, and we're determined to be faithful to what's been entrusted to us. We have a responsibility to be sure we are taking care of the clients' property." Whatever the project, just like the bathroom in this stone farm house, King says, "not only on this project, but on all projects, it is our desire to exceed our customer's expectations and we work very hard at it."
Brett King Builder-Contractor, Inc.
Quakertown, Pa.
(215) 536-1145
BrettKingBuilder.com
Published (and copyrighted) in House & Home, Volume 15, Issue 1 (July, 2014).
For more info on House & Home magazine, click here.
To subscribe to House & Home magazine, click here.
To advertise in House & Home magazine, call 610-272-3120.
Article continues below
---
advertisement


---
Author:
Amanda Hamm Hengel; Photo courtesy of Randal Bye
Archives
---
More football commitments trickling for South Jersey football players
Former Glassboro Star George Johnson Almost Vaulted Team to NFC Title Game
A Running Start
For the Love of the Game
Usual Powers on Top in Wrestling
The South Jersey Fab Four
Lighting the Way
Setting the Stage
Big Words: Twins!
Ready to Grow
Home of the Brave
How Can I Ever Thank You?
One of All-Time Best Coaches Resigns
Walk of Fame: Ella Hampton
Jersey Fresh
More...