Stashing Your Stuff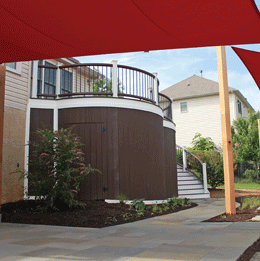 …From the pages of House & Home…
Attractive and imaginative outside options abound for those in need of more storage areas.
We Americans have a lot of stuff. There are things we use regularly, seasonal items and things we just don't want to get rid of. This is as true for our exterior life as for our interior one. So what do you do when your stuff seems to be overwhelming the places you have allotted for it? Go to some experts.
Creative ideas
Finding efficient ways to store items is important, says Jeannie Kontis, co-owner with husband, Adam, of Fox Country Sheds in Lititz, Pa., which services the Mid-Atlantic and Northeastern areas and beyond. The company manufactures handcrafted pre-fabricated storage sheds and garages. "We have been seeing a trend towards more … shed styles that offer taller and steeper roof pitches that are perfect for [storage]," she says. They offer an overhead loft option, good for storing off-season items out of the way.
A novel idea is to utilize some of your existing space that isn't being used that well. For instance, take a little space under the deck, says Bill Wilson, co-owner of Amazing Decks, which builds and designs outdoor living spaces and decks for the Philadelphia area and Central New Jersey. "Your backyard is uneven. When you build a deck, it levels off the space. But then you have the area below. It's unusable for other things, but it's added vertical space—maybe up to five feet of space under the deck," he says. "So you incorporate it into the project. We close off the top so no water gets in. It's concealed, and you get double use of the space. You can put ladders and children's play equipment under there—things hard to store—and then just add an access door."
Another way to do this is a shed with an overhead door or a single-car garage. Garages are ideal for storing large equipment or items from in-laws or college-aged children who may move back home. Fox Country Sheds has two styles great for maximum storage: the Rancher, designed for maximum overhead storage, and the Patriot, a two-story garage that offers the maximum storage space possible.
"Most homeowners realize the value in being able to take advantage of previously unused overhead areas. This assures that they will not 'outgrow' their shed in a few years," says Kontis. "We always recommend that our customers think ahead and try to predict what sort of storage needs they might have in the future. Is their family growing? Do they anticipate replacing their push mower with a riding mower in the future? Do they have a pool or do they plan on building one? All of these are potential for larger or growing storage needs," Kontis says.
To further maximize storage options, think about furniture. You can have built-in benches with storage underneath and tables where you can lift off the top, revealing a storage area. "All these help when you have association rules that don't allow sheds. These are inconspicuous solutions," says Wilson.
Special structures
One of Fox Country Sheds' more unique items is a five-sided Corner Nook shed. Built to fit snugly into the corner of a yard, the building has a double door large enough to fit a rider mower. "[It's] ideal for those homeowners who do not have a lot of usable space in the backyard and need to take advantage of as much outdoor living area as possible," says Kontis.
Country Tyme Sheds of Colmar, Pa., which has served customers across the region and beyond for the last 12 years, makes their structures unlike most you'll find. "When people come to us, they find we offer many hidden things they like," says Bob Barbati, Country Tyme Sheds manager. "So we educate the customer. We tell them we use tar paper which helps protect them from the elements. Most sheds don't have this. We also offer a steeper roof to help with water run-off," he says. "Standard in our sheds are closer joists, 12 inches on center. Most are 16 inches on center so ours are more solid."
All Country Tyme Sheds come in different colors, sizes, etc., with common sizes including 10-by-12, 10-by-14, 12-by-20 and 12-by-24. These help landscapers and people with lots of big items. They also have options including shelving, lofts, benches and different choices of shutters and doors. "We give them what they expect in a full building," he says. "We have many on our lot but we know people want their own color and customization. We build fresh for them," he says. Specifically, Country Tyme Sheds is now doing lots of motorcycle sheds. "They include motorcycle dollies, a strong, hard floor and even a coat closet with a helmet shelf," says Barbati, who adds that a recent client couple had the shed all decked out in Harley Davidson colors.
While the most common structures for storing items are storage sheds and garages, says Joseph Kauffman, owner of The Barn Door, LLC, serving South Jersey and the Jersey Shore, his company offers something else: they also deliver 12-foot wide and 14-foot wide buildings with hinged roofs. This makes for a very fast set-up time. "They have a hinged roof on the second floor, so it's higher and lets the roof fold in. Once we get them [to the homeowner], we can get the whole thing up within a couple of hours," he says.
"Storage sheds are always going to be popular," says Kauffman, adding that "the vinyl ones will last almost forever." The Barn Door structures range from as little as $995 to as much as $30,000, but the average is about $2,500. "We also have rent-to-own storage sheds. You pay for it monthly for three years and then you own it," says Kauffman. "It's much better than paying for a storage unit because with those you keep paying. This will be yours."
Other trends
One trend Kontis sees is the desire for quality products and service. She says that people can go online to better research what they want and this helps because they quickly see a plastic storage shed from a big box store will become an eyesore and not add to the home's value. They know "finding a reputable family-owned business will not only give them the quality that they want for their homes, but will also give them personal service and attention to detail," she says.
A second trend is maximum value. "One person's idea of value might be in terms of how the shed looks so that it blends harmoniously with the exterior of their home and other outdoor living areas," she says. "Another customer's idea of value might be less of what the shed looks like, but more about how much storage he can get out of it."
Lastly, Kontis says it's the look that often seals the deal. "We definitely see more homeowners appreciating a more classic look," she says. Popular looks include extended overhangs, steeper pitched roofs, and two-story buildings. "Many municipalities are enacting stormwater regulations, making it harder for homeowners to add more impervious areas to their backyards. Two-story sheds allow the homeowner to add storage vertically, instead of spreading out horizontally and taking up more valuable real estate," she says.
Knowing your storage needs and wants is a good first step in the process. Second is to seek out a reputable, quality company to answer your questions. And don't forget the part that many ignore: finding out what your township allows and what permits you need to file. "All townships have different regulations. You need to know how far from the property lines you have to be, etc.," says Barbati. "You need to know what you can do."
RESOURCES
Amazing Decks
Ambler, Pa.
Flemington, N.J.
(215) 654-1886
AnotherAmazingDeck.com
Country Tyme Sheds
Colmar, Pa.
(267) 477-1145
CountrytymeSheds.com
Fox's Country Sheds
Lititz, Pa.
(877) 25-SHEDS
FoxSheds.com
The Barn Door, LLC
Atco, N.J.
(856) 768-3535
AmishStructures.net
Published (and copyrighted) in House & Home, Volume 15, Issue 1 (July, 2014).
For more info on House & Home magazine, click here.
To subscribe to House & Home magazine, click here.
To advertise in House & Home magazine, call 610-272-3120.
Article continues below
---
advertisement


---
Author:
Daniel Sean Kaye
Archives
---
Family Fun
Live from the White House
Collingswood
Stepping Up to the Plate
Local Story
Lingering Questions
Still Fresh
Under the South Jersey Sun
Riverside Retreat
Against All Odds
Like a Girl
Going Her Own Way
Fall In
Aiming to Please
Walk of Fame: Natalie Hope Sommermann
More...