Sitting Pretty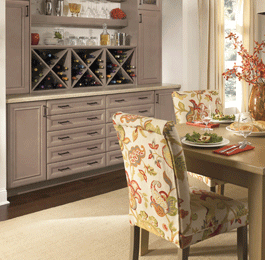 …From the pages of House & Home…
The best ways to adopt home furnishing trends while staying true to your personal style.
Like clothing, home furnishings present an opportunity to display a personal sense of style. And as the holidays grow near, it may be time to update your furniture as you welcome guests into your home. We spoke to some local experts about the latest trends as well as updating your own home without breaking the bank.
Even though the economy has turned around since the recession, many retailers report that shoppers are still more concerned about value than ever before. Margie Booth, owner of At Home Designs, says that her customers seek out good value for a reasonable budget. They know that furniture is a big investment, so they want something that's going to last a long time.
In addition to smart shopping, Booth says that some homeowners are also interested in repurposing existing pieces. If it's a good quality piece of furniture, it can often be reupholstered and given new life. "There is a huge interest in reupholstering right now, and we're doing a lot of it," Booth says. "The old mindset was to just get rid of it and buy something new. But today, people have really begun thinking about ways they can get the most out of what they buy."
All the pretty colors
If you're looking to update a sofa or another large ticket furniture item, it's typically a safe choice to go with a neutral color, advises Mike Newswanger, a partner with Alegacy Furniture. Because you don't switch out large furniture pieces regularly, you want something that will still work if you make other changes to the room, Newswanger says. "The room should be able to change around the furniture without feeling like it suddenly clashes," he adds.
Of course, neutral doesn't have to mean beige, says Joyce Baglieri, interior decorator with The Decorating Store at Terminal Mill Ends. "There are many ways to give a piece a little more interest by extending the 'neutral color palette' to include taupe, oatmeal, camel, and even colors such as gray or an earthy green."
These colors are a little more exciting than your typical beige, but are still safe choices that will work with almost any surrounding color scheme. And there are many ways to get some more exciting colors into your home. Painting the walls is one such method, but even that can be a larger commitment. If you're looking to add a splash of color on a budget—and in a way that can be changed easily—accents are the way to go.
"The least commitment way to add new color to your room is with throws or pillows," suggests Melissa Schermerhorn, manager of By Design. "Then when you grow tired of it, you can change it. A lot of people like to change it up with the season. Reds and darker colors are always more popular in the cooler months while blues and pale greens are popular in the warmer months."
The color trends also tend to change with what's trending in the fashion world, adds Nancy Mastroieni of Mastroieni & Sons. "Right now, we are experiencing a very vibrant, colorful palate," she says. "A bright mustard is a popular choice right now.
This looks great in accents like pillows or curtains. My recommendation for furniture color is to go with what you like. You will be living with your furniture for a very long time and just because a color is streaming right now it may not be in your best interest for the long haul."
Emphasis on style
Today's style is trending toward eclectic design, notes Mastroieni. "At one time, you were able to define a room by being traditional or contemporary, but now a room is made of really interesting accent pieces that do not have a specific genre. You can safely mix traditional and contemporary, but I still recommend you have an overall theme."
In terms of furniture style, transitional pieces are also popular, experts say. "Transitional pieces, where you can see elements of older design mixed with contemporary flare, are popular right now," says Newswanger.
Denise Mills, an interior decorator with The Decorating Store at Terminal Mill Ends, agrees. "They aren't traditional or country pieces that were prevalent years ago," she says. "These pieces have clean lines, leaning more toward contemporary shapes, but without a lot of curves and details, so as not to define your style as trends change. Transitional styles will keep a room from looking dated in years to come."
"Transitional pieces also keep a balanced look in a room if there are existing pieces that have a specific look to them," adds Baglieri. "That way, an older sentimental chest, quality tables, or favorite lamps don't stick out like a sore thumb."
Of course, some pieces are in need of total replacement and that includes the massive entertainment centers that were once not only a popular style, but a necessity. "Replacing old wall units that were used when televisions were bigger and bulkier and required support is a big trend right now," says Schermerhorn. "Wall units were a very popular item, but these days, people are mounting their televisions to the wall."
Schermerhorn says that wall-mounted televisions give you a lot of different options in your room. It definitely frees up space. "You can place almost anything under the TV, such as a smaller furniture piece or a decorative sculpture," she says. "You are no longer confined to needing something that will hold your TV."
What you love
Like everything else, trends are simply just the styles and ideas that are popular with the majority at any given time.
But in the end, you should go with what you love—after all, you're the one living with it. But there are some trends with definite staying power. Mastroieni says that "casual and comfortable" is a trend that probably isn't going away, most likely because people are increasingly staying home and enjoying time with their families. They have big-screen televisions and instant access to movies and games. "They can even do work from their recliners on mobile tablets or smart phones," Mastroieni says. "As a result, we're seeing a lot more people want furniture that helps them feel relaxed and comfortable."
Booth agrees that comfort is definitely one of the biggest trends. "Everyone wants to be comfortable," she says. "The formal living room has almost completely gone by the wayside. Today homeowners want rooms and furniture that make them feel relaxed. It's all about practicality, from durable fabric to stain resistance."
"Today's furniture trends are generally becoming more transitional and lend themselves to a number of different styles," Mills adds. "However, what you surround yourself with in your home reflects your own personal style and who you are. In the end, it should be what makes you comfortable."
RESOURCES
Alegacy Furniture
Pottstown, Pa.
(610) 970-4340
AlegacyFurniture.com
At Home Designs
Hockessin, Del.
(302) 239-1520
AtHomeDesigns.com
By Design
Cherry Hill, N.J.
(856) 267-2799
ByDesignFurniture.com
Mastroieni & Sons
Montgomeryville, Pa.
(215) 643-6372
Mastroieni.com
The Decorating Store at Terminal Mill Ends
Union, N.J.
(908) 688-9416
TheDecoratingStore-TME.com
Published (and copyrighted) in House & Home, Volume 15, Issue 3 (September, 2014).
For more info on House & Home magazine, click here.
To subscribe to House & Home magazine, click here.
To advertise in House & Home magazine, call 610-272-3120.
Article continues below
---
advertisement


---
Author:
Lindsey Getz
Archives
---
More football commitments trickling for South Jersey football players
Former Glassboro Star George Johnson Almost Vaulted Team to NFC Title Game
A Running Start
For the Love of the Game
Usual Powers on Top in Wrestling
The South Jersey Fab Four
Lighting the Way
Setting the Stage
Big Words: Twins!
Ready to Grow
Home of the Brave
How Can I Ever Thank You?
One of All-Time Best Coaches Resigns
Walk of Fame: Ella Hampton
Jersey Fresh
More...