Let There Be Light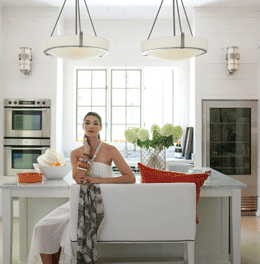 …From the pages of House & Home…
A room-by-room guide to a brighter home
Figuring out the lighting for your home's many rooms can feel like an overwhelming job. Each room has its own needs that can be optimized with the right lighting.
To make this process a little easier, House & Home magazine spoke with some of the area's lighting experts to have them weigh in on their best tips for each space.
Master Bathroom
Bright lighting is important in the master bathroom, experts say. After all, that's where you do "all your work," says Jim Gardner of the lighting design team at Homeclick Lighting & Bath in Hopewell, N.J. "You need to be able to see your face clearly for makeup, shaving or brushing teeth. When looking at the mirror, it's best to have a light above the mirror and on the wall—perhaps even on either side of the mirror."
A fancier master bath may even include a chandelier, adds Gardner. "A chandelier coordinating with wall sconces can make a bathroom dressier—more Hollywood," he says. "Larger bathrooms also have his and hers vanities so you may want to consider lighting on either side of both mirrors so that there is plenty of light for everyone."
Dimmers are also great for bathrooms, adds David Nyce of Bergey's Electric of Hatfield, Pa. These work well for above-sink areas and the center ceiling fixtures. They also make for a great night light, so that you can have a soft glow illuminating the room in the evening.
Powder Room
Since you're not putting on makeup from scratch or shaving in this room, you don't have to worry as much about bright lighting in a powder room, says Gardner. "This is a space where you can be more whimsical," he suggests. "That might include hanging a really unique chandelier that is a conversation piece among guests. The powder room can be a space to have some fun and display something that might not work elsewhere in the house."
Because powder rooms don't require bright lighting, lights typically face upward in these spaces, adds Nyce. "Only a minimum amount of light is needed for quick ins and outs so lighting facing upward will work fine," he says. "Uplights do not show dust in the room as much as down lights since they are facing the ceiling."
Bedroom
"Often a fan/light LED combo is a popular choice over the base of the bed area," suggests Nyce. "Drop a decorative pendant next to a side chair along with a jug glass for a pop of color. This also works on either side of the bed. Another option would be to do a couple of swing arm fixtures for a tailored look. Use floor lamps for added light although most of the time less is better so if you don't need that additional light forgo those lamps. Clean lines and minimal 'stuff' is definitely the look of today." Another popular lighting feature amongst homeowners today? Everything personalized, experts say.
"In general, customized lighting is really popular with homeowners these days," adds Kira Palichat, lighting and appliance manager for Ferguson Bath, Kitchen, & Lighting Gallery of Cherry Hill, N.J. "Not just in the bedroom, but throughout the house. Homeowners want lighting to work for their exact needs and they're using it to get everything they need out of a space. In the bedroom that could be customized reading lights for his and her sides of the bed."
Kitchen
Good task lighting is the most important thing to remember in the kitchen, says Arlene Kemble, lighting showroom manager for Billows Electric Supply. "That obviously means recessed lighting for general lighting but it also includes under-cabinet lighting," Kemble says. "Under-cabinet lighting is so helpful I'm not sure how people can live without it anymore."
Gardner agrees. "I'm a big fan of under-cabinet lights," he says. "For one, they highlight the countertops and since most kitchens are showpieces of the house these days, that's a big plus. It adds architectural dimension. But I also love that it provides a handy night light. At the end of the day we often turn all the lights off in the house, but leave on the under-cabinet lights in case we run in to get a snack while watching TV or get up in the middle of the night for a glass of water."
Dining Room
The dining room is so important when it comes to lighting, since this is the space where you're setting the table and entertaining guests, Gardner says. "Layered lighting is important in the dining room," he says. "That includes a chandelier over the table, wall sconces, and a couple of candlestick lamps on a piece of furniture such as a wine buffet."
Gardner recommends a little trick to get a true view of how the lighting works in this space: "Take the time to sit in each chair around the table. Most people always sit in the same chair and wouldn't even know what the lighting or the view is like from other seats around the table. Take a seat and see what your guests would see."
The dining room can also be a place to dress up your lighting a bit. Palichat says she's seeing just that with a big resurgence in crystal. "Clean, modernized crystal has become popular and we're seeing that in multiple rooms," she says. "It's no longer just for the foyer or dining room but some homeowners are even using it in a master bathroom or a reading space."
Basement
In a basement, recessed lighting has long been the way to go. But a basement can have more to it than just overhead lights. "Recessed lighting is always great for illuminating a room, but I do recommend that it be on a dimmer so that you can have more ambiance when you want it," Palichat says. "And even in a basement I would never recommend doing recessed lighting alone. You want some sort of decorative lighting to create a mood and to offer layers of light to the space. This can include floor lamps and wall sconces."
"Wall sconces are great for basements," agrees Kemble. "We also see customers that have a bar in their basement and some pendant lights over the bar look really nice. Some may even do under-cabinet lighting around the back of the bar for an extra special touch."
Kemble says she also recommends step lighting on the basement stairs to provide some softer light. "It's a warmer light that sets the mood rather than just having blaring recessed lighting on," she says. "If you're having a party down there and you put the step lights on, it changes the atmosphere."
Energy Efficiency
Regardless of the room, another big lighting trend these days is energy efficiency. Palichat says that LED is being introduced everywhere—not only in contemporary fixtures but traditional ones, as well. "Clients are still a bit scared of LED because they assume it's similar to fluorescent which can be a white, cold light, but that's not true anymore," Palichat says. "LED has really come a long way and the energy efficiency factor is really important. At the very least, I would recommend it in under-counter applications, cove lighting, theater lighting, or anywhere else that homeowners don't want to change light bulbs on a regular basis."
"LED is changing and getting better every day," adds Nyce. "The age of using heater [incandescent] lamps is over. Compacts are becoming a recycle mess. LED is the answer and has a long life—anywhere from 25,000 to 50,000 hours. Using low wattage and getting maximum light is today's smart living."
RESOURCES
Bergey's Electric
Hatfield, Pa.
(215) 723-5518
BergeysElectric.com
Billows Electric Supply
Berlin, N.J.
(856) 767-4490
Burlington, N.J.
(609) 387-7000
Billows.com
Ferguson Bath, Kitchen & Lighting Gallery
Cherry Hill, N.J.
(856) 489-5620
Ferguson.com
Homeclick Lighting & Bath
Hopewell, N.J.
(732) 379-3457
Homeclick.com
Published (and copyrighted) in House & Home, Volume 15, Issue 4 (October, 2014).
For more info on House & Home magazine, click here.
To subscribe to House & Home magazine, click here.
To advertise in House & Home magazine, call 610-272-3120.
Article continues below
---
advertisement


---
Author:
Lindsey Getz
Archives
---
Family Fun
Live from the White House
Collingswood
Stepping Up to the Plate
Local Story
Lingering Questions
Still Fresh
Under the South Jersey Sun
Riverside Retreat
Against All Odds
Like a Girl
Going Her Own Way
Fall In
Aiming to Please
Walk of Fame: Natalie Hope Sommermann
More...