Bordentown Township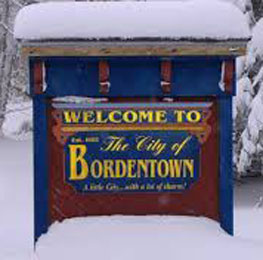 Bordentown Township was created more than 150 years ago, on January 31, 1852, from parts of Chesterfield and Mansfield. The first governing body of the township included three committeemen who held meetings in a shed. When it was too cold outside, the meetings were moved indoors to a private home until 1903 when the first Township Hall was built on Cemetery Lane.
Since then, Bordentown has become an even better community to live, work and play in, with easy access to the New Jersey Turnpike, Routes 130 and 206, and Interstate 195 and 295. There is also a River Line station in Bordentown that provides easy access to from Camden to Trenton.
Bordentown boasts four major parks for residents to enjoy: Northern Community Park, Joseph Lawrence Recreational Facility/Veterans Memorial Park, Charles Bossert Park and Terry Field. Organized sports leagues for residents of all ages are available, including basketball, soccer, baseball, softball and wrestling. Bordentown children can also participate in Boy Scouts and Girl Scouts in the area.
Students living in Bordentown attend the schools of the Bordentown Regional School District, which include Clara Barton Elementary School, Peter Muschal School, MacFarland Intermediate School, Bordentown Regional Middle School and Bordentown Regional High School.
The Bordentown Performing Arts Center was built to bring local, regional and world-renowned cultural performances to the community. The facility hosts Mainstage Performances, Children's Theater and a Summer Production each year. For more information on the Bordentown PAC, visit http://www.bordentown.k12.nj.us/BRHS.cfm?subpage=237642.
The Bordentown Senior Citizens Club offers many activities for local seniors, including various classes and trips. This generous group also organizes Toys for Tots Drives, donates gifts to residents of The Clare Estate, and collects school supplies for local students, canned goods for the needy and international phone cards for soldiers.
Downtown Bordentown includes a business district with a rich history and charm. The town has beautiful and historically significant architecture that house many interesting shops and restaurants, according to www.downtownbordentown.com. Goods sold in shops include art, clothing, collectibles, gifts, furnishings, hardware, jewelry, and many other options. Restaurants in the area offer great food and drink options, with American, Italian and Japanese cuisine.
The Downtown Bordentown Association includes 70 members with businesses in the city. Their mission is "to promote Bordentown City as a great place to live, work, dine, shop and have fun---all within a peaceful, historic setting." The organization also holds annual events to bring locals and visitors to the area. The Annual Iris Festival, held each year in May, includes fine artists, antiques, jazz musicians, and the Iris Amateur Grower's Competition. The Cranberry Festival, held every fall, features fine arts & crafts, a vintage vehicle show, and music and entertainment for everyone.
Each year, Bordentown City arranges a Memorial Day Celebration and Bordentown Township organizes and host an annual Veterans Day Ceremony at the Township Veterans Monument, which was erected and dedicated in 1997.
The town's Turkey Trot Fundraiser will be held on November 22, 2014 at Joseph Lawrence Park. Registration starts at 7:30am, with the 2-mile family fun walk at 9am and the 5K run/walk at 10am. For more information or to register online, check out http://www.active.com/bordentown-nj/running/bordentown-turkey-trot-2013.
The town's tree lighting will be on Monday, December 1 from 6-7pm.
Bordentown's Annual Holiday Chocolate Walk will be on Friday, December 5 from 5-9pm on Farnsworth Avenue. Stroll downtown and enjoy caroling, chestnuts roasting and of course, chocolate.
The Cryers Christmas Show is one way to get rockin' for the holidays. Check it out at The Record Collector on December 20 from 7:30-10pm. Get more information at http://www.the-record-collector.com/.
For more information about Bordentown, visit them online at bordentowntownship.com.
© SouthJersey.com 2014. All rights reserved. This article or parts thereof may not be reprinted or reproduced by any other party without the express written consent of SouthJersey.com. For more information, please call 856-797-9910.
For more South Jersey Town information, visit our South Jersey Town News page.
Article continues below
---
advertisement


---
Author:
Meghan Shott
Archives
---
Family Fun
Live from the White House
Collingswood
Stepping Up to the Plate
Local Story
Lingering Questions
Still Fresh
Under the South Jersey Sun
Riverside Retreat
Against All Odds
Like a Girl
Going Her Own Way
Fall In
Aiming to Please
Walk of Fame: Natalie Hope Sommermann
More...