Down Below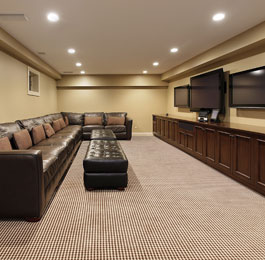 …From the pages of House & Home…
Transforming the basement into your favorite room in the house
For those of us lucky enough to have a basement in our home, we know the possibilities are endless. From a home theater to an additional bedroom to extra storage space, a basement gives you additional living space you may not be able to live without.
But basements sometimes aren't all they're cracked up to be. They can sometimes be more of a headache than an advantage, with a penchant for issues like mold and mildew growth and flooding. When such concerns are thrown into the picture, homeowners can shy away from finishing a basement and making it the useful space they envision. With proper attention to details, however, our experts say there's no reason to forgo making your basement the space of your dreams.
Things to consider
Not all basements have issues that can make you think twice before a renovation project takes place. But unfortunately, the vast majority of them do have some sort of concern that should be addressed first.
"The basement is a different environment from the rest of the house," says Tom Meier, owner of Basement Living Systems in Westmont, N.J. "It has a higher humidity which provides food for mold."
The reasons for high humidity can be lack of air circulation, poor grading around the outside of the foundation, clogged gutters and poor drainage, explains Andrew Giannattasio, partner with GTG Home Builders in North Branch, N.J. He notes that each of these situations are common and easily rectified, but if not addressed, can lead to issues like mold and mildew.
Bart Zazzali, owner of Eco-Dry Waterproofing in Westfield, N.J., adds that the age of your home can also contribute to problems. He says building codes have changed a lot over the years, and codes today address keeping basements sealed and dry, while even 25 years ago they did not. Of course, that's not to say the codes are exactly as watertight as they should be.
"In general, even with codes today, they're not waterproofing, they're dampproofing," he says. "When a builder builds up to code, it's only going to be dampproof and there's only going to be a one-year warranty that the homeowner won't get water. The codes really aren't where they should be to make sure the basement is going to be dry for 50 years."
Though you may think your home's foundation should keep the basement safe from issues like poor drainage and clogged gutters, and there shouldn't be a need for waterproofing, the reality is, the concrete the foundation is made of is porous, so water can still seep through it.
"Have you ever gone out on your front porch on a hot summer day, after several hot days, and lifted up a rug that may be on the concrete? It's wet under there because concrete is porous and the water from the ground is evaporating out," says Mike Solmen, operations manager for Vulcan Waterproofing of Pa. in Philadelphia. "It's the same for your basement, which is sitting on damp earth. It is wicking moisture through it, creating a breeding ground for mold."
If you don't address the issues your basement may have before your renovation project, you could end up with a damp and moldy situation down the road.
"The average basement remodel costs anywhere from $15,000-$20,000," says Shawn Becker, owner of Basements Love Us in Palmyra, N.J. "You don't want to spend that much only to have to tear it up to bare foundation to waterproof it afterwards."
Signs of problems
So how do you know if you have a problem with humidity or flooding, or even mold and mildew? There are a number of indicators you can look for—peeling paint, puddles of water and a musty smell.
"Damp spots on the walls and an unusual amount of insects, especially spiders, are good indicators of dampness," says Solmen. "Spiders live on insects and insects live on moisture. Cracking on the floor also shows signs of moisture. If you have to run a dehumidifier in your basement, there is a water problem or a high humidity content in the basement."
Joseph Edwards, designer/project manager for Elite Concepts in New Milford, N.J., says if you put your hand against a poured foundation and feel moisture on it, there is obviously some type of buildup in the foundation. If it is a block foundation that is not treated, he says looking at the bottom of the block itself can show whether or not there is a moisture problem. "The bottom will be darker and the top lighter if there is water getting in the cells of the block and filling up," he says. "You can tell right away that you will need to remediate before refinishing."
If there is a white powder-like substance on your concrete, that could also indicate a water issue, says Zazzali. Known as efflorescence, the powder is mineral deposits left behind from evaporated water that has penetrated the concrete. While the powder is not dangerous, it does indicate a water problem.
Signs upstairs, like doors not being able to shut well or rubbing together, can also be an indication that there is excessive moisture in the basement, Solmen adds. "Problems in the basement don't stay in the basement just because you shut the door," he says.
Remediation and renovations
Experts suggest before you even think about renovating your basement, you address any of the issues the area may have, and then have the area waterproofed. This way, when you do invest the money into a project, you won't be going back and having to spend it again when it is ruined by a future flooding or mold issue.
"If there is a mold, mildew or water situation, it's best to have these problems evaluated and corrected before considering a basement finishing project," says Brian Coleman, president and owner of Coleman Home Remodeling in Telford, Pa.
"If there is a sump pump that floods when electric service is lost, the homeowner should consider a small generator for backup power that could be used to operate a pump and a small amount of other devices, too. This can also help alleviate the accumulation of dampness under this situation that could lead to other problems."
After addressing any outstanding issues, Dean Seibert, vice president of InSoFast, a nationwide company offering a unique moisture-wicking product to insulate and frame basements with, says homeowners should be sure there is very little organic material in the basement.
"Keep as much organic material out of there because that's food for mold," he says. "Inorganic products, like foam plastics, are the best."
Edwards agrees, adding homeowners should consider using products that can stand up to any potential water issues, should they happen to occur despite efforts to avoid them. "Try and pick sustainable materials; ones that are durable to potential accidents that may happen," he says. "That way, if you get a crazy nor'easter or hurricane it won't destroy everything. Choose vinyl wood-look floors, PVC paneling and things of that nature. If you use these products and get a little bit of water or moisture you won't have to tear it all out and re-do it."
In addition to choosing the proper products, Giannattasio says homeowners should consider adding additional egress points for an escape in case of fire, additional smoke and carbon dioxide detectors to ensure your family's safety and even a separate heating and cooling system. "Most times existing heating and cooling systems are not large enough to accommodate the new area, making them less efficient and not resulting in adequate climate," he explains.
Because there is so much that can go into a basement renovation project, Coleman suggests educating yourself on the products available before starting any project and ensuring your basement is the appropriate setting for whatever project you may have in mind.
"It's mostly about research, education and asking questions," he says. "Find out what has been used in the past that is still holding up, as well as about the new products that are on the market that are recommended."
RESOURCES Basement Living Systems
Westmont, N.J.
(856) 952-7901
WowBasements.com
Basements Love US
Palmyra, N.J.
(856) 389-5132
Coleman Home Remodeling
Telford, Pa.
(215) 721-4431
ColemanHomeRemodeling.com
Eco-Dry Waterproofing
Westfield, N.J.
(973) 383-1175
EcoDryWaterproofing.com
Elite Concepts
New Mildford, N.J.
(201) 261-6380
EliteConceptsUSA.com
GTG Custom Home Builders
North Branch, N.J.
(877) 864-3532
GTGBuilders.com
InSoFast, LLC
(888) 501-7899
InSoFast.com
Vulcan Waterproofing of Pa.
Philadelphia, Pa.
(215) 332-6565
VulcanWaterproofing.com
Published (and copyrighted) in House & Home, Volume 15, Issue 5 (November, 2014).
For more info on House & Home magazine, click here.
To subscribe to House & Home magazine, click here.
To advertise in House & Home magazine, call 610-272-3120.
Article continues below
---
advertisement


---
Author:
Amanda Hamm Hengel
Archives
---
Family Fun
Live from the White House
Collingswood
Stepping Up to the Plate
Local Story
Lingering Questions
Still Fresh
Under the South Jersey Sun
Riverside Retreat
Against All Odds
Like a Girl
Going Her Own Way
Fall In
Aiming to Please
Walk of Fame: Natalie Hope Sommermann
More...