A Distinct Touch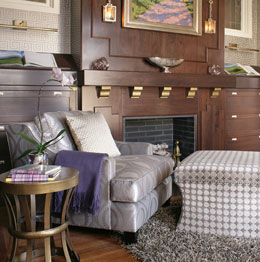 …From the pages of House & Home…
Custom woodworking caters to personal style and desires.
A homeowner looking to liven up an outdated décor has plenty of options nowadays, whether it's the kitchen, family room, foyer or any other space in the house that needs work. The easy move would be to head to a big box store or furniture outlet to find new kitchen cabinets or an entertainment center or even decorative pieces for the walls.
But for the more adventurous type, someone who's truly looking to make the house their own, custom woodworking can be a spectacular alternative. While it's an option that can get pricier and take a little longer to complete, the end result is a look of sophistication and originality that will also add value to your home.
"It gives them a way to personalize their house and turn it into a home," says Mark Ollivier, design and sales manager at Home Trimwork of Huntingdon Valley, Pa. "They can create a style that fits their personality and makes them want to come home."
We spoke to several local experts about the special touch custom woodworking can add to the home, some areas of the house where it works best, and what to look for in a company when considering this type of work.
What are the benefits?
The obvious advantage to having something custom built is that it's made just for your home. You don't have to worry if the coffee table you like will look right in the middle of the family room, or if the mantle fits perfectly over the fireplace, or if the entertainment center extends past the wall. Those specifications are all part of the process.
"I think the main factor is, when you're dealing with custom woodworking, you can have it designed and built to fit the space you have, so you're not losing space trying to adjust for something you bought off a shelf or in a furniture store," says John Troxell, director of design for Wood-Mode Fine Custom Cabinetry. "You can scale it to the room that you're actually working in. You can look at the proportion, get it to match the finish, and use it for the needs you have in terms of storage and functional applications."
"With custom built over anything store bought, you're going to get exactly what you want," agrees Chris Klee of CK Carpentry in Newark, Del. "A lot of times, if you're trying to build something into a specific space, you can make it fit proportionately better than something you buy off the shelf. So it will always be more aesthetically pleasing, and whatever you're trying to use it for, you can set it up for that perfectly."
Custom wood pieces also tend to be better and longer-lasting products, especially when it comes to furniture. Something like a red oak dining room table or mahogany bar can even become a family heirloom passed down from generation to generation.
"If you choose your craftsman carefully enough, it's going to be a better product," says Bill Robbins of Vincentown, N.J., who has been designing and making hand-built furniture since 1980. "It's going to be more expensive, but hopefully the results are what you're looking for.
"I typically work with technologies that aren't too different from what was going on in the 1700s. Of course I use electricity, but the joinery and the materials are well proven things. I don't think we make these pieces with the idea that they're going to last forever. You just make a good piece of furniture, and if it's cared for, they do tend to last indefinitely. The nice thing is if it's a careful, pleasing design, they tend to hold their value. They're valued differently than a mass-produced item that came from a store."
Yet another benefit to custom woodworking is the uniqueness it brings to your home. Your neighbors won't be able to say they have the same exact décor. "It gives you a very distinct, personal look," Troxell says. "For some people, that might be a vanity trip, but at the same time, it really tends to reflect the person who's doing it, and I think that's something that makes the space a little more meaningful and more comfortable. It gives you a lot more flexibility than just running down to your local furniture store or department store."
Adds Robbins: "Certainly, that's part of the allure. What I'm trying to do is make something so pretty, something that has that wow factor, so people just have to have it. The motivation is different with each person. Some people like that it's unique; some people just recognize the quality and recognize that it's real wood; and other people like that it's locally made—that's becoming a larger part of people's calculation on this."
Popular uses
The No. 1 use for custom woodworking, experts say, has been and continues to be custom cabinetry in the kitchen.
"The kitchen has been the traditional strong point for custom cabinetry," Troxell says. "We do a whole range of finishes, from painted finishes to multi-step wood grain or wood stain type of things. Basic white has always been strong and I don't see that going away, but we're seeing more of the multi-step stain taking a key part, particularly in the upper end of the market."
Ollivier adds that custom cabinetry may be a little more expensive than something pre-made, but not by much. "It's worth the extra 10 to 20 percent in cost to have something that fits the space perfectly, versus something that just fits good enough," he says.
Home Trimwork also does a large amount of built-in bookcases and entertainment centers for family rooms or dens, and custom trimwork is popular throughout the house, particularly the entryway. A lot of people are "just interested in the foyer," Ollivier says, "because when people come over, that's the first thing they see. The foyer is always a big priority."
But crown molding or base molding can be useful in other areas, as well. "If you have a plain hallway and it looks a little boring, you can add some custom trimwork, and all of a sudden it looks really nice," Klee says.
Robbins gets requests from around the country to do something similar to a custom bar that's featured on his website for an entertaining space. But usually, the bars he sells are much more basic.
"I like to do bars," he says. "Mostly what I do is a portable bar that you can roll wherever you want in the room or the house. You open it up and everything is stored inside and you can serve off of it. I make far more of those than I do custom, installed bars, but I've done them, too."
Other trends
Although the kitchen and entertainment spaces are the most popular spots for custom woodworking, it can also make a big difference in other spaces that don't immediately come to mind.
"For some folks, the laundry room can be perfect," Ollivier says. "They want it set up with cabinetry over the washer and dryer, and they take the coat closet out and put in a set of built-ins in with a bench seat for the kids to put their shoes and book bags away."
"I've done a couple built-ins in bedrooms," Klee says. "I was just talking to a guy about one. He has a small condo and there's no real closet, so we're going to build built-ins to work as closets, but we're going to integrate it as part of a whole built-in across the wall. So there will be space for the TV and a built-in dresser, all of that." Troxell, whose company is influential in kitchen cabinetry, also designs custom spaces for other parts of that room.
"Walk-in pantries are certainly a part of it," he says. "There's certainly different shelving involved, but also drawer storage; you can make more use of depth than you would with shelving. With rollout drawers, you can keep a lot more stuff and access it easily and quickly. It's not just food, but small appliances, cookware or even serving pieces. You can even have a rack to hang linens on, so they're not folded up in a drawer. There are a couple different options there."
Hiring the right company
For Ollivier, the first step with a client is exchanging information, finding out their likes and dislikes, and coming up with design ideas that might fit into their budget. He utilizes social media and technology early on to help show what he can do with a client's space.
"That's a huge part of the first step with me," he says. "People will send me images of their home: the foyer, the kitchen, the fireplace wall, whatever they want to work on. Then I do a web consult with them, and I start to design some things right in front of them. They can look at other images from our portfolio of similar installs, and when they find something they like, I'll draw it on their wall. Once they see it drawn on an image of their home, it really strikes a nerve."
Robbins thinks it's important to talk to other people who have used the company to gauge what the process was like. "I think you want to see examples of work they've done, you want to talk to people who have worked with them and see if it was a good experience," he says. "You want to make sure you have a contract and the contract is as specific as you can make it, and you're getting exactly what you asked for and what you were promised."
Finally, as this kind of work can be time-consuming, it's important to trust the people you are welcoming into your home.
"If you're going to spend a fair amount of time and a fair amount of money, how do you get along with these people? Are they somebody you can talk to, who will listen to you? Personalities do play a significant part in this process," Troxell says. "For any of these [jobs] to be really successful and not overly stressful, there needs to be a sense of rapport with the people you're dealing with. … If you don't feel comfortable with them, it's not going to be a fun process, I can tell you that."
RESOURCES
CK Carpentry
Newark, Del.
(302) 602-3184
CKCarpentry.com
Home Trimwork
Huntingdon Valley, Pa.
(610) 287-1100
HomeTrimwork.com
William Robbins Furniture
Vincentown, N.J.
(609) 859-1790
WilliamRobbinsFurniture.com
Wood-Mode Fine Custom Cabinetry
Multiple locations
Wood-Mode.com
Courtesy of Wood-Mode / Cabri Inc. Photo by Peter Rymwid Photography.
Published (and copyrighted) in House & Home, Volume 15, Issue 5 (November, 2014).
For more info on House & Home magazine, click here.
To subscribe to House & Home magazine, click here.
To advertise in House & Home magazine, call 610-272-3120.
Article continues below
---
advertisement


---
Author:
Matt Cosentino
Archives
---
Family Fun
Live from the White House
Collingswood
Stepping Up to the Plate
Local Story
Lingering Questions
Still Fresh
Under the South Jersey Sun
Riverside Retreat
Against All Odds
Like a Girl
Going Her Own Way
Fall In
Aiming to Please
Walk of Fame: Natalie Hope Sommermann
More...