Love the One You're With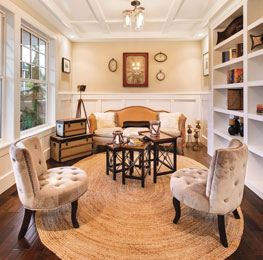 …From the pages of House & Home…
Homeowners are taking on renovations rather than moving.
Moving up doesn't necessarily have to mean moving out. These days, homeowners are increasingly "staying put" in their homes, making changes like opening up a floor plan, moving a bedroom to the first floor or creating a hobby room, all in lieu of moving.
Whether expanding their family or newly minted empty nesters looking to change it up within their current home, homeowners are increasingly finding innovative solutions to their needs, without breaking out the moving boxes. We spoke to some local experts and got their take on the trend—and some changes and renovations that can help a family see their home in a whole new light.
"We see more homeowners these days renovating rather than moving [or] upgrading. First of all, old construction in our opinion is almost always better than new construction. There are often a lot of difficulties and added expense to the homeowner when purchasing new construction due to the cost-saving techniques of developers," says Wayne Liss, owner of New Look Home Exteriors in Huntingdon Valley, Pa.
"Besides that, our belief—based on our experience and discussions with homeowners—is that renovating is a much more cost-effective way of obtaining a new and fresh look for your home," Liss continues. "Purchasing quality materials from a quality company who will install those materials the correct way will ultimately lead to the feel of a new home, without the headache of searching out a new property, the expense of paying for that new property, and the likelihood that you will have to make renovations to that property anyway."
Renovations can often be a solution to those looking to upgrade without leaving behind the features they may love about their current home.
"It is common for us to work with clients who have been looking for a new home for a couple years, but have decided to stay put and remodel," says Stephen Campbell, CR, an architectural designer at Harth Builders in Spring House, Pa. "There are a few big drivers that we see. Homeowners who stay put often love their school system, neighborhood, proximity to family or friends, [or] their commute. Homeowners who have looked around for a new house often find these things irreplaceable, and the investment in a new house, which may or may not still need work, is sometimes not worth it."
Carla Colella, who runs business development at Colella Construction, Inc. in Lansdale, Pa., also has observed this new trend. "For the last few years, we have been working with many clients who chose to stay and renovate their existing home by adding on or making some much needed improvements," she says.
The reasons behind staying put are varied. Todd Wenger, owner of Wenger Contracting in Chester Heights, Pa., cites "neighborhood, schools, general surroundings" as reasons not to move and upgrade instead. Wenger also says many homeowners choose not to move because even if they did move to a larger home, they would still have to do renovations, even though the new house is often larger and costs more money already.
Add a new baby coming into the mix, and many times homeowners will renovate to avoid moving.
"Welcoming a new child is always a joyous and overwhelming task. Clients are looking for projects ranging from finishing an existing room into a nursery to floor plan changes including an on-suite nursery in the master bedroom," says Will Lawless, president of Allegiance Builders, Inc. in West Chester, Pa. "In some cases, where space is already at a premium, an addition can allow the house to grow with the family, eliminating the need to move [or] upgrade to a larger home."
But Campbell says it's not necessarily adding or renovating a bedroom when it comes to a new baby. "It's sometimes rehabbing a bedroom, but that's actually not the most common. We see homeowners preparing for the new family member by designating spaces and wanting advice on how to design them appropriately," he explains. "This can mean creating child areas [like a] playroom, finished basement, increased mudroom storage and/or adult areas [such as an] office, family room addition, laundry room."
And for empty nesters? Emotional attachment often plays a role.
"Homeowners who have lived in their home a long time often have a sentimental value to their home. That's where they've lived and where they want to stay," Campbell says. "Empty nesters are often ready to do projects that they've put off for a long time. Because of this, we see a variety of projects from these types of clients, but commonly baths and kitchens. In all of these projects with empty nesters who plan on staying in their homes long term, aging-in-place design is very important, and ensures that they can live comfortably in their homes well into old age." These types of changes include minimizing stairs, widening doorways and hallways and thinking about single-floor living, he notes.
Wenger also sees some common features being upgraded in the case of empty nesters. "If they stay put, [empty nesters are upgrading to] an updated master suite with larger shower and bigger organized closets, maybe updating the finished basement for a more inviting adult-themed area for entertaining [with a] bar, wine cellar, home entertainment area and home gym. I also find empty nesters downgrade to a smaller home, but still want to update [or] modernize the kitchen, bathrooms and general decorating."
Renovations to transition into single-floor living is also common for this demographic, Lawless notes. "Empty nesters don't usually have the same needs as a new family. Typical projects for them would be a master bedroom and bathroom on the first floor," he says. "Another common project we see is moving the laundry room to the bedroom level. Both of these projects typically center on a desire to eliminate climbing the stairs so often in a home."
But when conducting renovations, homeowners must stay cognizant of how it could affect resale. "We see a lot of bedrooms turned into offices, kids bedrooms turned into larger master bathrooms," says Colella. "In these cases, we always discuss how these changes may affect resale and suggest planning or preparing for future use if they ever do decide to sell."
And like most things, the economy also comes into play. "When the economy is down, people tend to be reluctant to upgrade to a larger home," Lawless says. "A larger home is obviously more expansive, but it also costs more to operate and maintain. That's a lot to swallow, especially when the economy is uncertain," he notes. "The biggest factor would be the effect on the real estate market. Property values also fluctuate with the economy. A family wanting to sell their home in a down market may not be able to because they owe more than the current value of their home. Due to these factors as well as others, the housing inventory for sale in a down market can be very low. With less people looking to sell and even fewer looking to buy, a down market is not the time to make a good return on your investment."
Campbell also points to the economy as a driving factor. "Our market is certainly tied to new construction, but when the public's confidence in economic movement is low, homeowners will often chose to upgrade their existing house rather than make the larger investment for a new house," he says. "It makes remodeling somewhat unique."
RESOURCES
Allegiance Builders, Inc.
West Chester, Pa.
(484) 614-6952
AllegianceBuildersInc.com
Colella Construction, Inc.
Lansdale, Pa.
(215) 368-3196
ColellaConstructionInc.com
Harth Builders
Spring House, Pa.
(215) 654-0364
HarthBuilders.com
New Look Home Exteriors
Huntingdon Valley, Pa.
(215) 938-8484
NLHExteriors.com
Wenger Contracting, Inc.
Chester Heights, Pa.
(888) 426-9611
WengerRemodeling.com
Published (and copyrighted) in House & Home, Volume 15, Issue 5 (November, 2014).
For more info on House & Home magazine, click here.
To subscribe to House & Home magazine, click here.
To advertise in House & Home magazine, call 610-272-3120.
Article continues below
---
advertisement


---
Author:
Rachel Morgan
Archives
---
More football commitments trickling for South Jersey football players
Former Glassboro Star George Johnson Almost Vaulted Team to NFC Title Game
A Running Start
For the Love of the Game
Usual Powers on Top in Wrestling
The South Jersey Fab Four
Lighting the Way
Setting the Stage
Big Words: Twins!
Ready to Grow
Home of the Brave
How Can I Ever Thank You?
One of All-Time Best Coaches Resigns
Walk of Fame: Ella Hampton
Jersey Fresh
More...