How To Build A More Beautiful Bedroom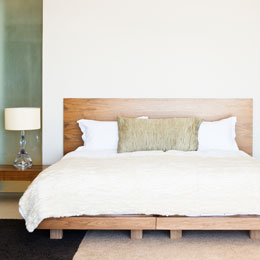 …From the pages of House & Home…
Ten ways to transform this forgotten room into a restful retreat.
The bedroom should be a refuge, a calming sanctuary where homeowners can unwind from one busy day and rest up for the next.
In reality, many homeowners put the master bedroom low on their priority list, putting most of their design dreams and budget into high-traffic areas of the house, like the living room and kitchen. If the family has children, their bedrooms also take precedence, as parents will most likely buy items to make their children's rooms better before turning to their own bedroom.
But taking the time to create a beautiful, relaxing bedroom can result in big benefits. Below are 10 tips to create a beautiful bedroom from local design experts.
1. The bed
There's no more important component in bedroom design than the bed. You'll need it to be comfortable, for both you and your partner, and durable. As the largest piece of furniture, it is likely to be the focal point of design, so it should be attractive and should match the overall mood you want to achieve, designers say.
Now, for the first building block—the mattress. A queen-sized mattress is 60 inches by 80 inches, and a king-sized mattress is 76 inches by 80 inches. Some custom-made mattresses may vary slightly. Today, retailers sell many varieties of mattresses, including customizable brands. Shop around and try as many as you can to get a good sense of your preferences.
Bed frames run slightly larger than mattresses, and come in a huge array of finishes and styles, says Bob Huber Jr., sales manager at Oskar Huber's Southampton, Pa., store. Design experts in the store can help clients determine the best look for their bedroom.
2. Bedding
Let's be blunt: Beds are expensive. If your bed frame and mattress are in good condition, but you still want to revamp your bedroom, bed linens are an inexpensive way to do so.
Bedspreads come in a vast range of fabrics, patterns, and colors, and the choice really lies in the hands of the homeowner. High-quality sheets are a nice way to add comfort and luxury to the bedroom. The main currency for bed sheets is thread count—the number of threads in a square inch of fabric.
"The higher the thread count, the more luxurious the bedding becomes," says Lucy Schwarz, owner of ReFind Rooms in Voorhees, N.J. "Beautiful 500-plus-count cotton sheets are a luxurious and soothing beginning to a restful night."
3. Color
Color theory holds that blues and greens are the most relaxing colors, while reds, oranges and yellows create vibrancy and energy. There is, however, room for personal preferences to overtake the color wheel. Huber suggests gray, perhaps with lavender undertones, as a slightly unexpected way to create a calming feeling.
Neutral cream or beige walls allow for dynamic use of color in artwork, bedding, or curtains.
If you're looking for inspiration, Schwarz suggests checking out the clothes you wear most frequently. "Your closet is a great place to discover the colors that you love," she says.
4. Furniture
Furniture is a major factor in creating the style of a bedroom, Huber notes. These pieces can project various themes: contemporary, cottage-style, Old-World classical, or coastal.
For example, a cottage or coastal-style bedroom might feature whitewashed wooden bed frames, simple dressers in light wood tones or natural paint colors, and mismatched nightstands that add a complementary pop of color, perhaps a pale blue to evoke the feeling of the sky or the sea. By contrast, bedrooms designed in the contemporary style might feature sharp lines, and furniture with either very light or very dark colors—think lacquered white or black finishes.
Huber says these rules are fluid, and in many cases, homeowners are charting their own course.
"Many people today aren't doing matchy-matchy sets. A lot of people are mixing woods, layering different patterns and mixing styles from antiques to today's contemporary," he notes.
5. A place to sit
"A pretty spot near a window with a big, comfy chair to sit and read or just reflect on the day is a nice place to find refuge," Schwarz says. A large room can be made cozier by creating a seating nook, perhaps with a love seat and table.
By contrast, even a small room can benefit from some seating, and a popular option right now is a chest or bench at the foot of a bed. Huber points out that bedroom seating is another way to add a fun fabric, whether it be thrift-shop chintz or funky leather.
6. Artwork
The bedroom is a wonderful place to showcase art that is special to you, such as a classic piece of fine art; photographs that remind you of treasured places; or sculptures offered up by the littlest artists.
Art in the bedroom should further the goal of creating a restful space, says Marilyn Rosenthal, owner of Design Domaine Gallery in Bernardsville, N.J.
"Personally, I like to see pieces that are a little more calming, pretty and pleasing. It's the place to relax, be comforted, get that nourishment that only sleep can provide," she says. "I would discourage provocative art in the bedroom." Rosenthal notes, though, that if the couple truly loves a provocative piece, it might be the right choice for them.
It's entirely up to you whether to use a few smaller pieces or one big one that can potentially serve as the focal point of the room. If you do opt for one large piece, Rosenthal says the best place to put it is on the wall opposite the bed. "That is where you'll see it," she notes.
7. The rug
Your bedroom rug must meet two purposes: comfort and design. For a dramatic effect, a homeowner might choose a Persian or Oriental-style rug, like those that Couture Rug Gallery showcases at the Paoli Design Center. These deep, rich colors can anchor a room and provide a plush feeling.
Or, for a beachy, informal feeling, many people choose light-colored Berber carpets, sisal mats, or woven area rugs.
8. Lighting
Lighting can present a minor dilemma for the designer. The room seems to call for subtle light. However, a bedroom that's also used as an office might require a stronger source of overhead light.
A dimmer switch is an obvious solution. It's quite easy to install one on your own; however, if your lighting is part of a redesign or renovation, your electrician can certainly do it for you.
Night tables should feature simple bedside lights. "This is great if one person wants to sleep while the other wants to read," Huber says.
For a more dramatic addition to the bedroom, Huber says homeowners may want to consider a chandelier over the bed. Chandeliers can enhance any style, from an elegant chandelier in a grand bedroom to a small, wrought-iron model in a homey, colonial-style room.
9. Some special touches
A few creative touches can complete the work of making your bedroom your special sanctuary. Details can also allow you to dabble in new trends without committing to a look that might seem dated five years from now.
Huber likes the use of fabric on headboards. "They are so versatile and fun," he says. "They come in fabric and leather and the fabrics can be lush velvets, funky geometric prints, or supple leathers in any color from the rainbow."
If your bedroom is large, you may want to consider using nooks or alcoves as space for your hobbies or interests. Schwarz suggests creating a sewing nook, a writing desk, or a scrapbooking table. There's no limit to the possibilities—as Huber recently worked on a show house that featured a bar in the bedroom.
10. The mood. In the end, your bedroom should be a place to relax and rejuvenate. In the quest to make your bedroom beautiful, don't lose sight of the fact that the room is for you. Some people loathe the idea of a television in the bedroom, but if your favorite form of relaxation is watching a movie with your kids snuggled up around you, a TV might be absolutely fine.
RESOURCES
Design Domaine Gallery
Bernardsville and Spring Lake, N.J.
(908) 502-5063
(848) 469-8414
DesignDomaineGallery.com
Oskar Huber Furniture & Design
Southampton, Pa., and Ship Bottom, N.J.
(215) 355-4800
(609) 494-8127
OskarHuber.com
ReFind Rooms
Voorhees, N.J.
(609) 636-8642
ReFindRooms.com
Published (and copyrighted) in House & Home, Volume 15, Issue 6 (December, 2014).
For more info on House & Home magazine, click here.
To subscribe to House & Home magazine, click here.
To advertise in House & Home magazine, call 610-272-3120.
Article continues below
---
advertisement


---
Author:
Eileen Glanton Loftus
Archives
---
Family Fun
Live from the White House
Collingswood
Stepping Up to the Plate
Local Story
Lingering Questions
Still Fresh
Under the South Jersey Sun
Riverside Retreat
Against All Odds
Like a Girl
Going Her Own Way
Fall In
Aiming to Please
Walk of Fame: Natalie Hope Sommermann
More...