If These Walls Could Talk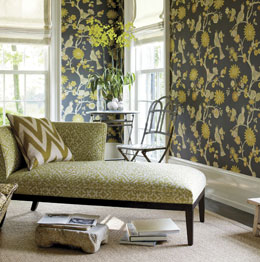 …From the pages of House & Home…
Let your walls speak through paint, wallpaper, window treatments and more.
A blank wall is to a homeowner what a blank canvas is to an artist: intimidating. Or, full of possibility.
It's daunting to think of all the possibilities—colors, patterns, textures—that could fill the void, and even more stressful to think of what might happen if you make a choice, then regret it later.
Fortunately, there are experts out there to guide us in the right direction, even encouraging us to commit to an exciting paint color or interesting wallpaper that will really make a statement. If your walls are due for a change, there are plenty of options available that will leave your rooms looking fresh and on trend for years to come.
Paint
Several factors can influence how you choose a paint color. First, the room itself can often lend itself to a certain family of colors, such as yellow in a kitchen, blue in a bathroom or beige in a bedroom.
"There are definitely colors that work better in certain rooms than others," says Elman Lurie, president and CEO of Interior Place in Southampton, Pa. "You'd never want to put red on bedroom walls because it can make people agitated. Bedrooms typically call for conservative colors, like neutrals. Living rooms are different. You can go for strong colors there, but it must complement your furniture and floors."
Flow is also important in determining color schemes. Byron McElderry, design coordinator for Shinn's Paint Store in Wilmington, Del., says colors should naturally coordinate as a person moves through the home. "If you have a yellow kitchen, the next room might be a shade of green because they work well together," he says.
Many people are also influenced by color trends announced annually by certain brands. Just as Pantone named Marsala (a rich, burnt red wine color) as its 2015 color of the year, so too did well-known paint brand Benjamin Moore, with Guilford Green, a shade particularly on trend with what customers are looking for, says McElderry. "This shade of green is already popular," he says. "It's user-friendly in most instances, not in-your-face, and generally softer."
Grays are continuing to become a go-to neutral that blends easily with any décor, and Lurie says he believes shades of purple are going to become prevalent in 2015. "Interior design is inspired by fashion, so if you see certain colors on runways, you'll see them come around in home interiors," he says.
But if high-fashion colors seem a little too bold for you, McElderry says homeowners need only look at their own closets for inspiration. "What I find with most customers is they all have certain colors that seem to be prevalent in their wardrobes," he says.
"There's a certain level of comfort they have with those colors, so I would suggest using those shades around the home. If you're going to look at it every day, you should like it."
Wallpaper
Today's wallpaper choices are a far cry from the patterns of years past. Designers have embraced it as a way to bring drama and texture to a room, and technology has advanced to make the application process that much simpler.
Lurie says a good introduction to wallpaper is to choose it for one wall as an accent. "After choosing your paint, choose a wall where you can be creative. Wallpaper is available in big, graphic prints that can look like a custom mural on your wall," he says.
For those who might want to use wallpaper in an entire room, choosing one with texture really makes it pop. "Grasscloth wallpaper is very popular, which might surprise some people," says McElderry. "It's natural and has a slight texture to it that gives it a luxurious and timeless look."
Some wallpaper even comes without a long-term commitment, says Lurie. Temporary wallpaper eliminates the need for the glue and water, and doesn't require an arduous removal process. "Temporary wallpaper has a self-adhesive backing that easily removes without damaging the wall or paint underneath," says Lurie. "It's affordable, too, which makes it a good option for those who want to test the water with wallpaper."
He sees a trend called "liquid wallpaper" making its way from Europe to the U.S. Made from a specially developed paint and applied with a patterned roller, liquid wallpaper has the visual effect of regular wallpaper. Lurie says, "It's made from all eco-friendly materials, is odorless and dries quickly. You can apply it on any surface and it holds for years."
Window treatments
As most walls in a home feature windows, it's just as important to pay attention to their role in a room's overall feel.
"What you do to your windows, how you treat them, is a key element in designing any space, just as paint on a wall or furniture," says Michael Halphen, designer at Allure Window Treatments in Philadelphia. "Window treatments also allow you to control the natural, organic lighting as it interacts with the indoors." This is a good point to note as some paint colors can appear differently depending on the light source.
Halphen says window treatments can be dramatic, but also minimalistic. "Some treatments disappear when you open them, allowing for full exposure of the window," he says. "If you want privacy, the key word is semi-opaque. This means at night, when you close the shade, you will have total privacy. Even with it closed during the day, light will filter through."
For truly dramatic windows, Halphen says he has been using a lot of large-scale geometric patterns, usually made up of two or three colors. "The sharp geometry and high contrast give a punch to the viewer walking into the room, and the larger scale works perfectly for drapery, especially full floor-to-ceiling or wall drapery," he says. "They work in many different settings and styles."
RESOURCES
Allure Window Treatments
Philadelphia, Pa.
(215) 463-0440
AllureWindowTreatments.com
Interior Place
Southampton, Pa.
(215) 220-2211
InteriorPlace.com
Shinn's Paint Store
Wilmington, Del.
(302) 652-3521
ShinnPaint.com
Photos courtesy of Calico CalicoCorners.com. Flat Roman Shade in the fabric Enchantment/Alabaster with decorative trim. Fabric walls in the fabric Soprano/Graphite.
Published (and copyrighted) in House & Home, Volume 15, Issue 7 (January, 2015).
For more info on House & Home magazine, click here.
To subscribe to House & Home magazine, click here.
To advertise in House & Home magazine, call 610-272-3120.
Article continues below
---
advertisement


---
Author:
Liz Hunter
Archives
---
Family Fun
Live from the White House
Collingswood
Stepping Up to the Plate
Local Story
Lingering Questions
Still Fresh
Under the South Jersey Sun
Riverside Retreat
Against All Odds
Like a Girl
Going Her Own Way
Fall In
Aiming to Please
Walk of Fame: Natalie Hope Sommermann
More...