The Foundation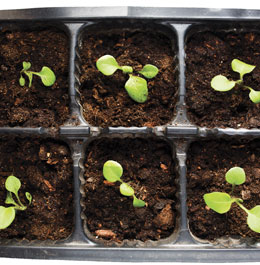 …From the pages of House & Home…
Educational Elements
What to know about ... starting seeds indoors
To really extend the life of your flowers and vegetables, start seeds indoors in a few easy steps.
* When to start: This can depend on the plant, but most seeds can be sown indoors approximately six weeks before the last frost.
* How to plant: Fill a clean container (seedling flats, peat pots or egg cartons) with seedling mix. Do not use potting soil. Moisten mix with warm water, and then follow the seeding instructions. Most seeds can be gently pushed into the dirt. Make sure to poke holes for drainage and place in a shallow tray.
* Watering: Cover containers loosely with a plastic bag to hold in humidity for germination. Once plants sprout, uncover them and water from the bottom by pouring water into the tray. Never water seedlings from the top as it can lead to disease or damaged sprouts.
* Keep them warm: In the first stage of germination, warmth is more important than light. Place containers on top of a refrigerator or dryer for gentle heat. Once they sprout, move to a room with a temperature between 60 and 70 degrees.
* Light the way: Placing seedlings on a sunny, south-facing windowsill is ideal, but those in the Northeast should use indoor lights, such as T-12 or T-8 fluorescents found at home improvement stores. Hang lights 3 to 4 inches above plants and keep on for 16 to 18 hours a day, with a rest from light at night.
* Pay attention: Check your seeds daily to see if they are ready for the next phase. If growing on a windowsill with natural light, turn plants to prevent them from bending toward the light.
* Best seeds to start with: Tomato, basil, marigold, zinnia, cosmos and nasturtium. These are quick to germinate and don't require a lot of fussing. For beginners, expert gardeners recommend limiting yourself to no more than 10 types of seeds.
Simplify
Tips & products to declutter and de-stress: Odds and Ends
New year, new resolutions. How did you do last year? Did you hit the gym? Order less takeout? How about organizing your home? Getting organized ranked second in the top 10 resolutions of 2014, according to a study by the University of Scranton. If you still have some nagging odds and ends that you just don't know what to do with, here are a few that can be checked off in one weekend:
Family paperwork: Whether it's homework, bills or magazines, every person in the family brings in their own paper trail, cluttering up valuable counter space. We suggest sorting them in hanging mail bins. Secure to an open wall in the kitchen or on the side of the fridge and simply place each person's clutter in their designated bin. No more missing homework!
Pin it: Now that you have a place for your papers, take it another step further and organize within the mail rack. Label clothespins with the words: paid, unpaid, urgent, save, toss; and clip everything together fitting those categories.
Pop the cork: The insides of cabinet doors are an untapped market of storage space. Put a thin layer of cork board on the back of the door and easily pin up things like coupons, recipes and takeout menus for easy access.
Covet
Must-have products for the home: DEEBOT D77
The Jetsons were on to something when they imagined robots handling our housework. While this intelligent vacuum from Ecovacs Robotics doesn't resemble the cartoon Rosie, it acts like a maid and gets another chore off your chockfull to-do list. The DEEBOT D7 Series is a three-dimensional cleaning system, equipped with anti-drop sensors to prevent it from taking a fall down the stairs, and dust sensors that recognize how much dust is in its path and adjusts cleaning modes as necessary. Its low profile allows it to easily slide under beds and cabinets, and dual side brushes create an extra wide cleaning path.
The vacuuming robot is also self-aware: automatically returning to its dock to empty its own dust trap and recharge. The DEEBOT retails for $699.99 at Bed Bath & Beyond and Home Depot. Find out more at EcovacsRobotics.com.
Who Knew?
Unusual uses for common products: Milk

Not only does it do a body good, milk can also:
* Clean and polish furniture: When mixed with lemon juice, milk removes dirt and moisturizes wood furniture, leaving it looking like new.
* Repair cracks in china: Place your fine china in a heavy-bottomed pan and cover completely with milk then simmer for one hour until it boils. The milk's proteins will help close up the cracks.
* Fertilize plants: Use one part milk and four parts water to nourish plants and prevent fungus.
Kids Corner
Liven up the little spaces: Kids Storage Bins
Sometimes, your child's bedroom or playroom can look like a zoo. But, thanks to these canvas storage bins from 3 Sprouts, you can tame their wild side with the help of some friendly faces. Made from a durable canvas and covered in cute animal designs like elephants, hippos, monkeys, owls, goats, dinosaurs and more, these bins are the perfect catch-all for toys, books or even laundry. It's a kid–and parent–approved way to add much-needed storage to a room without sacrificing fun. Available at AllModern.com starting at $19.99.
Bookmark: Add this to your bookshelf
Instant Wall Art - Botanical Prints: 45 Ready-to-Frame Vintage Illustrations for Your Home Décor
Try your hand at some DIY this month with Adams Media's new collection of vintage botanical prints. Featuring 45 stylized, intricate prints of plants ranging from Cape blue water lily to the flowering peach tree branch—and ideas for framing and displaying— this is one title that will take your walls from zero to stunning in no time. (Adams Media, Jan. 2015, $14.05, Amazon.com)—Rachel Morgan
Home Front
Drink it in
When a well-known entity such as Pantone—provider of pro¬¬fessional color standards for the design industries— announces its Color of the Year, everyone in fashion, beauty, home furnishings and décor listens. Marsala, the color of 2015, is both sophisticated and earthy. "Marsala enriches our mind, body and soul, exuding confidence and stability," says Leatrice Eiseman, executive director of the Pantone Color Institute. "Marsala is a subtly seductive shade, one that draws us in to its embracing warmth." Make room for these Marsala-inspired products in your home.
Soft Touch
These stunning COCOCOZY pillows from Peking Handicraft with a modern floral design are the perfect accent to any room. Choose from an array of colors, including the so-of-the-moment brown, rust and tan option. And at 20 by 20 inches, they are the ideal size for any sofa. (Available at CocoCozy.com, $160)
Cage Match
Forgo boring light fixtures in favor of the Quorum Birdcage 4-Light 18-inch Wide Red Pendant Light, unique in every sense of the word. This eye-catching, red-hued piece features a double gourd shape, rolling accents and four candelabra style lights on matching red bobeches inside. It's a dramatic statement piece that will have your dinner guests tweeting. ($474, LampsPlus.com)
Face-framing
Add a subtle touch of Marsala to your living room with the exquisite Marsala 30-inch High Oval Twist Wall Mirror. Handcrafted by artisans in California, this statement piece also flaunts a beveled mirror glass edge, adding a bit of elegance to an otherwise stylish piece. ($199.99, LampsPlus.com)
Country Charm
Capture the rustic-chic feel of wine country with the sumptuous bedding from the Coyuchi Wine Country Collection. Featuring a mixture of deep, wine-inspired hues, paired with natural linen and crochet-edged, 100-percent organic cotton, you'll drift off into a wine-soaked slumber in no time. (Available at TheUltimateGreenstore.com, pieces start at $32.)
Unwind
For those willing to embrace Marsala with open arms, this Osaka sofa from BoConcept is right up your alley. Boasting a rich, wine-colored hue and the perfect mix of modernity and timelessness, this sofa is sure to be a classic in your furnishings for years to come. (Available at BoConcept.us, $1,695)
Published (and copyrighted) in House & Home, Volume 15, Issue 7 (January, 2015).
For more info on House & Home magazine, click here.
To subscribe to House & Home magazine, click here.
To advertise in House & Home magazine, call 610-272-3120.
Article continues below
---
advertisement


---
Author:
Edited by Liz Hunter & Rachel Morgan
Archives
---
Family Fun
Live from the White House
Collingswood
Stepping Up to the Plate
Local Story
Lingering Questions
Still Fresh
Under the South Jersey Sun
Riverside Retreat
Against All Odds
Like a Girl
Going Her Own Way
Fall In
Aiming to Please
Walk of Fame: Natalie Hope Sommermann
More...