The Modern Day Laundry Room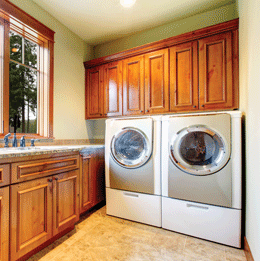 …From the pages of House & Home…
A little remodeling can make this space both look and perform better.
Laundry rooms have undergone a transformation which has made them one of the most popular renovated rooms in the home. And today, more thought is going into this space than ever before.
"In the past, laundry rooms were a very functional space, but now homeowners want them to also be stylish," says Lea Proctor, branch manager at Ferguson Bath, Kitchen & Lighting Gallery in Lawrenceville, N.J.
That means mixing practical appliances and organization options with fun colors, prints and textures into the space.
Organization in a small space
"Creating a modern laundry room is essentially about giving yourself more space, and keeping it open and clean," says Teri Fisher, owner/designer of The Closet Gallery in Medford, N.J.
An ideal location to add extra storage and shelving, laundry rooms are becoming more like multi-purpose mudrooms, she observes.
"Because laundry rooms are bigger, they tend to have dual purposes. Creating lockers and defined storage areas for each family member is instrumental in keeping belongings neat and in order and keeping the family organized," explains Fisher.
Proctor concurs that homeowners are including plenty of options for organization in this area of the home, including upper and lower cabinets, and open shelving for storage baskets, cleaning products, etc. Front loading washing machines also often include a pedestal option which provides more storage space underneath for detergent, dryer sheets, and more.
The addition of workstations is also popular, she says. For example: a designated sink area, ironing area, folding area, storage area, hanging area, etc.
"Counter space is an important place to fold or lay out clothes. In addition, a hanging area or small, open closet is common for clothing that needs to dry on a hanger or clothes that are waiting to be ironed," explains Proctor.
Fashionable and functional appliances
When asked what new appliances are available for laundry rooms, Proctor responds that front loaders are still popular due to their ease of use and energy efficiency. In addition, stainless steel and bright-colored appliances, steam dryers and energy-efficient washers that use less water than ever before are all making their way into homes these days.
Front loaders are big, which makes them hard to fit into some laundry rooms, says James Davis, marketing director and senior salesman at Barry's Appliance & T.V. in Bridgewater, N.J. He believes this is one of the reasons manufacturers are starting to make top-load washers energy efficient.
"Manufacturers are making top-load washers more comparable to front loaders because they will cost less and they tend to have smaller dimensions," he remarks.
Davis has worked in the appliance industry for six years and says when he first started selling front loaders, everyone wanted them. Today, he says homeowners can get similar capacities in a top-loading unit.
"We see the trend going more toward washers without all the bells and whistles," he says, adding washers are the most serviced appliance in the industry. "Fewer features mean fewer problems."
As for the most popular features in washers and dryers, that depends on the type of unit you have, he says.
"For example, I would say one of the best features in a front-loading washer or dryer would be the steam cycle. Steam helps relax the clothes in the dryer, allowing for fewer wrinkles. Steam is great in the washer to help get out organic stains," Davis explains.
He adds that sensor dry dryers no longer "bake" clothes.
"The dryer senses the wetness level of the clothes and shuts the machine off when it is done, and it helps save energy, too," he says.
The most popular color in washers and dryers will always be white, believes Davis.
"People do not want to spend extra for color units and most washers only come in white. But if I had to choose a second color, it would be a stainless steel look. Customers want their laundry appliances to look like their stainless steel appliances in their kitchen," he says.
Fitting the space
Proctor observes that most homeowners are buying appliances to fit the space instead of designing around the machines.
"Due to the number of home remodels, the space is already defined and they are trying to design/plan the already existing space to be as functional as possible," she says.
When remodeling, Proctor advises homeowners not to overlook lighting.
"A combination of recessed lighting and task lighting should be used," she says.
She suggests homeowners keep washing machines level with the floor so they do not move during spin cycles. In addition, the manual water valve should be accessible for water shut-off.
"An automatic shut-off valve is ideal, especially for second-floor laundry rooms. It senses the electrical current draw from the washer and only opens the water supply when the machine is in use," she explains.
Finally, there should be 48 inches of clearance in front of front-loading machines to provide room to walk around open doors.
RESOURCES
Barry's Appliance & T.V.
Bridgewater, N.J.
(732) 805-9513
BarrysAppliance.com
Ferguson Bath, Kitchen & Lighting Gallery
Locations in New Jersey and Pennsylvania
Ferguson.com
The Closet Gallery
Medford, N.J.
(609) 714-8282
TheClosetGallery.com
Published (and copyrighted) in House & Home, Volume 15, Issue 8 (February, 2015).
For more info on House & Home magazine, click here.
To subscribe to House & Home magazine, click here.
To advertise in House & Home magazine, call 610-272-3120.
Article continues below
---
advertisement


---
Author:
Beth Puliti
Archives
---
Family Fun
Live from the White House
Collingswood
Stepping Up to the Plate
Local Story
Lingering Questions
Still Fresh
Under the South Jersey Sun
Riverside Retreat
Against All Odds
Like a Girl
Going Her Own Way
Fall In
Aiming to Please
Walk of Fame: Natalie Hope Sommermann
More...