Elmer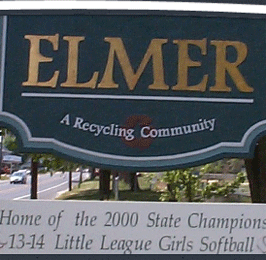 Elmer, "the small town with the big welcome," is located in Salem County, New Jersey. This borough currently has a population of 1,351 and is one square mile in size. Joseph Stemberger has been the mayor of Elmer since 2008.
The borough was formed on the dividing line of Pittsgrove and Upper Pittsgrove Townships and incorporated as a borough of New Jersey on January 24, 1893. According to the town's website, Elmer was originally called Cohockan by the Lenni Lenape Indians, which means cedar swamp land. They came to Elmer when it was a wilderness and people used the Muddy Run stream as a source of fresh water and fish. In 1801, the Indians gave up the land and the English took over.
In 1862, Elmer was flourishing as the stop on the West Jersey Railroad line between Bridgeton and Woodbury. This railroad bed has since been abandoned and the rails removed, but it still serves as the dividing line between north and south Main Street.
The town's website also lists Elmer's industries in the early 1900s to include two large glass and shoe factories, two saw mills, several feed mills, and sewing mills. There was also a thriving potato market.
The first Borough officers were elected on March 14, 1893, including the first mayor Franklin Beckett, who was also the lamplighter. The Elmer Fire Department was formed February 25, 1901 following a devastating fire that destroyed a number of properties on S. Main Street between Broad and State Streets. To this day the department still maintains its original, hand-powered pumper, the Merrimac purchased in 1887 from the Andover, Massachusetts Fire Department.
Some interesting myths also exist about the town including that Main Street was created to connect two taverns, and that Elmer was started as a retirement town where farmers moved to live out their lives when their farms were passed to younger generations.
The Police Department is located on the second floor of the Elmer Borough Hall. The department includes six police officers who provide protection and enforcement services. Elmer also has an Ambulance Corps, a non-profit organization which provides EMS service to the Borough of Elmer, Upper Pittsgrove Township and the Willow Grove and Centerton areas of Pittsgrove Township.
The Elmer Library is located at 120 South Main Street and is open five days a week (closed Friday and Sunday). Membership is free to residents of Elmer Borough and $20 for residents of Pittsgrove, Upper Pittsgrove and Monroeville.
The Greater Elmer Area Historical Society serves Elmer, Pittsgrove Township and Upper Pittsgrove Township. Meetings are held on the 3rd Thursday of the month at the Elmer Borough Hall at 6:30pm. Everyone is welcome. For information about the group, call 856-358-6171.
Students living in Elmer attend Elmer Elementary, Olivet Elementary, Norma School, Pittsgrove Township Middle School and A.P. Schalick High School. Residents of Elmer also belong to a few different church congregations including Elmer United Methodist Church, Elmer Presbyterian Church, Saint Ann's Roman Catholic Church, First Baptist Church Elmer and Faith Orthodox Presbyterian Church.
Elmer Little League registration for the spring season has already taken place in person but can still be completed online at their website. Baseball and softball tryouts are on Saturday, March 7 at Elmer Little League Park. Learn more at http://www.eteamz.com/elmerll/news/index.cfm?cat=221304. Elmer's Little League will also have a Clean-Up Day at Elmer Park on Saturday, March 14 from 8am-12pm.
Harvest Day takes place on a Saturday each October in the town. The event includes opportunities to purchase from local businesses, food for sale by local restaurants, live entertainment throughout the day, fire truck rides through town and many activities for children. Keep an eye on Elmer's website for an announcement on a date and time.
Elmer Borough now has a Facebook page: https://www.facebook.com/elmerboro.newjersey.
For more information on Elmer, visit elmerboroughnj.com.
© SouthJersey.com 2015. All rights reserved. This article or parts thereof may not be reprinted or reproduced by any other party without the express written consent of SouthJersey.com. For more information, please call 856-797-9910.
For more South Jersey Town information, visit our South Jersey Town News page.
Article continues below
---
advertisement


---
Author:
Meghan Shott
Archives
---
Family Fun
Live from the White House
Collingswood
Stepping Up to the Plate
Local Story
Lingering Questions
Still Fresh
Under the South Jersey Sun
Riverside Retreat
Against All Odds
Like a Girl
Going Her Own Way
Fall In
Aiming to Please
Walk of Fame: Natalie Hope Sommermann
More...