A Natural Look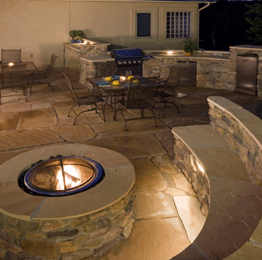 …From the pages of House & Home…
A look at the natural stone paving options available for around your home
Natural stone, long a favorite of homeowners and designers, can be found everywhere. Now that a property's outdoors rivals the indoors in importance, using this diverse, colorful and durable project just makes sense.
What is natural stone?
"In natural stone, there is a wide range to choose from—different types of textures and colors," says Dave Fisher, owner of Dutchie's Stone Works. "The natural stone has been around for years and outlasts any man-made product."
Chris DiSabatino, founder and president of DiSabatino Landscaping & Tree Care, agrees. "[There is] natural flagstone in regular and irregular finishes, West Mountain stone, Avondale stone, CST pavers, Techo Bloc pavers, [and more,]" he says. There are also region-specific stones in our area.
"The most common natural stone paving options in this region are bluestone, flagstone and travertine; and they all can be purchased in varying sizes and colors," says Nick Nykorczuk, president of Creative Pavers, Inc. "Pavements such as slate, bluestone, travertine and flagstone are derived from a quarry and each type gains its coloring and texture naturally. A benefit to working with natural stone is the high integrity of the product, allowing you to never have to worry about fading or other wearing issues with the surface."
Natural stone also has its imperfections—but this isn't necessarily a bad thing. "Sometimes the minor imperfections and color variations in a man-made product are unwanted, but with natural stone, those same imperfections are part of the aesthetic appeal and give it its character," Nykorczuk says. "And natural stone can be incorporated into many different elements of outdoor living, from flooring, to step treads, to retaining walls and custom focal pieces."
And when it comes to natural stone pavers, the options are practically endless. "There are literally hundreds of options when considering natural stone paving options for your home," says Chad Turpin, co-owner of Turpin Landscaping, Inc., a company that always buys local whenever possible. "Pennsylvania Blue Stone is an excellent choice; but buyer beware: this stone can be purchased from locations outside the United States. It's important to know your products and their origin." He adds that available material, finishes and colors are varied, too. A man-made finish can be used for traditional applications, but a natural finish can spur magnificent creations, he explains.
Chris McMahon, founder of Architectural Concrete Design, offers natural stone options including flagstone, fieldstone, marble, travertine, Belgium block and pebble mosaics. "The colors and textures are wonderful and can't be beat," he says. "It is affordable and offers limitless possibilities."
The projects that fit them best
While there are so many varieties to choose from, natural stone is more suited for certain projects than others.
DiSabatino says that homeowners will find many ways to use them in their property, naming "outdoor living spaces, patios, seat walls, outdoor kitchens, outdoor fireplaces, firepits, driveways, pool decks, pillars, steps, walkways, [and] porches," as possibilities.
"The best use for natural stone is when designing an outdoor living space for a backyard," says Nykorczuk. "You are limited on how you can use natural stone when it comes to driveways and some retaining walls, but with a backyard patio or pool deck it makes for the perfect natural feel for the space."
McMahon suggests flagstone for pool areas, patios and walkways; pebble mosaics for very elite areas; Belgium block for driveways; and travertine also for patios, decks and solariums, as it is cool underfoot.
Adding natural stones can also serve as a natural border between spaces.
"Natural stones gives landscaping a sublime balance between architectural elements," says Turpin. He says that stone is a natural border, giving landscaping an organic feel and that quality artisans can look at a boulder and see where water should cascade over it, for optimal visual effect. Some other applications are stepping stones, pathways, bridges and benches, fountains, sculptures and sinks.
Recently, Turpin's company chose Pennsylvania Blue Stone for a patio. By mining it from several different quarries, it gave the patio a unique, tasteful appearance. "Did you know that Pennsylvania Blue Stone can be found in shades of brown, gray, green and even lilac?" he asks.
The style of the client's home often dictates what's best, Turpin explains. "Limestone from China can be found in many different shades, from light and airy to a surprisingly dark color. Soapstone from Finland is an option many of our clients consider, and Basalt from Mongolia has been used in some of our fountains. West Mountain Stone is an excellent choice when looking for garden steppers," he says.
"Any outdoor project can benefit from natural stone; the possibilities are truly endless."
Unique uses
One trend Nykorczuk sees is incorporating natural elements within a project largely consisting of manufactured products such as pavers or composite decking. "The use of natural stone accent pieces carefully mixed throughout the project serves to designate different destinations within the outdoor living space. Cutting in a flagstone circle pad where a firepit would go, installing a travertine tile square section under a pergola or pavilion, or topping the light piers, seating walls and steps with a bluestone capping are a few examples of tying in natural materials that will complement the overall space without breaking the budget," he says.
Also equally important when choosing a natural stone material is choosing who installs it. McMahon says these products are very unique, with textures and colors that are as beautiful as anything manufactured. He just advises that you use someone truly qualified for this work. "You need [many years] of experience to be able to bring out the best of this stone. Nothing with natural stone is DIY. You need to know how to make the project last."
Resources
Architectural Concrete Design
Levittown, Pa.
(215) 946-5039
ArchitecturalConcreteDesign.com
Creative Pavers, Inc.
West Deptford, N.J.
(856) 848-7400
CreativePaversInc.com
DiSabatino Landscaping
Wilmington, Del.
(302) 764-0408
DiSabatinoInc.com
Dutchie's Stone Works
Gap, Pa.
(717) 587-8789
Turpin Landscaping
Coatesville, Pa.
(610) 380-1119
TurpinLandscaping.com
Published (and copyrighted) in House & Home, Volume 15, Issue 9 (March, 2015).
For more info on House & Home magazine, click here.
To subscribe to House & Home magazine, click here.
To advertise in House & Home magazine, call 610-272-3120.
Article continues below
---
advertisement


---
Author:
Editorial Staff--House & Home Magazine
Archives
---
Family Fun
Live from the White House
Collingswood
Stepping Up to the Plate
Local Story
Lingering Questions
Still Fresh
Under the South Jersey Sun
Riverside Retreat
Against All Odds
Like a Girl
Going Her Own Way
Fall In
Aiming to Please
Walk of Fame: Natalie Hope Sommermann
More...