The Foundation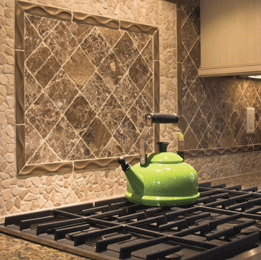 …From the pages of House & Home…
Educational Elements: What to know about ... trending backsplashes
There's no question that tile and stone hold the top spots in kitchen backsplashes, but for those interested in breaking from the norm, these options are worth considering.
• Copper: Available in sheets or tiles, this soft and durable metal offers a high-end look that will change with time as it is exposed to air and moisture. Rich hues of gold and brown will warm up any kitchen, and you can add visual interest with strategic punches or dents.
• Chalkboard paint: Economical and just plain fun, this paint transforms your backsplash into a blank canvas for recipes, family messages or your kids' rainy-day artwork.
• River rock: Designers are experimenting with this floor-friendly stone tile and taking it vertical. Stones range in color from grays and blues to tan and black, making them a good fit for any kitchen style.
• Wood: Painting, staining and sealing can change the look of wood and add a protective layer against cooking splashes. Beadboard styles complement a country kitchen, while wider planks painted black create a modern, minimalist look.
Green Thumb
What's growing on us this month … Mulch
Mulch is a great way to keep the soil around your plants and flowers healthy. It conserves moisture, prevents weeds and finishes the look of the landscaping. Here are some types to consider for your own garden:
• Red dye mulch: Used to add contrast and color to flower beds. The color will generally stay for two or three years. Color might run onto nearby sidewalks in the rain, but should wash off with water.
• Organic mulch: The best mulch to use as it decomposes and improves the soil as it breaks down.
• Chunky mulch (like pine bark nuggets): Best used because it will decompose more slowly, which will reduce maintenance. Needs to be replenished every two to three years.
• Cocoa mulch: Made from discarded shells of cocoa beans, it only requires a 1-inch layer onto the garden, making it economically favorable and it will actually smell like chocolate for a few weeks. While it may smell great, it is toxic to pets if ingested.
• Wood chip mulch: Used to conserve soil moisture, reduce weeds, and cool the soil. Generally, little to no cost as some communities offer this for free from tree-trimming projects. They have the highest carbon content of any mulch which requires the soil organisms to use more nitrogen to break them down which may take away from plant growth.
Simplify
Tips & products to declutter and de-stress: Gabrielle Pantry Set
Have you tried organizing your pantry but things just keep piling up? Utilize your wall space and make more room for yourself with this Gabrielle Pantry Set. The set is smart and stylish with its rail-and-peg system to make sure you can use the full length of your pantry. Included in the set are metal cups, multi shelves, a basket and more that can all hang from the pegs. The four sets of rails can be configured to fit your ever-changing spacing needs. (Available at PotteryBarn.com for $689)—K.M.
Covet
Must-have products for the home: Serend Hanging Chair
Hammocks are so 2014. Summer 2015 is all about the hanging chair, like this one from Restoration Hardware. Hand-woven with all-weather wicker and a rustproof aluminum frame, this hanging chair is made to resist cracking, fading and tearing, and the zippered cushion (sold separately) is available in easy-care, weather-friendly fabrics from Sunbrella and Perennials. So skip the awkwardness of getting in and out of a hammock and sit back in your new favorite spot to read a book, sunbathe or even nap. (Available at RestorationHardware.com for $1,095-$1,225)
Creature Comforts
For pets living in the lap of luxury: The Metropolitan
Add a hint of sleek style into your home with The Metropolitan pet bunk bed. The innovative sleep area features textured, non-slip steps and two plush cushions to comfort your sleepy pets. The high-gloss furniture holds pets up to 30 pounds per level and has a coated bottom to prevent scuffs on floors. Don't worry about accidents—the cushions and four slipcovers The Metropolitan comes with are all machine washable. (Available for $399 on LazyBonezz.com)
Bookmark
Add this to your bookshelf: Barbara Westbrook: Gracious Rooms
Using her refined Southern eye for style and charm, Barbara Westbrook takes her readers on a tour of a dozen separate homes that contain both the warmth of the South and the elegance of Europe. Utilizing her advanced design vocabulary, Westbrook presents us with an ideal description of how to perfectly warm your house and impress your guests; she recommends the use of symmetry, decorations, and specific colors to bring your home to the forefront of appeal, just to name a few. (Rizzoli, March 2015, Amazon.com, $33)
Home Front: Earth Day Décor
In honor of next month's eco-friendly holiday, we're celebrating with stylish items for the home designed with the Earth's best interests at heart. No matter which way you choose to go— organic, sustainable, recycled—these items prove that luxury can still be found without sacrificing resources.
A unique twist
This imaginative De Vine Wood Ball Chandelier from Shades of Light takes an invasive species of vine and reincarnates it into a surefire conversation starter. Vines are harvested to allow the native plant life to thrive, after which they are twisted into place by hand, making each lighting fixture truly unique. This chandelier would blend perfectly into any beach home or cottage. (Available at ShadesOfLight.com in two sizes: medium, $479, and large, $549)
Jersey fresh
Nothing is more sustainable than buying local, except here we're not talking produce. This Hummingbird Long Dresser from New Jersey-based designer Michael Iannone is built from sustainable kirei—a lightweight and durable alternative to wood—and FSC (Forest Stewardship Council) certified maple plywood and laminate. The cut-out graphic on the touch-release drawers bring the outdoors in for a truly distinct look. (Available for $3,995 at IannoneDesign.com)
Decorative dining
It's possible to go green without sacrificing style, and that couldn't be more evident than in this Celebration Sea Glass Dinnerware, which is sustainably made in the U.S. from recycled materials, reducing air and water pollution. These plates and bowls in rich jewel tones with a matte finish will add a pop of color to your next dinner party. (Available at VivaTerra.com ranging from $129 to $198 for pieces in sets of four)
Soft and sustainable
Loomed from 100 percent organic cotton, sourced and woven in India, the Coyuchi Air Weight Bath Collection features the first fair-trade certified bath towels sold in the U.S. More than 99 percent of the world's cotton is not grown organically, which makes these a rare find. In colors inspired by the earth, sky and water, these towels will bring a touch of nature to any style kitchen or bath. (Available at Coyuchi.com ranging from $8 to $128)
A second look
Would you believe that lining the edge of this stunning mirror are tin ceiling tiles? Pulled from renovated buildings, tin ceiling tiles are given a second shot at life in this handcrafted mirror frame. Accented in geometric prints, these tiles are aged, but not old. Quantities are limited and no two are exactly alike, making this a must-have for your home. (Available at Bambeco.com for $825)
Published (and copyrighted) in House & Home, Volume 15, Issue 9 (March, 2015).
For more info on House & Home magazine, click here.
To subscribe to House & Home magazine, click here.
To advertise in House & Home magazine, call 610-272-3120.
Article continues below
---
advertisement


---
Author:
Kaytlyn Mroz, Andrew Anastasio; Edited by Liz Hunter & Rachel Morgan
Archives
---
Family Fun
Live from the White House
Collingswood
Stepping Up to the Plate
Local Story
Lingering Questions
Still Fresh
Under the South Jersey Sun
Riverside Retreat
Against All Odds
Like a Girl
Going Her Own Way
Fall In
Aiming to Please
Walk of Fame: Natalie Hope Sommermann
More...