Fenced In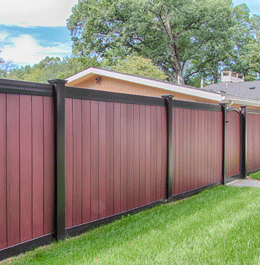 …From the pages of House & Home…
Safety, security and looks contribute to choosing the right fence for your property.
Although landscaping and the home's exterior are usually the first things that come to mind when trying to boost curb appeal, the addition of a fence to the front or back of a house should not be overlooked. A fence can be used for various reasons, including privacy, safety for children and pets and ornamentation. But whatever the motive, it can do wonders for the aesthetics of a property.
Whether a homeowner wants to hire a professional or personally handle the job, there are a few important steps to remember when installing a fence. House & Home magazine spoke to several experts in the area and compiled a handy tip sheet.
Reasons to invest in fencing
Most professionals agree that the first step to buying a fence is to figure out the primary reason for the purchase.
"There can be lots of different reasons why people want a fence," says Emilio Anello of Forever Fence. "I can't really say what the most common reason is, but pools are big—every time there's a pool, they need a fence, by law. Privacy is also a big reason, and so are dogs or security."
Kelsey Gilinger of Montco Fence & Superior Structures agrees that pets are often at the forefront of the discussion for homeowners. "Nine times out of 10, they want a fence to keep in their dog or block out their neighbor's dog," she says.
Of course, household pets aren't the only animals that can impact a yard.
"In some areas, especially in Central Jersey, the deer have overrun people's yards, and they want a fence to stop the deer from eating their shrubs," says Rob Blackman of Carfaro Inc. "We're seeing that more and more, particularly in some of those higher-end areas where these animals are prevalent. And certainly, privacy from neighbors is another reason."
The reasoning behind a fence can lead to the style or material the homeowners choose. That's the idea behind a special brochure that Fencemax hands out to all of its customers, according to manager Mike Patterson.
"We know why people get fences, and it's one of four or five reasons—for a pool, privacy, security or decoration," he says. "We have a really nice, 20-page catalogue that walks through options for people with those four categories in mind."
Choosing the best material
There are many options when it comes to material selection for a fence, but most homeowners want something that requires little upkeep.
"We do all kinds of fencing, but we specialize in maintenance-free fencing, which means vinyl, aluminum and chain-link fencing," Anello says. "With all of those fences, none of them require maintenance to extend the life of the fence. The vinyl fence in particular might get dirty; you don't have to do anything, but a lot of people will powerwash it, just with soap and water. That makes it look [even] cleaner than it does when we first install it."
White vinyl fencing is common and effective for privacy or keeping animals in and out of the yard. One of the downsides is the artificial look that turns some people off.
"But the industry is starting to address that by introducing a more natural, wood-looking vinyl fence," Anello adds. "We have one manufacturer in particular, and the fencing they've introduced over the last few years, while a little costly, you can't tell that it's a vinyl fence. If the look of the vinyl versus wood is one of your concerns, and you don't want to do the maintenance, you can spend the money on this."
Patterson agrees, suggesting a new product called Cambium that has the natural-looking beauty of real wood without the need for continued upkeep. He also says many of his customers are using different colors for vinyl fences to make them more attractive.
"We have a line out called Harmony, which blends many colors and combinations for a vinyl fence that is custom and unique for each homeowner," he says. "You can have rails and posts in a sand color, and the pickets could be a wicker color, so it gives you a blend of colors to create a unique look."
Of course, wood is still popular for people who prefer that traditional look, and it is also usually less expensive than vinyl. But it will call for more effort from the homeowner and has other negatives as well.
"Wood will bleach out over time in the sun," Gilinger says. "That's just because all the moisture literally escapes from the fence, and that's what makes it turn gray. As far as maintenance goes with wood, you do want to stain it or seal it. You do that after the first six to eight months that the fence was installed, and then another time two years after that. After that, you should never have to do it again."
Another option that is maintenance-free and visually appealing is aluminum, which is why that's the only material Blackman works with. "Wood is something that is only going to last a couple years before it needs to be either painted or have parts replaced. Aluminum fencing is one time and done. [It lasts] for years and years," he says.
Black aluminum fencing is especially popular around a pool. "Most people go for something fairly straightforward around the pool area, because they usually don't want to detract from the architecture of the house or the beauty of the pool and the landscaping," Blackman says.
Important steps before installation
Once the material is selected, it's almost time to install the fence, but not before the resident inquires about any restrictions in the town or determines the correct boundary lines.
"We always tell our customers to check with their township or borough, whatever municipality they're in, to see if there are any easements on the property that they have to watch out for," Gilinger says. "As long as everything is good with your township, then you have to check to see if there is a homeowners' association. A lot of developments in this area have a homeowners' association that says you can only put in this type of fence, or it can only go in 6 inches from your property line. Sometimes they'll tell you it can't go over 4 feet high and it has to be this color; everything has to look uniform in the developments."
There are different regulations when it comes to a fence surrounding a pool. These vary by state but are fairly similar.
"When you get into a pool, it has to be a minimum of 48 inches high and there are certain restrictions on how big the spaces can be as well," Anello says. "Also, a pool requires the gates to be self-closing, self-latching and swinging in the outward direction. If the fence has greater than the 2-inch spacing that's required, or the inch-and-a-quarter spacing that's required, then the cross rails have to be spread apart so that it's more difficult for anybody, specifically children, to climb over and get in."
Finishing touches
While many homeowners just want their fence to serve a purpose, others look to dress them up so they stand out in the neighborhood.
"You'd be surprised what people come up with," Gilinger says. "You can definitely do a lot of fun things with aluminum. You can do curved pickets, scrolls, finials, that sort of thing. Instead of having a straight gate like the rest of your fence, you can make a gate arched. You can put an arbor over your gate so it's like a little archway when you walk through. You can also do different caps on top of each post to dress it up."
Anello even suggests using more than one material for different parts of the property.
"A cost-effective way, if you want curb appeal, is to do an aluminum or PVC fence in the front yard, and then switch to chain-link in the back where you can't see it as much," he says.
For Blackman, that's the fun part of fence design; when customers want to add some flair.
"There are times when people want the fence to be the focal point, and if that's the case they may want to add an ornamental design like rings or spears or arrowheads fleur de lis," he says. "Those are the types of things that would make the fence much more ornamental in nature, and look more similar to a wrought iron fence than just a simple barrier fence.
"We can make it as ornate as they want. Some people have opted to do the decorative spear in a different color than the fence; they may want a gold spear with a black fence. Some people liked arched-top gates instead of flat-top gates. There are a lot of different ways we can dress up the fence without impacting the cost too dramatically."
RESOURCES
Carfaro Inc.
Trenton, N.J.
(800) 467-8432
Carfaro.com
Fencemax
Multiple locations
FencemaxNJ.com
Forever Fence
Pequannock Township, N.J.
(973) 835-3333
ForeverFenceOnline.com
Montco Fence & Superior Products
Limerick and Bechtelsville, Pa.
(610) 287-7190
MontcoFence.com
Published (and copyrighted) in House & Home, Volume 15, Issue 10 (April, 2015).
For more info on House & Home magazine, click here.
To subscribe to House & Home magazine, click here.
To advertise in House & Home magazine, call 610-272-3120.
Article continues below
---
advertisement


---
Author:
Matt Cosentino
Archives
---
Family Fun
Live from the White House
Collingswood
Stepping Up to the Plate
Local Story
Lingering Questions
Still Fresh
Under the South Jersey Sun
Riverside Retreat
Against All Odds
Like a Girl
Going Her Own Way
Fall In
Aiming to Please
Walk of Fame: Natalie Hope Sommermann
More...