A Beautiful Solution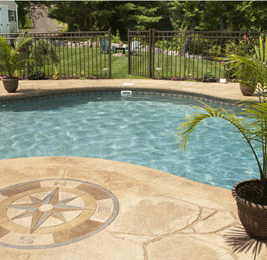 …From the pages of House & Home…
The versatility of concrete transforms outdoor spaces.
While there are many options when it comes to your exterior surfaces, few offer the adaptability of concrete. From colors to patterns, this product can be used in dynamic and beautiful new ways. And when you incorporate what it eliminates (weeds between bricks, anyone?), you have a powerful bang for your buck.
Economics
As with any decision around the home, cost plays a major role.
"Typically, concrete will be 40 percent to 50 percent lower [cost] than pavers, and stamped concrete will be 20 percent to 30 percent lower than pavers," says Lance McEwan of DeMac Concrete Inc. "And depending on the application and if cared for properly, concrete can have a 20 to 30 year lifespan."
Standard finish concrete with no color or stamping costs less than pavers, adds Don Clayton, hardscapes sales manager for Clayton Block and Clayton Concrete. "Once you add color or stamp the concrete, your cost starts to go up. And depending on the color you choose and the pattern you want, that could end up costing you more than pavers," he says, adding that with proper maintenance, concrete will last a lifetime. But proper maintenance is crucial. This includes keeping salt off the concrete, cleaning/power washing yearly and repairing any cracks that could occur as soon as possible.
"Depending on which outdoor project you are doing [such as] patio, walkway or driveway, and the nature of the project [and] how involved it is, each type of material can have its place for being more cost effective over the other," explains Lauren Goodwin, design/sales with Finishing Edge Inc. "Pavers are fairly cost effective for phased projects, [or] projects done one area/step at a time, because they are not one solid [or] continuous surface and the material lends to that. Asphalt and concrete tend to be more cost effective for larger continuous spaces that are done all at one time, such as a very large driveway or pool deck/patio," she says. "If you are doing a large patio or pool deck with lots of steps, concrete will by far beat out pavers in most situations simply because you do not have to set each piece one at a time."
"Many of our customers have us remove pavers and install new concrete," says Chris McMahon, of Architectural Concrete Design (ACD). McMahon says that stamped concrete and other decorative concrete finishes can cost one-third less than pavers. "Stamped concrete, when done by a reputable company, can resemble a wide variety of products such as flagstone, brick, Belgium block, fieldstone, tile, even boardwalk; and never shift, settle or have weeds and ants [come] through it," he says.
Adding your own touch
There are many ways homeowners can incorporate their own flair into these products.
"One of the most alluring aspects of concrete is its ability to be customized and molded to fit any style or taste. Between varying colors, textures, patterns, and accents there are thousands of options," says McEwan. "For example, we have had customers add recycled glass to the surface of their concrete. Others have special aggregates added to the concrete to create a unique look, while others add fish, shells [and other] aquatic life accents to the surface of their concrete. There are [also] exciting interior applications that can transform and personalize any indoor space."
Color is another way to personalize the space.
"Choosing a color that complements your house will add a personal touch. Also, choosing one of the many different stamping patterns available," says Clayton. He says the versatility of the product really benefits the homeowner as well. "You can use concrete in your driveway, patio, sidewalks and around your pool," he says, adding that the Scofield brand he uses offers a color product that helps reflect summer heat so bare feet don't burn.
Patterns are another option.
"With stamped concrete, customers get to personalize their projects in many ways; from their feedback with the overall design, down to the choices of which pattern/color they want their project to be poured in. Additional features [include] lights built into steps, sitting walls with lights, outdoor fireplaces or fire pits," says Goodwin. "Most specifically with stamped concrete, you can choose a pattern that you really like and we can pour it in any color you like."
"Because concrete is cast in place, we can form it, color it, and texture it to mimic any design of your choosing," says McMahon, adding that the tools ACD developed were used to create the Harry Potter exhibit at Universal Studios in Orlando. "Almost every theme park around the world uses concrete as their medium to make you feel like you are in exotic places when in reality, you could be in central Florida. In your backyard, pool area, driveway or formal entry, imagine the design possibilities."
A new option
There are ways to bring old concrete back to life as well.
Robert McGuire, owner of R.E.K. Rock and Rubber, offers another route–applying a rubber or stone coating liquid epoxy to existing concrete, virtually transforming the surface without removing it. The method, which can be color mixed to the client's preference, covers the old concrete, giving it a strong and attractive new surface.
The stone process is great for pools, patios and any concrete surface and the rubber process brings out the best in wood, asphalt and pavers, he says. It doesn't deteriorate and helps with shift, allowing stretching up to an inch.
"It really turns ugly into beautiful and gives the surfaces a luster and a beautiful finish," says McGuire. "We use it on decks of every kind: aluminum [or] wood, [around] pools [or in the] garage." Slip-resistant, the rubber variety, is used in parking lots, basketball parks and waterparks, he notes.
"The stone offers great 'wow' factor. It has a beautiful gloss," he says. "The process really brings surfaces back to life." Homeowners can also custom color the process and incorporate logos, emblems and designs.
RESOURCES
Architectural Concrete Design (ACD)
Levittown, Pa.
(215) 946-5039
ACDConcrete.com
Clayton Block and Clayton Concrete
Edison, N.J.
(800) 662-3044
ClaytonCo.com
DeMac Concrete Inc.
Toms River, N.J.
(732) 240-4659
DeMacConcrete.com
Finishing Edge Inc.
Greenville, Pa.
(215) 337-4900
FinishingEdge.com
R.E.K. Rock and Rubber
Monroe Township, N.J.
(609) 619-0549
SierraStoneNJ.com
Published (and copyrighted) in House & Home, Volume 15, Issue 10 (April, 2015).
For more info on House & Home magazine, click here.
To subscribe to House & Home magazine, click here.
To advertise in House & Home magazine, call 610-272-3120.
Article continues below
---
advertisement


---
Author:
Daniel Sean Kaye
Archives
---
More football commitments trickling for South Jersey football players
Former Glassboro Star George Johnson Almost Vaulted Team to NFC Title Game
A Running Start
For the Love of the Game
Usual Powers on Top in Wrestling
The South Jersey Fab Four
Lighting the Way
Setting the Stage
Big Words: Twins!
Ready to Grow
Home of the Brave
How Can I Ever Thank You?
One of All-Time Best Coaches Resigns
Walk of Fame: Ella Hampton
Jersey Fresh
More...