Margate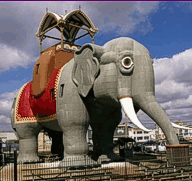 The City of Margate is a charming island community in Atlantic County, stretching eight blocks from the Atlantic Ocean to the bay, and roughly two miles long. Originally known as South Atlantic City, Margate has a long and rich history. The extension of a railroad line and the building of a restaurant-hotel in 1881 in the shape of an elephant named Lucy paved the way for the growth of Margate.
According to their website, "the town's historic charm and uniqueness, combined with its ideal location, quality schools and strong community spirit, make Margate an attractive place to both visit and live. This beach town offers residents and visitors ample opportunities for world class dining, entertainment and outdoor adventures."
The majority of the streets in Margate run in alphabetical order, beginning with Argyle Avenue and ending with Washington Avenue, heading toward Longport. After Washington Avenue, the streets are named for Presidents.
Margate offers many activities for both visitors and residents. There are various athletic courts throughout the city, and the town also boasts a Miniature Golf Course.
Shopping and dining are also popular in Margate. Art galleries, book stores, clothing stores and shoe stores are just some of the many establishments visitors frequent. One of the most popular restaurants in Margate is Steve & Cookie's By the Bay. This restaurant offers fresh seafood and other tasty meals for Jersey shore goers to enjoy all year long. Other food choices include Spanish, Italian and Japanese cuisine, among other dining options.
Fishing is another popular pastime in Margate. According to the website, local charter boats offer sport and deep sea fishing in the Atlantic Ocean. Margate's marinas also offer docks for lease, equipment rentals, fuel stations and fishing charters.
Margate beaches are lifeguard-protected Memorial Day through Labor Day. The city also offers guarded beaches past Labor Day when the weather permits. Kayaking and surfing are allowed on certain beaches.
Beach badges are required to be worn on the beach during the summer season by everyone 12 years of age and older. The pre-season cost for a regular badge is $7 and for a senior citizen is $3.50. The cost for all badges purchased after June 1 is $15. Badges are available at the Margate Municipal Building or Bloom Pavilion.
Lucy the Elephant is the "largest elephant in the world" (standing 65 feet tall) and is also the oldest remaining example of zoomorphic architecture left in the United States. More than 125 years old, Lucy has been painstakingly restored recently and is toured by thousands of visitors each year, according to the city's website.
The city of Margate offers many options for its senior residents. The Martin Bloom Community Pavilion offers daily activities for seniors living in Margate and Longport. There is also a senior citizen bus program run by volunteers through the community. For more information, call 609-822-2285.
Margate has a Facebook page. Keep up-to-date on this beach town's current events by visiting www.facebook.com/margatenj.
Upcoming Events
Every Thursday, beginning July 2, Margate hosts Thrilling Thursday for residents, visitors and vacationers. The weekly event includes sidewalk sales, entertainment for the family throughout the town, a Farmers Market in the morning and free beach days with no beach tags required. Sunset Movies on the Beach begin at 8:30pm.
Le Tour De Downbeach Bike Ride and Walk 2015 will take place on Sunday, June 7. Onsite registration starts at 9:30am, and the leisurely 14-mile bike ride starts at Newport Avenue in Ventnor, turning around at Showboat in Atlantic City, then winding through Margate, turning around at Longport Point and ending at Tomatoe's. Keep an eye on http://www.margatehasmore.com/calendar/2015/6/7/le-tour-de-downbeach for more information.
Beachstock 2015 will be held on Saturday, June 27 with a rain date of Sunday, June 28. This 6th annual 13-hour, non-stop celebration of summer includes live music and dancing, a food court and beer garden, vendors, a kids' stage with games, shows, music treasure hunts, a free surf clinic and a movie on the beach in front of Lucy. Stay tuned to http://www.margatehasmore.com/calendar/2015/6/27/beachstock-2015 for more information.
Save the date for Margate's Fall Funfest By the Bay 2015, which will be held September 26-27. The weekend event includes a fine arts and crafts show, live events, educational exhibits, carnival rides and a dog show. Proceeds from the event benefit Gilda's Club of South Jersey, the Margate Business Association's Educational Foundation and other regional charities to be announced. To learn more. visit http://www.margatehasmore.com/calendar/2015/9/26/fall-funfest.
For more information on events in Margate, visit margatehasmore.com. More information on the city of Margate can be obtained at the city's official website, margate-nj.com.
© SouthJersey.com 2015. All rights reserved. This article or parts thereof may not be reprinted or reproduced by any other party without the express written consent of SouthJersey.com. For more information, please call 856-797-9910.
For more South Jersey Town information, visit our South Jersey Town News page.
Article continues below
---
advertisement


---
Author:
Meghan Shott
Archives
---
More football commitments trickling for South Jersey football players
Former Glassboro Star George Johnson Almost Vaulted Team to NFC Title Game
A Running Start
For the Love of the Game
Usual Powers on Top in Wrestling
The South Jersey Fab Four
Lighting the Way
Setting the Stage
Big Words: Twins!
Ready to Grow
Home of the Brave
How Can I Ever Thank You?
One of All-Time Best Coaches Resigns
Walk of Fame: Ella Hampton
Jersey Fresh
More...