Heating Up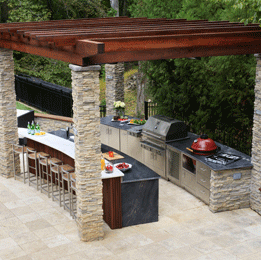 …From the pages of House & Home…
The latest in grill innovations
The concept of the outdoor living area has really evolved over the years and continues to be one of the most popular trends in home design today. Homeowners are bringing the comforts and luxuries of the indoors outside and that includes elaborate outdoor kitchens.
"Outdoor living is an active trend and will continue to be as the local economy grows," says Nicole Henninger, marketing director for H&H Appliance Center. "And with new product innovation comes new ways to integrate products into outdoor spaces."
Jessica McCloskey of McCloskey's Garden and Hearth agrees.
"Outdoor living is very popular," she says. "People have so little time these days with jobs, kids' activities, and everyday life that it is hard to get away from it all. Outdoor living products allow everyone to design a retreat in their own backyard."
The outdoor area showpiece
The showpiece of those kitchens has been a top-of-the-line grill. Today's grills have come a long way and many homeowners want all the bells and whistles. "Outdoor living areas continue to be the big thing," agrees Sam Stoltzfus, owner of LanChester Grill & Hearth. "People are willing to invest in an outdoor living area they can spend a lot of time in, and the focal point is the built-in grill."
Having a built-in grill allows you to make use of a lot of counter space and to truly prep and cook your meals efficiently without going in and out of the house. But with a built-in, it absolutely makes sense to invest in a higher quality grill.
"If you're building a grill into a countertop, you don't want to have to replace it regularly," Stoltzfus says. "It's wise to invest a little more money and have a grill that's going to last you a long time. A lot of people do have sticker shock when they see what the higher-end grills can cost, but you have to view it as an investment and remember that you won't be replacing it regularly."
Mark Stomachin, president of National Appliance Warehouse, agrees.
"Homeowners have to remember that the higher-end grills like Weber or Napoleon are going to cost more up front," Stomachin says. "But in the long haul you'll save money because they don't have to be replaced as often. With a cheaper grill you might find yourself fixing the grill, buying new parts, or replacing it all together, every few years."
"People like the durability of newer grill products and brands," adds Henninger. "When you buy a Weber, MHP, or Napoleon grill, it should last a decade. Even higher-end brands like Wolf, Lynx, or Alfresco can last even longer, especially when built in to an outdoor living area."
Grilling features
Stomachin says that the better engineered grills do have a lot of benefits. Some of them allow you to cook with the lid down, which traps smoke, holds in the juices, and ultimately enhances the flavor of the food, while a cheaper grill can catch fire easily when the lid is down.
Homeowners also appreciate new accessories and added features, such as being able to integrate your grill with a smartphone, as Lynx offers, says Henninger. Alfresco offers a complete stone pizza oven to complement the grill, she adds. And there are always accessories like charcoal baskets, griddles, or rotisseries to consider. On a higher-end grill, these added features sometimes come standard.
Sear burners are a popular feature on gas grills and help you lock in all the natural juices in your favorite steaks, says Jeff Donaldson of Pelican Sport Center Inc. in Morris Plains, N.J.
"Sear burners provide intense temperatures to keep your meat tender and juicy," Donaldson adds. "Another favorite is adding rotisseries to your grill to slowly and evenly cook your favorite chicken or pork loin."
"Side burners are a feature that I think everyone could benefit by using but people tend to forget about them," Stomachin says. "You can sauté your veggies or heat up your baked beans on the side burner while you're cooking your meat on the grill. It allows you to do all of your cooking outside as opposed to going in and out. Sometimes people would use the features more if they thought outside the box a little bit."
Buying advice
While it makes sense to invest in a higher quality grill, Stomachin says that doesn't mean you have to buy something huge.
"One of my tips is to buy a grill that is the right size for your family," he says. "Some people buy these oversized grills and they're really only cooking for two to four people most nights. A grill may have six burners but you only need two—however, you still need to use those other four to generate the heat you need to barbeque. It's a waste. Unless you're frequently having parties, it's better to select a grill based on usage application for the size of your family."
It's also important to consider the space around the grill, advises Keith Fry, co-owner of Amazing Decks. Many people want their grills built into granite, which makes sense since the material is incredibly durable, he explains. "But I'd highly recommend considering a lighter earth tone because the black granite can get very hot in the sun," he adds.
Fry says that many homeowners invest in a nice grill but forget about the cover. "That's an important feature," he says. "You definitely want to protect your investment."
Smoking food has also become a big trend and Fry says they carry the Primo Grill, similar to the Big Green Egg, another popular smoker. "A ceramic grill is great for smoking and very user-friendly," Fry adds. "It's easy to cook and hard, for even a novice, to burn stuff. A lot of people enjoy that wood-smoked flavor that smoking can provide."
When deciding what type of grill and what features or add-ons you may want, Stomachin suggests being honest with yourself about what you'd use. Many grills offer features that offer great benefits, but if you aren't going to take the time to use them, they're not worth the investment. A rotisserie, for example, is really designed more for roasts and fowls, and Stomachin says that takes time to give the benefit of the slow roast. If you're not going to invest the time, it probably doesn't make sense to invest in that particular feature.
You should also first decide which style of cooking you prefer—gas or charcoal, says Donaldson.
"There are so many different types of grills these days," adds McCloskey. "Homeowners looking for a grill should consider what they like to cook, how they like to cook [hot and fast or low and slow], what type of fuel is available to them, where they want to use the grill, and their budget. The best suggestion is to talk to a professional who can take this information and guide you to a grill best suited to your needs."
RESOURCES
Amazing Decks
Ambler, Pa.
(215) 654-1886
AnotherAmazingDeck.com
H&H Appliance Center
East Windsor, N.J.
(609) 426-1111
HHAppliance.com
LanChester Grill & Hearth
Gap, Pa.
(717) 442-8794
LanChesterGH.com
McCloskey's Garden and Hearth
Glassboro, N.J.
(856) 307-9652
McCloskeysGardenAndHearth.com
National Appliance Warehouse
Wilmington, Del.
(302) 543-7636
NationalApplianceWarehouse.com
Pelican Sport Center Inc.
Morris Plains, N.J.
(973) 267-0964
PelicanShops.com
Published (and copyrighted) in House & Home, Volume 15, Issue 11 (May, 2015).
For more info on House & Home magazine, click here.
To subscribe to House & Home magazine, click here.
To advertise in House & Home magazine, call 610-272-3120.
Article continues below
---
advertisement


---
Author:
Lindsey Getz
Archives
---
Family Fun
Live from the White House
Collingswood
Stepping Up to the Plate
Local Story
Lingering Questions
Still Fresh
Under the South Jersey Sun
Riverside Retreat
Against All Odds
Like a Girl
Going Her Own Way
Fall In
Aiming to Please
Walk of Fame: Natalie Hope Sommermann
More...