Bold as Brass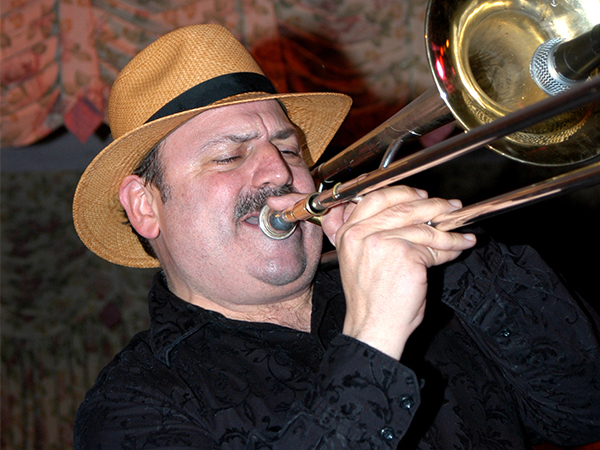 Nerve, talent, and a little luck fueled Philly-born trombonist Richie "LaBamba" Rosenberg's decades-long career in the limelight.
Richie Rosenberg may not have a household name, but his circle includes many people who do: Bruce Springsteen, Jon Bon Jovi, and Steven Van Zandt, to name just a few. He has put together a fine career, however, including more than two decades playing his trombone for a national audience five nights a week.
Despite all the talented musical artists he has worked with, Rosenberg gives most of the credit for his success to a junior high school teacher named Leroy Evans. Needing to fill a vacancy on the school band, Evans gave young Rosenberg a trombone to practice with over summer vacation. A few years later, while at George Washington High School in Northeast Philadelphia, Rosenberg was awarded first chair in the All City Philadelphia Jazz Band.
"I was truly lucky Mr. Evans gave me that trombone," Rosenberg says. "I'll always be thankful for that. I immediately thought the trombone might be difficult to play, and I was right. But everyone said I caught on quick and showed a lot of promise. I got a lot of encouragement and I got to like [playing the instrument]."
Young Rosenberg couldn't have imagined at the time just how important a role the trombone would play in his future, or how dramatically his life would change because of his nascent talent. The experience helped him build a storied career as a trombonist who has been making his mark in the music industry for nearly 50 years. He's still going strong today.
Along with the long list of shows he has done with notables such as Springsteen and Bon Jovi, as well as John Mayall, Joe Cocker, and others, Rosenberg has played on more than 40 albums, some of them legendary—Springsteen's Born in the U.S.A., Cocker's One Night of Sin, and Gary U.S. Bonds' Dedication. He also displayed his talents at some of the world's prestigious events. For instance, in 1999 Rosenberg participated in a charity event with Bon Jovi at the White House, hosted by Bill and Hillary Clinton. Ten years later he performed with "The Boss" and the E Street Band at Super Bowl XLIII in Tampa. He also played his horn during the national anthem at an NBA playoff game in 2007.
The event that put Rosenberg on a path that would lead him down a long and winding road occurred when he got a call from a friend, asking if he would like to join Southside Johnny & The Asbury Jukes for a gig at the Stone Pony in Asbury Park, New Jersey. Rosenberg accepted and never looked back.
"The Stone Pony is very famous, but it's just a corner bar, somewhat rustic," Rosenberg says. "However, the atmosphere is incredible. The place is full night after night with very, very friendly people who just love rock music. Everyone has a good time. I played there with Southside Johnny on a regular basis for many years and always loved it."
The Stone Pony is where Rosenberg got his mysterious nickname, "LaBamba."
"One night I was sitting at the back bar at the Stone Pony with a roadie," he recalls. "I had an afro and a Fu Manchu mustache at the time, so this guy gives me the name, LaBamba."
When Springsteen emphatically approved, the new moniker was, as Rosenberg puts it, "a done deal."
Rosenberg acknowledges that the succession of events—and the changes he made—in those early years helped him become the well-rounded musician he is today.
"In high school my music was classical and jazz," he says. "Later, my influence was mostly R&B and rock 'n' roll. … When you're in a band, any band, you take on their style, their kind of music. You all work together. Everyone contributes and you form new friendships and good working relationships, and the result is that you come up with something you're confident people will like."
Rosenberg became a very busy man after joining the Jukes in 1976, both recording and touring. He only got busier as the years wore on. In 1981 Diana Ross' producer saw a Jukes concert in New York City and was so impressed with the horn section that he recruited them for a two-year tour. Shortly after he returned from that tour, Rosenberg joined E Street guitarist Van Zandt for a tour promoting his new album, Men Without Women. Following that tour, Rosenberg rejoined Southside Johnny for yet another tour.
His life took another dramatic turn in 1993 when he accepted an offer from E Street Band drummer Max Weinberg to join the house band on Conan O'Brien's late night TV show in New York. The gig became a rewarding experience; he not only played trombone with the house band, but also showed his talent as a singer, often had humorous one-on-one interactions with O'Brien, and even participated in the occasional skit. He did, however, miss touring with his friends.
"There is nothing like doing live shows," he says. "As musicians we enjoy seeing the audience engaged and having fun. There is a lot of excitement in the air, and everyone is having fun and getting into the music. That is very rewarding for us. That is what we want to see."
Rosenberg moved to Los Angeles in 2009, an experience he remembers as "a big adjustment." He still lives there with Susie, his wife of more than 30 years.
"It's difficult if you don't have a job waiting," he says. "Thank God I did. In any case, I like it here. I'm happy here."
Article continues below
---
advertisement


---

Since 2018, when O'Brien's show dropped the house band, Rosenberg has returned to life on the road, but not like he used to—especially not now, in light of the COVID-19 pandemic. He makes an occasional trip back to the old neighborhood, here in Philadelphia. Last October, for example, he had a gig at the City Tavern in Philadelphia. Also, last December he brought a 20-piece orchestra to another familiar haunt—the Stone Pony—for a holiday show.


Click here to subscribe to the free digital editions of South Jersey Magazine.

To read the digital edition of South Jersey Magazine, click here.
Published and copyrighted in South Jersey Magazine, Volume 17, Issue 8 (November 2020).

For more info on South Jersey Magazine, click here.
To subscribe to South Jersey Magazine, click here.
To advertise in South Jersey Magazine, click here.
Author:
Walter Ault
Archives
---
Who's Who in Health Care
Crowd Pleaser
Can the Eagles Regain Their Winning Way?
A Bight Future Ahead for Glassboro Football
The Big Impact of Small Businesses
Eagles Need to Reset
Feeling Festive
Another dominating season for Delsea football
Mainland's Historic Football Season
A Rooting Interest
Eagles Continue to Fly High
Raising the Bar
Thanksgiving Football Continues
Hotstovers to honor All-SJ Baseball and new HOF inductees
South Jersey Football Games of the Week
More...