Former Ocean City standout Delaney Lappin making her mark at Drexel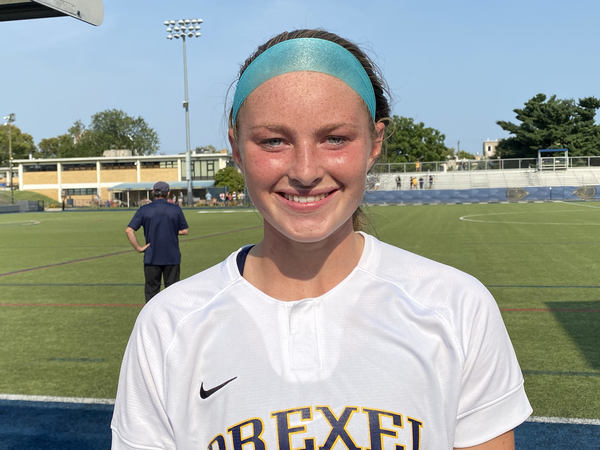 A 2020 graduate of Ocean City, Lappin was a big winner in two sports at Ocean City during her senior season.
She was a key member of Ocean City's state Group 3 soccer team in the fall of 2019.
"That was a great feeling winning the state championship in soccer," she said.
During the spring of 2020, Lappin was on her way to possibly another state title with the basketball team. The Red Raiders won the South Jersey Group 3 title, but then the pandemic hit and the New Jersey Interscholastic Athletic Association canceled the state tournament.
Her scouting report as a basketball player?
Article continues below
---
advertisement


---
"I wasn't a good shooter, but I was a good scrappy little player," she said.
In soccer it's a much different because she is a good shooter. That was shown during Sunday when she hit a laser for Drexel's final goal in its 3-1 victory over Umass-Lowell.
Drexel was 4-1-1 in its first six games and Lappin was the Dragons' leading goal scorer with three. All three goals came in three different games, each won by the Dragons.
Due to COVID, Drexel didn't play in the fall of 2020 when Lappin was a freshman. The Dragons played a limited spring schedule, going 3-4-1 and Lappin enjoyed a strong debut, being named to the Colonial Athletic Association's All-Rookie Team. She had three goals and two assists to lead Drexel in both categories.
There is always a major adjustment going from high school to playing at a Division I program and it didn't take Lappin much time to notice the biggest difference.
"The speed of play is quicker, a lot tougher," she said. "The girls are a lot stronger so going into this, you have to be mentally tougher, mentally stronger."
Drexel veteran coach Ray Goon says that Lappin has been a tremendous addition to the program.
"She has been everything we thought she would be," Goon said. "We recruited her to be an impactful player on the attack."
Because she has been so productive, Lappin has become an emphasis on opponents' scouting reports.
"She had a really good freshman year and what she is adjusting to now is she is a marked player," Goon said.
She has discovered that there are no easy games in college, but has welcomed the challenge and has thoroughly enjoyed being part of the Drexel program.
"I have been working pretty hard and it has bene paying off and I love playing on this team," she said. "I love the spirit on the team and I feel like the chemistry is really good, not just on the field, but off the field."
Author:
Marc Narducci
Archives
---
Who's Who in Health Care
Former Shawnee star Doolittle Calls It A Career
Camden County College welcomes Baseball Hall of Fame
South Jersey Football Games of the Week
Out & About
QB Ronnie Borden is Back in the Game
Should fans be worried for the Phillies bullpen?
South Jersey Football Games of the Week
A look at South Jersey's Top H.S. Girls' Soccer Teams
Out & About
Eagles will be fine after close call in opener
High School Football Games of the Week
Is it Super Bowl or bust for the Eagles?
What's New in South Jersey?
From New Jersey to Nashville
More...