Sterling's Kylie O'Donnell comes to the rescue to coach the boys' team in competitive game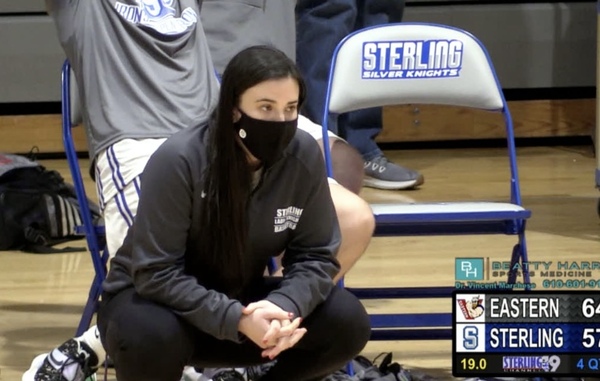 Kylie O'Donnell had an unexpected experience to remember last week as she was a last-minute replacement for a day as Sterling boys' basketball head coach.
About two hours before last Thursday's afternoon non-league home game with Eastern, O'Donnell got a phone call asking her to serve as head coach for the game.
The head coach Justin Barringer missed the game due to COVID protocols and JV coach Jason Shivers was out for the same reason.
So O'Donnell, a volunteer assistant coach, was thrust into the head coaching role.
While it wasn't a storybook ending and Sterling lost, 66-57 to a talented Eastern team. O'Donnell was the first woman to coach a boys' basketball game at Sterling.
This might have been her first time as a head coach for the boys, but O'Donnell has plenty of basketball experience as a player and a coach. First off, she was a standout at Sterling, a 2011 graduate who also played at the College of New Jersey.
Article continues below
---
advertisement


---

O'Donnell was also a head coach for four seasons with the Sterling girls' basketball team before resigning two seasons ago.
She is a nurse who works in the ICU unit and when COVID struck in March of 2019, she was unable to devote the time to be a head coach.
Yet she loves the game and has been a great addition to the boys' basketball program as a volunteer assistant.
And once the opening tap took place, O'Donnell felt right in her element.
"It is like riding a bike and once I got back into it, the juices were flowing," she said in an interview with Southjersey.com.
She credits Barringer for preparing her and the players well.
"Justin had everything prepared and had a great game plan," she said. "It is such a good group of kids and the ship kind of runs by itself."
Yet that ship needed somebody to steer it.
Eastern led 37-27 at halftime, but Sterling outscored the Vikings, 21-6 in the third quarter, to lead 48-43 entering the fourth quarter.
Then Eastern's depth took over and the Vikings used a 23-9 fourth quarter to earn the win.
"We got off to a slow start and were down at the half but made a great run in the third quarter to take the lead," O'Donnell said. "Down the stretch, Eastern made some big shots but I was proud of our guys and the fight that they showed."
Sterling, which was missing some key players due to illness/injury, was led by junior Caleb Mundell, who had 18 points, while classmate Jaydis McFadden added 14 points.
This is a Sterling team that went 11-2 last year, lost leading scorer Antoine Arnett (19.3 ppg.) to graduation, and still is expected to be among the top teams in the highly competitive Colonial Conference Liberty Division, where Haddonfield is among the other contenders.
There will be plenty of wins in Sterling's future, but the Silver Knights and their fill-in's head coach showed a lot of character in their first loss of the season after opening the year with three straight victories.
"I was proud of them and the fight they had," O'Donnell said. "It was a testament to the kids and Justin that they knew exactly what was expected and they competed so hard." Author:

Marc Narducci
Archives
---
Who's Who in Health Care
Former Shawnee star Doolittle Calls It A Career
Camden County College welcomes Baseball Hall of Fame
South Jersey Football Games of the Week
Out & About
QB Ronnie Borden is Back in the Game
Should fans be worried for the Phillies bullpen?
South Jersey Football Games of the Week
A look at South Jersey's Top H.S. Girls' Soccer Teams
Out & About
Eagles will be fine after close call in opener
High School Football Games of the Week
Is it Super Bowl or bust for the Eagles?
What's New in South Jersey?
From New Jersey to Nashville
More...