Sixers favored but will have hands full with Toronto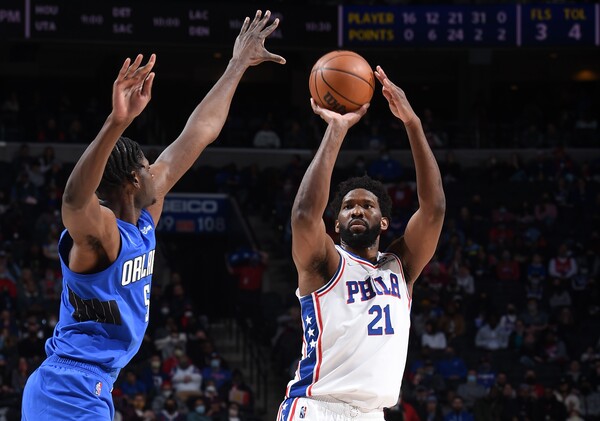 Shortly after the 76ers acquired James Harden from the Brooklyn Nets, things were clicking. The Sixers looked unbeatable, albeit against less than the best competition, but as Harden settled in, opponents began to adjust.
Early in the Harden era, the Sixers were talked about as a legitimate NBA title contender.
Few people are suggesting that will happen this time, but any team with Joel Embiid playing at an unworldly pace, shouldn't be counted out. One thing is for sure – the Sixers will surely be tested in the playoffs and as early as the first round.
After flirting with the top spot in the Eastern Conference, they finished fourth and will face the No. 5 seeded Toronto Raptors in the best-of-seven first-round that begins Saturday in Philadelphia at 6.
Games 1, 2, and if necessary, 5 and 7 will be in Philadelphia, with games 3, 4 and 6 in Toronto.
This will be the first postseason meeting since the epic seven-game series won by Toronto in the 2019 Eastern Conference semifinals. That series ended with Kwahi Leonard's four-bouncer at the buzzer that won a 92-90 Game 7. No team provided a better challenge to eventual NBA champion Toronto in the playoffs that season than the Sixers.
Both teams have changed dramatically since that series. Here were Toronto's five starters that series – Leonard, Pascal Siakam, Kyle Lowry, Danny Green (now with the Sixers) and Marc Gasol. Of those five, only Siakam remains in Toronto and he continues to be a handful.
The Sixer's five starters were Embiid, Ben Simmons, Jimmy Butler, JJ Redick and Tobias Harris. Only Embiid and Harris remain from that starting lineup.
In other words, they are totally different teams. Yet Toronto, with one of the best coaches in the NBA, Nick Nurse, has remained a thorn in the Sixer's side.
This season Toronto was 3-1 against the Sixers, although taking too much stock in regular-season series can be a little bit overblown.
The big difference is that Embiid can take over and dominate a series. When the teams met in the 2019 playoffs, Embiid was an All-Star, but not as dominant as he is now. In 2019 he averaged 17.6 points and 8.7 rebounds in the playoff series against the Raptors.
Toronto's Gasol did a good job defending Embiid, but two things have changed since then.
Embiid has evolved into a viable NBA MVP candidate and of course, Gasol has long been gone from Toronto.
This season Embiid led the NBA in scoring (30.6 ppg.) while shooing an impressive 37% from three-point range and 81.4% from the foul line. In three games against Toronto, he averaged 29 points and 11.3 rebounds, but also 2.6 turnovers. Toronto does a great job double-teaming Embiid and forcing him to often pass while pressurized, thus creating turnovers. Both teams have strong starting fives and little on the bench. Toronto has five players averaging 15 or more points while the Sixers have four, although Embiid, with his average, is like having two players doing that.
The Sixers will be hurt by not having defensive ace Matisse Thybulle for at least Games 3 and 4 and also Game 6 if the series goes that far. Thybulle is not fully vaccinated. A person who is not fully vaccinated, can't travel into Canada via Canadian law.
Siakam (22.8 ppg., 8.5 rpg.) is playing his best basketball since being named an All-Star in 2020. Rookie Scottie Barnes (15.3 ppg., 7.5 rpg.) is a handful.
The key for Toronto will be first-time All-Star Fred VanVleet (20.3 ppg., 37.75 three-point), who has been battling injuries over the second half of the season.
In 2019 VanVleet struggled mightily in the playoffs against the Sixers, averaging just 2.0 points, hitting 1 of 14 three-pointers and 3 of 24 overall field goals.
To his credit, he rebounded in the next two rounds and eventually averaged 14 points in the championship series win over Golden State. Both the Sixers and Toronto are close statistically. The Sixers were 11th in offensive rating, averaging 113 points per 100 possessions, while Toronto was 15th (112.1). Toronto was ninth in defensive rating (allowing 109.9 points per 100 possessions), while the Sixers were 12th (110.2).
Article continues below
---
advertisement


---

Besides VanVleet returning to form, the other key is Harden.

Late in the season, he hasn't had the burst that he showed in the first few games with the Sixers and there are questions whether he has lingering hamstring problems, was just holding back until the playoffs, or has indeed lost a step.

In his last 14 games this season, Harden shot 39.2% from the field and just 28.7% from the three-point range. The key to his game is getting to the foul line, where he shot 89.3% in those final 14 games.
Stars are who win championships and the Sixers have more star power than Toronto.

Whether that translates to a series win remains to be seen, but the Sixers with the home court and Embiid have been favored in what could be a first-round series that goes the distance.

Image Courtesy 76ers/Getty Images

Author:

Marc Narducci
Archives
---
Who's Who in Health Care
Out & About
QB Ronnie Borden is Back in the Game
Should fans be worried for the Phillies bullpen?
South Jersey Football Games of the Week
A look at South Jersey's Top H.S. Girls' Soccer Teams
Out & About
Eagles will be fine after close call in opener
High School Football Games of the Week
Is it Super Bowl or bust for the Eagles?
What's New in South Jersey?
From New Jersey to Nashville
Frustrating times for Millville's Mike Trout
High School Football Games of the Week
Hammonton's Kenny Smith off to a quick start
More...