Better Than Ever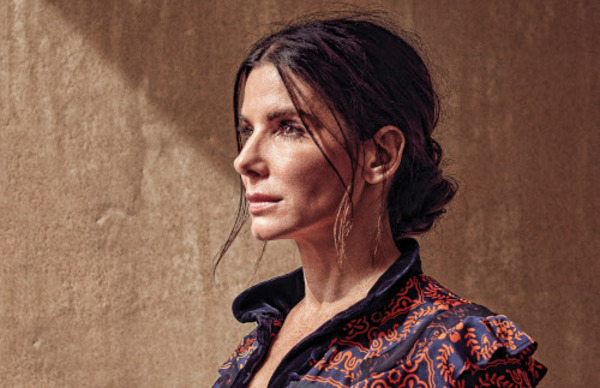 All these years later, Sandra Bullock is still having a blast.
Almost three decades after emerging as a star with her role in Speed, the Oscar-winning actress does not feel compelled to constantly work. Yet when she does choose a part—like the lead in her latest movie, The Lost City, alongside Channing Tatum and Brad Pitt—she looks for something that will not only be challenging, but a lot of fun too.
In the action-comedy, Bullock plays a romance novelist on tour with her cover model, portrayed by Tatum. They get swept up in a kidnapping attempt and adventure ensues, and Bullock shares that the enjoyment apparent onscreen was visible during the making of the film as well.
"It was great," she says. "Sometimes on a shoot it's the script, sometimes it's the environment, sometimes it's the people around you … and not just necessarily the actors, but the crew and the managers. Other times you manage to tick all those boxes and, despite the hard work, a shoot can really feel like something of a holiday.
"This was definitely one that went that way, and it was a real buzz to come out the other side knowing—thinking—we had achieved something really good."
The movie is the latest in a long line of memorable ones for Bullock, who got a taste of show business from a young age. Born in Virginia, the daughter of a German opera singer mother and a voice-coach father, she spent her early years touring with her mother in Europe while growing up in Nuremburg, Germany. When she was 12, her parents relocated to Washington, D.C., where she went to high school before she left home to study drama at East Carolina University in North Carolina. Bullock later moved to New York, where she studied acting under the legendary Sanford Meisner.
While films like Practical Magic, Two Weeks' Notice, Miss Congeniality and The Proposal saw her become one of Hollywood's most bankable actresses, and best known for her comedic talents, it wasn't until she earned an Oscar for her work in The Blind Side in 2010 that she finally achieved serious recognition.
That year, following her split from husband Jesse James, Bullock revealed that she had adopted a three-month-old baby boy, Louis. She has since adopted a girl, Laila, and her children are now 12 and 10, respectively.
Previously she enjoyed romances with Matthew McConaughey and Ryan Gosling, and she is currently in a relationship with photographer Bryan Randall. She divides her time between homes in Los Angeles and Austin, Texas.
Bullock spoke to Orlando Family Magazine about her latest hit, the hardest time she ever had on a set and her busy life raising two children.
South Jersey Magazine: The Lost City doesn't seem like your type of movie.
Sandra Bullock: I think I disagree. It's fun, it's funny, it's a bit out there. I think the whole action-adventure tag is probably what you're referring to, but I was very much of the mind that the industry needed to stop looking in on itself in such a profound, melancholy way. I still am of the mind that the only way we can work our way out of that gloom and depression is to get back to making stimulating, fun, light-hearted movies, the like of which they were doing in the 1980s. And this definitely has an '80s feel to it.
It depresses me a bit that we are in an era where everything has to be so solemn and flat, and that there is this trend for self-reflection and solace, and there's all this faux repentance floating around. Sometimes you just need to hack your way through a jungle and end up sprinting away from a fireball with Brad Pitt. Sometimes everyone needs that.
SJM: Partnering with Channing Tatum must have been a nice experience.
SB: He's a lovely guy to work with, a lovely guy to look at—there's not much more to it than that. I think I've covered it all! It's one of those projects where you just have to grin and bear it, I'm afraid [laughs].
Seriously though, he's a great guy and one of those mainstays in the industry who can afford to go missing for a while before coming back just as strong as before. I put myself in the same category—we don't live for being busy with projects all the time, but when we do have time away we know, ultimately, we are always going to come back. Less is more, as it is in many things in life without people realizing.
SJM: This was one of the easier shoots you have done then, but what have been the toughest over the years?
SB: Well, the toughest, bar none, was Gravity. I was basically locked in this strangely lit cube the entire day while we were shooting the film.
I didn't really understand the totality of what was going to be involved in the shooting process before we started. I had little bits and pieces in terms of the wire work and green screen. But [director] Alfonso Cuarón was experimenting with different technologies to achieve the weightlessness and the strangeness of what our characters were experiencing.
SJM: You said at the time that the movie took quite a lot out of you, and it took you some time to recover from it.
SB: It was partly that, and partly the fact I'd done The Heat not long before that, and that was also really exhausting. I knew I had a break coming up after that, and there were some scenes stuck in that cube where all I could really focus on was a holiday, or a day when I wasn't up at 5, or just sitting down doing nothing. Does that make me a bad person to admit that [laughs]?
SJM: Did George Clooney have the same feeling?
SB: Look, George is very creative and wonderful to work with, and he was clever in building in lots of different elements that took him away from the fact we were just day by day, working our way along a long and largely identical script, certainly in terms of location.
George actually wrote a scene for me in the film. People have him down as an actor, as a stylish and suave older man, as a philanthropist and all that sort of thing, but on set he is so productive and proactive. It is a joy to be with him and to see how clever a mind he has when it comes to film.
At one point Alfonso and I were stuck on one pivotal scene. We were struggling with it and perhaps that was because we were so close to how my character should say something that we couldn't make the scene work. So then Alfonso opened up his computer and Clooney showed what he had written and sent to him and that was the scene we used in the film.
SJM: How do you view your career at the moment?
SB: A few years ago it's fair to say I wasn't interested in working that much; I was turning a lot of projects down. I had it in my head that I wanted to do some female buddy thing—I thought I was at the right time and the right place to look out for that sort of thing, and really I wasn't interested in stepping out into anything else.
A producer friend of mine told me that there weren't any female buddy scripts out there and, to be honest, I was perfectly happy being at home and looking after my son, so that was it.
Shortly afterwards a friend sent me the script for The Heat and I remember laughing the entire time I was reading it. And in the end I was excited to be able to make the film and get to do the things that guys get to do in those kinds of movies. Gravity followed and I edged my way back in through that.
For the past couple of years I have been really pleased with what I've done, without doing too much. Ocean's 8 was obviously big, but then something like The Unforgivable ended up being a very small movie in terms of box office terms, though arguably meant as much to me.
SJM: What's your life like as a mom?
SB: It's pretty basic stuff. I get up at dawn, prepare breakfast and lunch, take my children to school, maybe work out for an hour or so, and then pick them up and spend the afternoon with them. We might go to the park or I might take them to a swim class. Then I'll make dinner for them, give them a bath, and read a story for bedtime. It's a very sexy life! What is true, though, is I love being devoted to my son and my daughter.
SJM: Is it a very different kind of life for you to be a mother?
SB: Yes, but it's beautiful that way. I love the fact that my life is no longer about work and I can find so much joy in looking after my boy and girl, even though they're growing up very quickly. I feel much less stressed and wrapped up in my own life now and I feel I'm enjoying things more.
SJM: Do you worry a lot as a mother?
SB: I'm always worrying whether I'm doing a good job and that I'm doing things right. I guess those are normal concerns for moms and I want to be the best mom possible. I just enjoy the fact that Louis and Laila are the center of my universe and I'm devoted to their well-being.
SJM: Is this a very special time in your life?
SB: Life is good and there's not a morning I don't wake up and really know that, so I'm sure [my relationship with Randall] is most of the reason that happens.
I have a wonderful partner who I believe I will be with for the rest of my life. I have a career that is continuing on and I am grateful for that. I don't feel I need anything else right now.
Article continues below
---
advertisement


---
Author:
Evan Jameson
Archives
---
Who's Who in Health Care
Former Shawnee star Doolittle Calls It A Career
Camden County College welcomes Baseball Hall of Fame
South Jersey Football Games of the Week
Out & About
QB Ronnie Borden is Back in the Game
Should fans be worried for the Phillies bullpen?
South Jersey Football Games of the Week
A look at South Jersey's Top H.S. Girls' Soccer Teams
Out & About
Eagles will be fine after close call in opener
High School Football Games of the Week
Is it Super Bowl or bust for the Eagles?
What's New in South Jersey?
From New Jersey to Nashville
More...