Bishop Eustace graduate Zac Gallen Flourishing with the Arizona Diamondbacks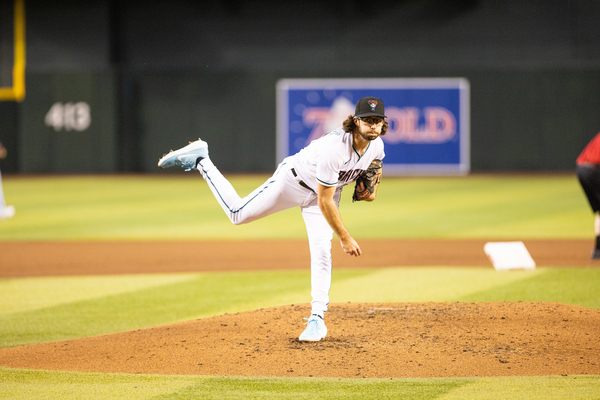 Arizona Diamondbacks righthander Zac Gallen has been among the top pitchers in the National League this season and there is talk of him being a potential All-Star.
Yet the 2013 Bishop Eustace graduate is attempting to stay grounded and simply continue to perfect his craft.
Gallen, who turns 27 on Aug. 3, didn't have the best of homecomings last week when the Diamondbacks dropped a 7-5 loss to Phillies at Citizens Bank Park.
He lasted just 1 2/3 innings, allowing six runs, four earned.
Gallen was a stand-up player after that game, talking about the loss to reporters and before Saturday afternoon's 4-0 loss to the Phillies, he was gracious enough to talk to Southjersey.com about his season, his career and yes, his time at Bishop Eustace, where he has great memories.
As for the game, he said he obviously wished he pitched better, but was happy that so may came out to see him. Gallen estimated between 60 and 70 people reached out to him and told him they were at the game. He didn't get tickets for all of them, but did purchase tickets for many and joked that "I lost money on that game."
Still, he saw the positives, that so many people came to see him.
Article continues below
---
advertisement


---

"There were a lot of friends and family and it was really fun to come back and see so many people," he said.

Even with the rough outing, Gallen is putting together a strong season.
In his first 11 starts, covering 58 innings, Gallen was 4-2 with a 2.95 ERA. His ERA+ was 140, or 40 percent above the average. He had 8.95 strikeouts per nine innings.

Gallen has heard the whispers about him being a potential All-Star, but as much as he appreciates it, tries to block it out.

Of course that is easier said than done.
"It's one of those things where you can't block it out all the way, it's impossible, with all the media coverage," he said. "So I think the big thing is to try not to fixate on it, and whatever happens, happens."

So thinking about it and dwelling on it are two different things.
"It's alright to think about that stuff, it's a goal and something you are striving towards, but I try not to get too worried about it," he said.
Diamondbacks manager Torey Lovullo says he has been impressed with Gallen's continued progress.

"He's done fantastic," Louvullo said. "He's taken on a very key role in our rotation and we look for him every fifth day. (When he pitches) we know we've got a really good chance to win a baseball game and he's earned that and has had a terrific year."

Gallen says he still checks up on Bishop Eustace baseball fairly frequently. He said one of the highlights when he attended Eustace was winning the Joe Hartmann Diamond Classic as a junior in 2012. That single-elimination tournament consists of 16 of the top teams in South Jersey.

"We didn't think we were going to get in, but then at the cutoff we got the Olympic National berth and got hot and it was great," he said.
One of his former teammates at Eustace is Devin Smeltzer, now with the Minnesota Twins. Gallen says he keeps in touch with Smeltzer.

After earning the win in Friday's 9-4 victory over the Tampa Bay Rays, Smeltzer was 3-0 with a 2.38 ERA.

"With them coming to Arizona next week (June 17-19) we just talked and I am looking forward to seeing him," Gallen said. "We have been pitching on the same day and I don't know if it will line up that way when we face them, but if so that would be awesome."

Gallen was selected in the third round of the 2016 draft by the St. Louis Cardinals from the University of North Carolina. He has already been traded twice, first to the Miami Marlins and then to Arizona.

Gallen made his Major League debut with Miami in 2019 and was dealt to Arizona at the trade deadline that season for second baseman Jazz Chisholm Jr., in a trade consisting of two highly touted prospects.
That season he pitched seven games for Miami and eight for Arizona and combined for a 2.81 ERA.

In the shortened 2020 season he had a 2.75 ERA in 12 starts and ERA+ of 161 and finished ninth in the National League Cy Young voting.

Last year, in which his ERA was 4.25 in 23 starts, but Gallen averaged 10.3 strikeouts per nine innings.

Gallen said there were two points in his career when he began feeling he truly belonged in the big leagues.

"It was probably about seven starts in '19 when I made my debut, I started to really get comfortable," he said. "The game started to slow down just a little bit."

And then the next season, things went up another level. "In 2020 is when it really clicked," he said. And it has continued to click, so much so that the prospect of being an All-Star would not be surprising at the least.

Author:

Marc Narducci
Archives
---
Who's Who in Health Care
Former Shawnee star Doolittle Calls It A Career
Camden County College welcomes Baseball Hall of Fame
South Jersey Football Games of the Week
Out & About
QB Ronnie Borden is Back in the Game
Should fans be worried for the Phillies bullpen?
South Jersey Football Games of the Week
A look at South Jersey's Top H.S. Girls' Soccer Teams
Out & About
Eagles will be fine after close call in opener
High School Football Games of the Week
Is it Super Bowl or bust for the Eagles?
What's New in South Jersey?
From New Jersey to Nashville
More...