The Eagles face three key questions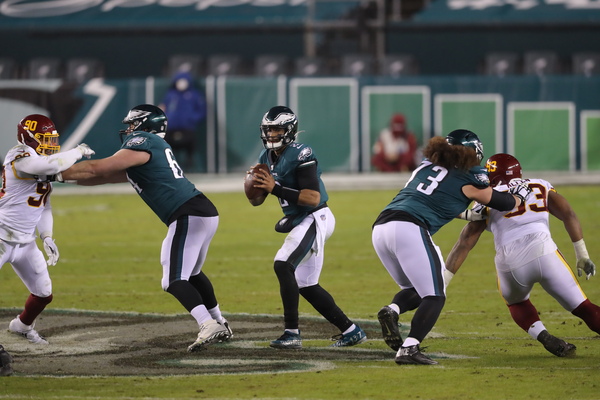 With training camp under way this week, expectations are high for the Eagles this year.
Think about where the Eagles have risen compared to a year ago. They were coming off a 4-11-1 record, replaced coach Doug Pederson with the relatively unknown Nick Sirianni, and there weren't many who expected a postseason appearance.
The Eagles went 9-8. They earned a playoff spot but were overwhelmed in their one postseason game by Tampa Bay, 31-15 in a game the Bucs led 31-0 and coasted.
Now another first-round playoff exit won't be accepted by the Eagles faithful. With a less than overwhelming NFC, there is the thought that the Eagles could improve on last year's postseason performance.
But some key questions remain, and how they're answered could determine the Eagles' fate
1. How much progress has Jalen Hurts made?
Hurts was showing promising progress until the Tampa Bay playoff loss, where he completed 23 of 43 for 258 yards, one TD and two interceptions. He also rushed eight times for 39 yards. Tampa Bay had a simple plan: Make Hurts beat them. He was unable to do so, seemingly confused at times by the different looks given by defensive coordinator (and now head coach) Todd Bowles.
One thing is for sure: Hurts has the confidence and admiration of his teammates. He is a great leader, but can he become a more accurate passer?
NFL.com rated QBs off their 2021 performance, and Hurts was ranked No. 17—after being No. 23 the year before.
If he moves up another six spots, the Eagles will likely see a highly successful season.
2. What type of impact will A.J. Brown have?
Some are comparing his arrival to that of Terrell Owens before the 2004 season. In Owens' first year, he was a major reason why the Eagles reached the Super Bowl. He blew up after that and was gone before the end of the next season, but he was a major difference-maker his first year.
That is not to suggest Brown is the quality of receiver Owens was when he came to Philadelphia. Brown has only been in the NFL for three seasons, but he will no doubt take pressure off the other receivers. DeVonta Smith and Quez Watkins, not to mention tight end Dallas Goedert, should all benefit from Brown's presence and find themselves open more.
Brown is a big, physical receiver who is among the best in the NFL in gaining yards after the catch. He could have a big an impact as any newcomer in the NFL.
3. What about the pass rush?
Last year, the Eagles were second to last in the NFL in sacks with 29. Simply put, the Eagles need more of a pass rush.
Enter free agent Hasson Reddick. The Haddon Heights graduate and former Temple star is with his third team in three years, but has had double-digit sacks the previous two, with 12.5 in 2020 for Arizona and 11.0 last year for the Carolina Panthers. If he can make it a third straight year of double-digit sacks, then the Eagles should be vastly improved.
They will also return Brandon Graham, who missed most of the season with a torn Achilles. He had 8.0 and 8.5 sacks the previous two years, and the Eagles would take either total in a heartbeat. Graham is not only coming off a serious injury, but also turned 34 in April. If he can regain his form, that will give the Eagles a much better pass rush.
The Eagles were a solid defense last year: With a legitimate pass rush, they could improve dramatically.
Article continues below
---
advertisement


---
Author:
Marc Narducci
Archives
---
Who's Who in Health Care
Out & About
QB Ronnie Borden is Back in the Game
Should fans be worried for the Phillies bullpen?
South Jersey Football Games of the Week
A look at South Jersey's Top H.S. Girls' Soccer Teams
Out & About
Eagles will be fine after close call in opener
High School Football Games of the Week
Is it Super Bowl or bust for the Eagles?
What's New in South Jersey?
From New Jersey to Nashville
Frustrating times for Millville's Mike Trout
High School Football Games of the Week
Hammonton's Kenny Smith off to a quick start
More...