Allentown beats Brooklawn in Senior American Legion State final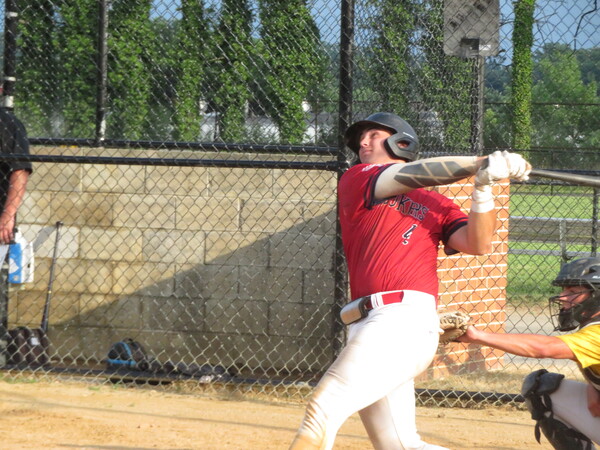 For the second straight year, Allentown denied Brooklawn from winning the New Jersey Senior American Legion state championship.
Allentown captured its second straight state title with a 2-0 win over Brooklawn during last week's state final Wood-Ridge.
Allentown advanced to the NCAA Mid-Atlantic Regional Tournament in Morgantown, West Virginia. The winner of the regional will advance to the American Legion World Series.
Last year Allentown beat Brooklawn, 5-2 in the American Legion state title game, winning its first championship.
For Brooklawn, it was the end of another outstanding season for the team that has long set the standard in Senior NJ American Legion, which is for players 19-and-under.
Brooklawn has won a state record 30 state championships, along with four national World Series titles, the most recent in 2014.
"Allentown did a good job and I wish them luck in the regionals," said Brooklawn coach Dennis Barth, who is also the head coach of Gloucester Catholic. "I thought we were as good as they were, but they played better than we did."
The game MVP was Mike Doran, who drove in both runs, including a solo home run, his first this season for Allentown. Doran will continue his education and baseball career at the College of New Jersey.
Brooklawn received an outstanding pitching performance from rising senior lefthander Tanner Nolan, who is a Rutgers commit. Nolan allowed the two runs on just four hits in six innings. He struck out seven.
Brooklawn, which had a runner thrown out at the plate earlier in the game, made one last-ditch rally in the seventh inning when R.J. Mustaro, a rising senior at Gloucester Catholic, opened the inning with an infield single. That was followed by a walk to Matt Leahy, a graduating senior at Gloucester Catholic.
Brooklawn then hit a groundout to the mound before closer Patrick Burns ended the game by recording consecutive strikeouts.
Just getting to the finals was difficult for Brooklawn (25-4). Earlier in the tournament, Brooklawn lost to Whitehouse, 4-3.
The two teams played two days later with the right to earn a berth in the final against Allentown. In that game, Brooklawn beat Whitehouse 7-0 behind the shutout pitching of recent Camden Catholic graduate Eric Seick.
"He pitched great that game and all summer for us," Barth said of Seick.
Article continues below
---
advertisement


---

Brooklawn should again make a run at a state title next season. The team last won the state championship in 2019.

Among the player's expected back is Mustaro, a left-fielder, who Barth said is a candidate for the MLB draft in 2023.

"He is really coming on and is one of the best athletes I ever coached," Barth said.

Brooklawn prides itself on being a state title contender every year, but now the key will be knocking off Allentown. This is a franchise that never won a state title before last year.

Now Allentown and Brooklawn are starting to have a nice rivalry, that looks to continue in the future.

Author:

Marc Narducci
Archives
---
Who's Who in Health Care
Former Shawnee star Doolittle Calls It A Career
Camden County College welcomes Baseball Hall of Fame
South Jersey Football Games of the Week
Out & About
QB Ronnie Borden is Back in the Game
Should fans be worried for the Phillies bullpen?
South Jersey Football Games of the Week
A look at South Jersey's Top H.S. Girls' Soccer Teams
Out & About
Eagles will be fine after close call in opener
High School Football Games of the Week
Is it Super Bowl or bust for the Eagles?
What's New in South Jersey?
From New Jersey to Nashville
More...