O.C. Nor'easters are a summer attraction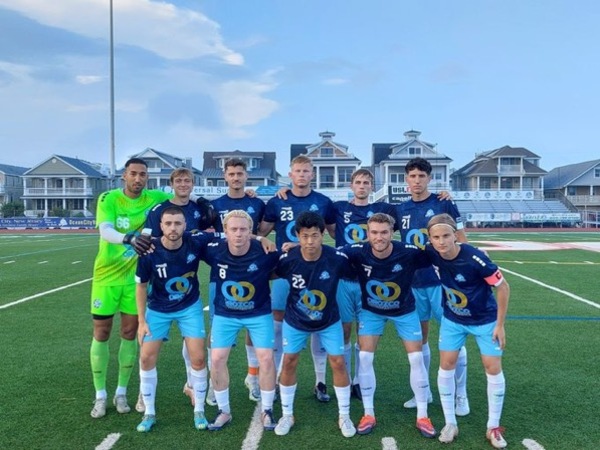 The Ocean City Nor'easters, an amateur men's soccer team, has been in existence in one form or another since 1997. The team began as the South Jersey Barons and later became known as the Ocean City Barons, ultimtaely changing their name following the 2009 season to the Ocean City Nor'easters.

The team plays its home games at Ocean City High School's Carey Stadium. The Nor'easters compete in USL2, which is considered the top amateur league in the country.

There are 113 teams, four conferences and 16 divisions in USL2. The regular season ends July 16th, with playoffs going through the beginning of August.

The Nor'easters have been one of the more successful franchises. After Saturday's 1-1 home draw with Reading United, the Nor'easters are unbeaten in their last 24 regular season matches (18-0-6).
Article continues below
---
advertisement


---
Teams play seven home division games and seven on the road; the Nor'easters will play their final four games at home.
The Nor'easters took a 6-0-3 regular season record into their final road game of the season when they played West Chester United yesterday, June 27.
The rest of the regular season home schedule at Carey Stadium is as follows:
* Friday, June 30 vs. Real Central NJ, 7 p.m.
* Friday, July 7 vs. Philadelphia Lone Star, 7 p.m.
* Sunday, July 9 vs. Lehigh Valley United, 7 p.m.
* Sunday, July 16 vs. West Chester United, 7 p.m.
According to the team, since 2003, more than 100 Ocean City players have moved on to play professionally in 25 different countries.
The team mostly comprises current college players.
Two of their top players are rising juniors at Louisville, a team that went 9-6-3 last year and advanced to the NCAA Tournament before losing in the first round.
Those two players are defender Josh Jones and forward midfielder Sander Roed.
Jones is a 6-foot-5 center back who attended Pennsylvania's North Penn High School. According to a Nor'easter official, Major League Soccer (MLS) teams have shown a high degree of interest in Jones. Roed, an All-Atlantic Coast Conference first-team choice last season, entered the week leading the Nor'easters with five goals.
Another top Atlantic Coast Conference player on the team is rising sophomore midfielder Nick Pariano of Duke. Pariano was a second-team All-ACC choice during his freshman year at Duke.
"This absolutely prepares me for the ACC season," Pariano said. "We have a lot of good players on this team and it is so much fun."
A key playmaker is Allesandro Arlotti, who will be a junior at Harvard after being named a first-team Ivy League selection last season.
Fellow Harvard junior Jan Riecke is among the top defenders for the Nor'easters.
A key local product is forward Jack Sarkos, a Mainland graduate who led Lehigh in scoring last year as a senior with eight goals and two assists for 18 points.
There are countless other top players, and the team is guided by Matt Perrella, who is also the head men's soccer coach at Camden County College.
The stadium is located near the Boardwalk, and those boards as well as the team playing close to them both make welcome attractions in the summer.
Photo courtesy of the Ocean City Nor'easters
Author:
Marc Narducci
Archives
---
Who's Who in Health Care
Former Shawnee star Doolittle Calls It A Career
Camden County College welcomes Baseball Hall of Fame
South Jersey Football Games of the Week
Out & About
QB Ronnie Borden is Back in the Game
Should fans be worried for the Phillies bullpen?
South Jersey Football Games of the Week
A look at South Jersey's Top H.S. Girls' Soccer Teams
Out & About
Eagles will be fine after close call in opener
High School Football Games of the Week
Is it Super Bowl or bust for the Eagles?
What's New in South Jersey?
From New Jersey to Nashville
More...