Families Feud in South Jersey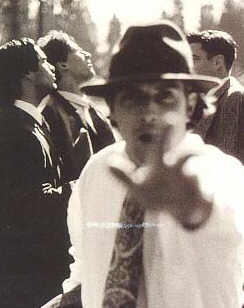 Springsteen sings about it in his song "Atlantic City," "Well they blew up the chicken man in Philly last night now they blew up his house too Down on the boardwalk they're gettin' ready for a fight gonna see what them racket boys can do..." How much do you know about the history of the South Jersey mob "family"?
The Philadelphia/South Jersey mob "family" is one of America's oldest and most violent. But it wasn't always like that.
At the beginning of the twentieth century, "the mob" was a loosely knit handful of primarily Jewish, Italian, and Irish mobsters, including the legendary Harry "Nig Rosen" Stromberg, Waxey Gordon, Max "Boo Boo" Hoff and Atlantic City's Mickey Duffy. Most of whom had gotten their start as bootleggers.
In 1929, mob leaders from around the country convened in Atlantic City to settle territorial disputes associated with the liquor trade. New York's Meyer Lansky and Lucky Luciano hosted the meeting, and Chicago's Al Capone was in attendance.
South Jersey's Pine Barrens were known for harboring illegal liquor stills and served as a meeting place (not to mention burial ground) for east coast bootleggers. Some of the molasses used for making rum was also used to make the Shore's saltwater taffy, which allowed mobsters to claim that the raw materials were being used for legitimate purposes.
In later years, Philadelphia mobsters were known for their expertise in developing popular music acts and promoting professional boxing matches. The legendary fight promoters Frank Carbo and Blinky Palermo operated out of Philadelphia and Southern New Jersey. Nig Rosen was arrested in the late 1950s for his central role in the "French Connection" heroin ring and eventually settled in Florida. By the early 1960s, most of the Jewish mobsters had retired or died off leaving the area's rackets under the control of Angelo Bruno's Cosa Nostra.
The largely peaceful Philly-area rackets were shattered by Bruno's assassination. The emergence of legalized casino gambling in Atlantic City in 1978 brought out the greed in some of the younger mobsters who felt stifled by Bruno's conservative management. In the next twenty years, dozens of mobsters were killed in the most violent gangland war since Prohibition. Many others were "flipped" by the government and testified against their former associates. All of this was part of a power struggle that is still going on today. One of the family's bosses, Ralph Natale, turned states evidence, the highest-ranking Mafioso ever to do so.
In the 1980s and 1990s, mob watching in the region became a spectator sport of sorts. The colorful nature of the mob wars was immortalized in Bruce Springsteen's song, Atlantic City, which chronicled the events surrounding the 1981 bombing death of Bruno's successor, Philip "Chicken Man" Testa.
While organized crime plays a role in some of Atlantic City's services, its influence in the gaming industry is minimal, if it exists at all. By most accounts, today's leading Delaware Valley mobsters were toddlers when the rackets were in their heyday confirming Springsteen's lyrics, "Everything dies baby that's a fact."
For more South Jersey History, visit our South Jersey History page.
Article continues below
---
advertisement


---
Author:
R. Cohen
Archives
---
More football commitments trickling for South Jersey football players
Former Glassboro Star George Johnson Almost Vaulted Team to NFC Title Game
A Running Start
For the Love of the Game
Usual Powers on Top in Wrestling
The South Jersey Fab Four
Lighting the Way
Setting the Stage
Big Words: Twins!
Ready to Grow
Home of the Brave
How Can I Ever Thank You?
One of All-Time Best Coaches Resigns
Walk of Fame: Ella Hampton
Jersey Fresh
More...