Unique Special Exhibits at Rutgers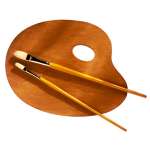 Two new exhibits at Rutgers-Camden take the painting-by-numbers concept to a whole new level and bridge the world's most ancient technology with today's leading animation practices.
The work of over 30 artists whose art demonstrates various mathematical principles will be featured in the exhibition New Math: Contemporary Art and the Mathematical Instinct at the Rutgers-Camden Center for the Arts' Stedman Gallery. Organized by the Tweed Museum of Art in Duluth, Minn., the collection will be on display through Saturday, March 27, on the Rutgers-Camden campus.
More than 50 pieces, including sculpture, painting, photography, and computer-generated imagery, will be shown, all reflecting four major themes: algorithms, geometry, probability and statistics, and cultural and historical mathematics. The exhibit also showcases work from regional artists, such as New Jersey native Susan Happersett's counted-mark-making drawings, inspired by the Fibonacci sequence, and Philadelphia resident Stephen Cartwight's "Bug Splatter," an image generated from a formula he created by charting where insects were killed on his windshield during his daily commute. Ranging from Native American Ojibwe weavings that demonstrate numerical sequences to a robotic arm exemplifying artificial intelligence, the collection reveals how the mathematical instinct cuts across cultures and technologies to offer substantial societal contributions, as well as great aesthetic beauty.
The latest work by a Rutgers University-Camden fine arts professor bridges the world's most ancient technology with today's leading animation practices.
LiQin Tan, an assistant professor of fine arts at Rutgers-Camden, will present Digital & Primitive: Animation Permeates Native Hides, at the Rutgers-Camden Center for the Arts' Stedman Gallery through Wednesday, Feb. 25, in Gallery II.
Tan combines an ages-old artistic tradition with 21st-century technology by by printing computer-generated symbolic Native American images on natural substances. The exhibit includes five print pieces, featuring two and three-dimensional technologies, as well as a slide show and short animation film on Native American symbolism that both will be projected on two additional parchments. Tan's digital-primitive art exhibit seeks to illustrate how the ideologies and technologies of modern society change, but the rich spirituality and philosophies of so-called primitive cultures will endure.
A former brush-figure painting instructor in Hengyang Teachers' College in China and artist for Disney's Saturday morning cartoons, Tan currently teaches three-dimensional animation and multimedia courses at Rutgers-Camden. Born in China, he currently lives in Cherry Hill.
The Stedman Gallery is open Monday through Saturday from 10am to 4pm and Thursday evenings until 8pm. The Rutgers-Camden Center for the Arts is located on Third Street, between Cooper Street and the Benjamin Franklin Bridge. For more information, contact (856) 225-6350 or arts@camden.rutgers.edu. Visit RCCA online at rcca.camden.rutgers.edu. Admission is free.
Article continues below
---
advertisement


---
Author:
Press Release-Rutgers
Archives
---
More football commitments trickling for South Jersey football players
Former Glassboro Star George Johnson Almost Vaulted Team to NFC Title Game
A Running Start
For the Love of the Game
Usual Powers on Top in Wrestling
The South Jersey Fab Four
Lighting the Way
Setting the Stage
Big Words: Twins!
Ready to Grow
Home of the Brave
How Can I Ever Thank You?
One of All-Time Best Coaches Resigns
Walk of Fame: Ella Hampton
Jersey Fresh
More...