Outdoor Design Trends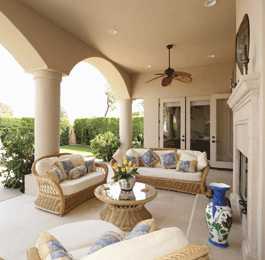 …From the pages of House & Home…
Experts say outdoor rooms are the biggest trend for spring and summer.
Even though the economy has improved and the housing market has bounced back, many homeowners are still staying put and investing their money back into their own homes, which has encouraged the evolution of outdoor living areas, in both landscaping and hardscaping areas. We spoke to a number of different landscape contractors and everyone mentioned outdoor living as the ongoing trend for this new season.
The term outdoor living encompasses so much—from seating and lighting to kitchens and shade features.
"We're definitely seeing a lot more structural work," says Chris Bianciella, co-owner of K & C Land Design and Construction. "Whether it's a pergola or even a full roof, we're seeing more homeowners want some sort of structure that makes the space not only feel more like a room, but provides some shade and protection from the elements."
Bianciella says that adding structures goes along with the trend of really merging the indoors and the outdoors. The "comforts of the home" are being seen more and more on the outside. Homeowners want running water, refrigeration and even televisions in their outdoor living space.
"Basically they don't want to be running in and out of the house," Bianciella says. "They want everything right there."
A backyard vacation
The idea of the "staycation"—a vacation at home—has only built momentum in recent years. Homeowners want a space that they can share with family and friends; and what's more, they also like the idea of keeping their kids at home.
Among other amenities, a pool is often high on the list of creating a dream backyard. Dave Busch of Greenview Designs says that pools are the No. 1 trend he's seeing in the business. While the chilly temperatures may make swimming seem far off, Busch says that now is actually the perfect time to start designing and planning a pool, since the permit process can take anywhere from six to 10 weeks, depending on the weather and the township.
Bill Vecchione, president of B&G Outdoor Rooms/ Landscapes LLC, advises that anyone who is thinking about a pool stay away from liner pools. Though it's expensive, he says it's worth saving up for a concrete structure that is going to last longer.
In planning an outdoor living area, Vecchione also suggests that homeowners put a lot of thought into how they want to use the space and what amenities they might get the most enjoyment out of. But he says he's often surprised how few homeowners invest in lighting. A home may have all the bells and whistles in their outdoor living space—but it's in the dark.
"Outdoor lighting is so important," Vecchione says. "It provides safety and security, extends the use of the space, and just looks great. It's definitely a smart area to invest your money."
Bringing it all together
An outdoor living space is no small undertaking. If you have the vision of having a complete backyard paradise, but can't afford to do it all at once, it's even more critical that you work with an experienced landscape designer who will plan your design based on long-term goals.
Resources
B&G Outdoor Rooms/Landscapes LLC
Scotch Plains, N.J.
(732) 708-6607
Greenview Designs
Hopewell, N.J.
(609) 466-3080
GreenviewDesigns.com
K & C Land Design and Construction
Vauxhall, N.J.
(908) 769-7283
KAndCLandDesign.com
CKC Landscaping, Inc.
West Chester, Pa.
(610) 436-1810
CKCLandscapingInc.com
Country Barn Construction & Landscape Services, Inc.
Malvern, Pa.
(610) 725-0180
CountryBarnConstruction.net
Garnet Valley Farms Landscaping
Garnet Valley, Pa.
(484) 842-0064
GarnetValleyFarm.com
GroundTec, Inc.
Warminster, Pa.
(215) 322-7669
GroundTecInc.com
Published (and copyrighted) in House & Home, Volume 15, Issue 9 (March, 2015).
For more info on House & Home magazine, click here.
To subscribe to House & Home magazine, click here.
To advertise in House & Home magazine, call 610-272-3120.
Article continues below
---
advertisement


---
Author:
Lindsey Getz
Archives
---
More football commitments trickling for South Jersey football players
Former Glassboro Star George Johnson Almost Vaulted Team to NFC Title Game
A Running Start
For the Love of the Game
Usual Powers on Top in Wrestling
The South Jersey Fab Four
Lighting the Way
Setting the Stage
Big Words: Twins!
Ready to Grow
Home of the Brave
How Can I Ever Thank You?
One of All-Time Best Coaches Resigns
Walk of Fame: Ella Hampton
Jersey Fresh
More...