A Natural Element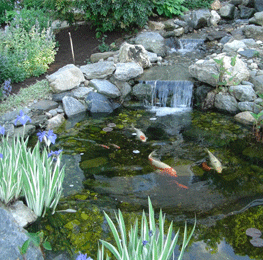 …From the pages of House & Home…
Water features bring tranquility and attract nature to your yard.
Backyards are increasingly being transformed into entertainment venues. Features like pools, decks and outdoor kitchens are becoming more common, all designed to make our time outside more enjoyable. But there are times when we all crave a little peace and quiet, and entertainment that's a little bit closer to nature.
A water feature is a relaxing touch to a yard that otherwise has all the bells and whistles. "When you come home after a long day, a water feature is a soothing presence you can enjoy while reading a book or having a glass of wine," says Michael Conboy, owner of Longford Landscaping.
But ponds, streams and water fountains also have an entertainment value all their own. "There is something visceral about water, being near it; it is calming and soothing," says Dean Stafford, owner of Dean's Landscaping. "But it also attracts a lot of welcome garden visitors like birds, chipmunks and squirrels that will drink by water's edge."
Fitting features
There are various types of water features, from large ponds and streams to pondless waterfalls contained in an urn. Deciding on which type is right for you depends upon your lifestyle, taste and how much time you're willing to invest, says Stafford.
"We've built a lot of ponds and natural balanced ecosystems," he says. "A water feature that size is really a lifestyle, and many homeowners like owning fish, which is a lot of fun."
Dean Johnston, owner and designer/ builder at Johnston & Associates Land and Water Creations, agrees. "From birds to frogs and the fish, I find that more people end up loving [that] more than the pond itself. I have clients who have gotten so attached to the fish they have had us return to enlarge ponds to ensure the fish have more room," he says.
To add another level of drama to a pond, a designer can create a stream that flows into the pond. Edward Marinchak of Create-A-Scape Inc. says large waterfalls or streams can stretch from an area close to your house, like a deck or patio, into a pond. "It can really be created to look like it's natural, with plants, different boulders, rocks, driftwood," he says. "It's a beautiful feature, and lighting it for the nighttime is exquisite."
But water features of this scale are not for everyone, sometimes because of the maintenance involved. "You have to maintain any area holding water because you don't want to let it turn stagnant," says Conboy. "You will need to winterize a waterfall by draining and treating [it] with environmentally safe products."
Marinchak says the most common problem he sees is leaking liners in improperly installed and maintained waterfalls and ponds. "Not all landscaping companies will warranty or offer to maintain the feature," he says. "We offer maintenance every two weeks, almost as if it were a pool. Maintenance includes cleaning rocks of algae, winterizing, storing the pump for the off-season, putting a net over the pond to prevent leaves from falling into it, and adding products to keep it clear."
A popular alternative to ponds is a pondless waterfall. "A pondless waterfall is virtually a pond without the maintenance of the water: the mold, mildew, extensive winterizing," says Mark Napolitano, landscape designer for By Design Landscapes.
"On a pondless waterfall, the water spills from a pot or urn and goes into a gravel pit. Below the surface are water storage chambers that circulate the water. You get the best part of a pond—the sounds—without the flaws. It's also more economical in terms of price."
Perfect placement
Beyond deciding which type of feature fits your style, there is the question of where to place it in your yard.
"Any area on a homeowner's property can be used for a water feature," says Jason Turpin, co-owner of Turpin Landscaping. "We spend time with our clients to ensure the placement is perfect; walking through their home and looking outside can help us decide. You want to be able to look out and see the feature, even when the weather isn't as pleasant."
There might also be areas of your landscape that may lend themselves naturally to a water feature. "I look for any area with a change in topography," says Stafford. "A slope is a blessing for a stream because it will look more natural."
A water feature should also complement the existing entertainment features of your yard. "If you have a patio or deck, we like to locate water features somewhere in visibility from that, where you can see it or hear it," says Napolitano.
But you also have to keep in mind that there is equipment that you want out of view. "A feature should be accessible from three sides, with plumbing on the fourth side where it is hidden from view for aesthetic purposes," he adds.
Any way you look at it, the professionals we spoke to say there is no "wrong" place for a water feature. "Having been in the business for many years, we enjoy being challenged by different terrains and spacing issues," says Turpin. "That is truly where artistry can happen … [and] can produce incredibly stunning results."
Alleviating concerns
When you think about having a water feature in your yard, one of the first questions that may come to mind is whether or not it will be a breeding ground for mosquitoes. But experts say that is a common misconception.
"Thinking that you will have mosquitoes because of a water feature couldn't be more untrue," says Stafford. "If the water is moving, mosquitoes can't lay eggs, and if you have fish in a pond, or garden visitors like frogs, they will decrease the amount of flying insects in your backyard because they are eating them."
Turpin says, "A Frisbee left outside in a summer storm should cause you more concern than any water feature we would install on your property."
As with any major project in and around your home, it's important to research a variety of companies, and asking the right questions will help with any concerns you might have before investing in the project.
Johnston says, "Homeowners should make sure to look at a company's experience building water features and look at projects they've completed. Just because someone has read a book and built one, does not make them equipped to install a pond on your property."
Unfortunately, many of the experts we spoke to say they are often called in to repair projects that were improperly done in the first place. "A portion of our business is rebuilds," says Turpin. "Know your contractor and be sure they are reliable and have been in business for a while and more importantly, that they will still be in business in the years to come."
RESOURCES
By Design Landscapes
Lakewood, N.J.
(732) 901-5566
ByDesignLand.com
Create-A-Scape Inc.
Cherry Hill, N.J.
(856) 547-4276
CreateAScape.com
Dean's Landscaping
West Chester, Pa.
(610) 793-2386
Deans-Landscaping.com
Johnston & Associates Land and Water Creations
Newark, Del.
(302) 521-2984
LandAndWaterCreations.com
Longford Landscaping
Hamilton, N.J.
(609) 890-9940
LongfordLandscape.com
Turpin Landscaping Inc.
Coatesville, Pa.
(610) 380-1119
TurpinLandscaping.com
Published (and copyrighted) in House & Home, Volume 15, Issue 11 (May, 2015).
For more info on House & Home magazine, click here.
To subscribe to House & Home magazine, click here.
To advertise in House & Home magazine, call 610-272-3120.
Article continues below
---
advertisement


---
Related Articles
---
Author:
Liz Hunter
Archives
---
More football commitments trickling for South Jersey football players
Former Glassboro Star George Johnson Almost Vaulted Team to NFC Title Game
A Running Start
For the Love of the Game
Usual Powers on Top in Wrestling
The South Jersey Fab Four
Lighting the Way
Setting the Stage
Big Words: Twins!
Ready to Grow
Home of the Brave
How Can I Ever Thank You?
One of All-Time Best Coaches Resigns
Walk of Fame: Ella Hampton
Jersey Fresh
More...