Wine, Dine and Entertain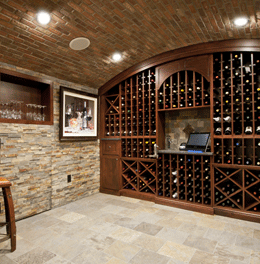 …From the pages of House & Home…
Wine cellars aren't just for storing vino anymore—they've become areas for everyone to enjoy.
Merriam-Webster defines a wine cellar as "an underground room where wines are stored." Though true, the idea of what a wine cellar should be has expanded over the years, as people have found more creative ways to present their favorite varieties. In fact, wine cellars aren't just for storing wine anymore. They have become a place for people to socialize, and for homeowners to show off what wines they've collected, rather than keeping them locked up in the basement.
"I have seen more and more cellars designed to accommodate a bar with seating and a semi-butler's pantry within the wine cellar," says Mark Black, president of Aston Black Cabinets, Design and Woodworking in Lancaster, Pa.
Curt Dahl, co-owner of Joseph & Curtis Custom Wine Cellars in Mountainside, N.J., agrees. "A lot of what we build now is like adult play rooms," he says. "There is a centralized area either within the wine cellar or outside the cellar that's almost like a tasting room, where guests can come over and the hosts can get them out of the kitchen and into a spot where they can entertain."
So what are some of the most popular ways to upgrade the standard wine cellar to an entertaining area? Our experts say the sky—and your budget—are really the only limits.
"It always comes down to budget," says Jim Gallagher, owner of Gallagher Custom Wine Cellars in Chalfont, Pa. "We can really do whatever the customer wants, it just depends on what they want to spend."
Along with your budget, Carla Colella, project manager for Colella Construction, Inc., in Hatfield, Pa., says you should also consider what kind of wine collector you are. "Are you a wine sipper for social settings that has grown into purchasing a wine cooler to store your favorites at the right temp? Or do you have a matured palate requiring a bigger space for storing your precious collection?" she asks.
How expansive you'd like your collection to be will determine just how much space you dedicate to it. "We've built people wine closets to hold 100-200 bottles, and we've built wine cellars for over 20,000 bottles," says Dahl. "It really depends on how into wine the people are."
Of course, some wine connoisseurs simply don't have the space in their home to house 20,000 bottles of wine, so that size collection may be out of the question. Regardless, you can still design a wine cellar that will stand out. "It's really about finding the right footprint you're willing to use for entertaining purposes," Dahl adds. "You have to think through the location, A, and B, you have to think about what kind of amenities you'd like to add to that area."
He suggests additional features including ice makers, dish washers, small refrigerators for meats and cheeses—"Really anything that makes the area so that you don't have to go up and down to the main living area and makes it almost like a restaurant experience, where you're dining or snacking amongst the wine."
Gallagher adds that homeowners should also think outside of the "cellar" box, and if they have room, consider adding their wine collection to the main floor of their home.
"Wine cellars are all about location, location, location," he says. "What's happening in today's wine cellars is that people want them for two reasons—form and function. They want style, and they want to extend their living area. If they're doing it in their basement, they don't just want a wine room tucked away; it's a part of the whole living space. It used to be that people had pool tables in the basement, and wine rooms are the new thing.
"So now we're doing bistro areas so people can enjoy their wine outside the cellar," he continues. "To add to that, we're also finding it's not just necessary to have something like this in the basement. People want it on the first floor, as well. This can add additional challenges, because you have to have additional floor space, but if you construct it correctly, it can really add to your home."
If you don't have the room on your first floor, Colella suggests possibly adding a way to view the cellar in the basement from the first floor. "If doable, we have seen glass floor entrances from above where you can see right to the wine cellar from your kitchen or other area in your home that makes sense," she says.
This option allows for homeowners and guests to still experience the cellar—even if they aren't on the same floor. Colella also offers other options to help take your cellar to the next level. "We suggest a tasting area that can seat a few of your close friends close enough to your inventory so you can enjoy it, too, rather than having to run back and forth [to your main living area]," she says. "Another great tool is a computerized system that will pair your meal with the right type of wine in your inventory."
Black also suggests incorporating custom cabinetry, complete with a seating area and countertops, which makes the area uniquely yours and unlike anything your visitors have seen before. "We can custom build anything anyone could dream," he adds. "We could also design a space with provided measurements."
However you decide to create your wine cellar, Gallagher says to be sure to do things the right way to avoid problems down the road. "Make sure to build the room correctly," he says. "Make sure it's built with a vapor barrier on the outside of the wall. It's going to be cold inside, and it can cause mold and mildew without that barrier."
Colella says consulting a professional would also be helpful to ensure you have the correct permits and meet all required building codes.
Whatever your level of wine expertise or the size of your budget and space, adding a wine cellar to your home will undoubtedly help you appreciate your taste for vino even more.
"Over the last five or 10 years, in the U.S., we've moved away from liquor and more into wine," says Dahl. "With the capability of appreciating and the benefits on health, it's easy to justify putting in a wine cellar or closet." ­
RESOURCES
Aston Black Cabinets, Design and Woodworking
Lancaster, Pa.
(717) 689-4576
AstonBlackCabinets.com
Colella Construction, Inc.
Hatfield, Pa.
(215) 368-3196
ColellaConstructionInc.com
Gallagher Custom Wine Cellars
Chalfont, Pa.
(215) 822-5495
GallagherCustomWineCellars.com
Joseph & Curtis Custom Wine Cellars
Mountainside, N.J.
(908) 337-2204
JosephAndCurtis.com
Published (and copyrighted) in House & Home, Volume 15, Issue 2 (August, 2014).
For more info on House & Home magazine, click here.
To subscribe to House & Home magazine, click here.
To advertise in House & Home magazine, call 610-272-3120.
Article continues below
---
advertisement


---
Author:
Amanda Hamm Hengel
Archives
---
This Old House
Moving Up
Vacation at Home
Glamorous Grilling
Increasing Curb Appeal
An Infinite Palette
Home & Garden: Garage Envy
Home & Garden
Home & Garden
Home & Garden: Backsplash
Healthy Through the Heat
Inside Out
Popular Paving
Home & Garden: Ahead of the Curve
The Outdoor Tour
More Articles