High School Football Games of the Week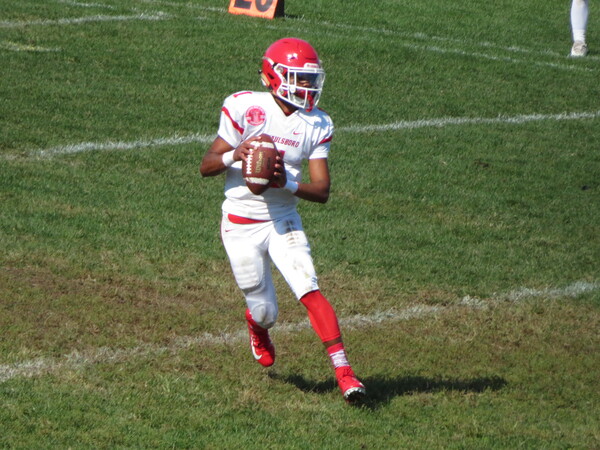 This is sectional championship weekend and several South Jersey teams will be competing in either Central Jersey or South Jersey title games. Here is a look at the games.
Friday
South Jersey Group 4
(2) Ocean City (11-0) at (1) Millville (9-1), 6. Millville is averaging 46.8 points in nine games (not counting a 1-0 forfeit win over Highland). Senior LeQuint Allen has rushed for 1,407 yards (9.4 avg.) and 18 touchdowns. Quarterback Nate Robbins has thrown for 2,015 yards and 20 touchdowns. Freshman Lotizer Brooks has 22 receptions for 693 yards and eight touchdowns. Ocean City is allowing 4.7 points, so something will have to give in this one.
South Jersey Group 5
(4) Kingsway (6-4) at (3) Toms River North (7-3), 6. Kingsway quarterback Nate Maiers is a dual threat. He has thrown for 665 yards and three touchdowns and run for 456 yards (4.1 avg.) and five touchdowns. Darrell Brown Jr. has rushed for 479 yards (4.4 avg.) and four touchdowns. Toms River North, which had one win via forfeit, is coming off a 48-7 semifinal win over Edison.
Central Jersey Group 2
(3) Haddonfield (8-2) at (1) Raritan (6-4), 7. Haddonfield has played a difficult schedule and that should help the Bulldogs, who won back to back SJ Group 2 titles in 2017 and 2018. Senior Carson Wolff has thrown for 935 yards and 13 touchdowns and run for 600 yards (5.2 avg.) and three touchdowns. Raritan has won four in a row after last week's 41-34 semifinal win over Hillside.
Central Jersey Group 3
(2) Woodrow Wilson (7-2) at (1) Rumson-Fair Haven (9-1), 7. Rumson will be a formidable opponent, having an earlier 37-7 win over SJ Group 5 finalist Toms River North. The Bulldogs' only loss was a 21-14 defeat to a 9-1 Red Bank Catholic team. Wilson's Devin Kargman has thrown for 2,284 yards and 20 touchdowns
South Jersey Group 2
(2) Willingboro (8-3) at (1) Point Pleasant Boro (9-1). 7. Point Pleasant Boro's only loss was 34-7 to a Manasquan team that lost 34-7 in last week's Central Jersey Group 3 semifinal to Woodrow Wilson. Willingboro is coming off a 36-14 semifinal win over previously unbeaten Nottingham, as Mehki Gibson scored three touchdowns, including a 70-yard kickoff return. The winning Chimeras also forced five turnovers.
Saturday
South Jersey Group 1
(3) Woodstown (8-2) at (1) Woodbury (10-0), 10:30. Woodstown has won three in a row after last week's 24-19 semifinal win over Shore. Senior Austin Leyman has thrown for 444 yards and five touchdowns and run for 729 yards (6.4 avg.) and nine touchdowns. Woodbury is coming off a 44-23 semifinal win over Penns Grove. As a common opponent, Woodstown beat Penns Grove 42-8 in the regular season.
Central Jersey Group 1
(2) Salem (9-1) at (1) Paulsboro (9-1), 11. This is a rematch from the regular season between these two WJFL Diamond Division teams when Paulsboro won 25-17. Paulsboro senior Tyree Thomas has thrown for 1,377 yards and 15 touchdowns and has two rushing touchdowns. Salem quarterback Jahki Coates has thrown for 1,287 yards and 13 touchdowns and run for 453 (7.6 avg.) and 12 touchdowns.
South Jersey Group 3
(3) Delsea (11-0) at (1) Cedar Creek (11-0), noon. Both teams are also in the running to be the No. 1 team in South Jersey, a race that includes several other teams. Cedar Creek quarterback JC Landicini has thrown for 2,544 yards and 26 touchdowns. Ja'Quan Howard has rushed for 1,386 yards and 19 touchdowns. Delsea has rushed for 3,860 yards and 52 touchdowns.
Central Jersey Group 4
(2) Shawnee (7-3) at (1) Winslow Township (8-2), 7. Shawnee has won three straight SJ Group 4 titles and is now in Central Jersey. Those titles came in 2017, 2018 and 2019. (There were no playoffs last year due to the pandemic). Senior Matt Welsey has been the starter for two of those championship teams. Winslow Township is seeking its first sectional title. Quarterback Hamas Duren has thrown for 2,309 yards and 34 touchdowns and run for 328 yards (7.3 avg.) and five touchdowns.
Article continues below
---
advertisement


---
Author:
Marc Narducci
Archives
---
Dick Allen a glaring omission in recent Hall of Fame vote
One Last Thing: Off the Ice
The Long Journey in a High School Football Season
South Jersey Coronavirus (COVID-19) Developments (December 7)
Sandwich Supremacy
Four South Jersey Regional Football Champions
A Familiar Voice
Men of The Year 2021
Joining the Family Business
Giving Kids a Shot
Deck the Halls
High School Football Regional Championship preview
South Jersey Coronavirus (COVID-19) Developments (December 1)
There is still a place for Thanksgiving football
Eagles soap opera continues
More...