High School Football Regional Championship preview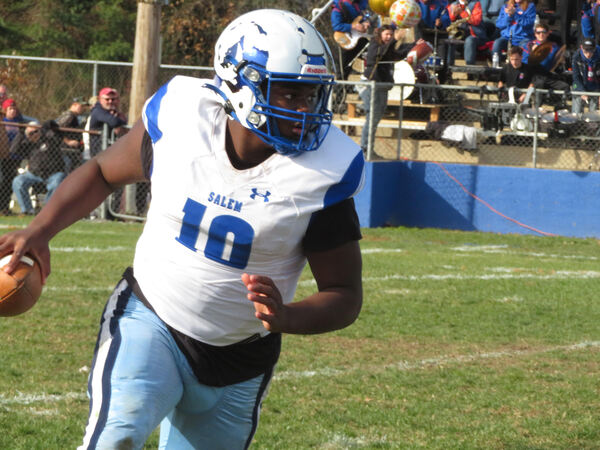 This weekend the high school football season will conclude with public school regional championship games. For area teams that means games between the South Jersey and Central Jersey champions. Here are the games involving teams from the seven-county South Jersey area.
Saturday at Rutgers
South/Central Group 2: Haddonfield (9-3) vs. Pt. Pleasant Boro (10-1), 10 a.m. Haddonfield earned the Central Jersey Group 2 title with a convincing 28-7 win over Raitan. The winning Bulldogs, however are coming of a 36-13 Thanksgiving loss to rival Haddon Heights. Pt. Boro scored a 32-8 SJ Group 2 title win over Willingboro. Boro runs the option and sophomore fullback Jacke Croce has rushed for 1,040 yards and nine touchdown. Haddonfield senior Carson Wolff has thrown for 1,097 yards and 13 touchdowns and run for 671 yards (5.0 avg.) and six touchdowns.
South/Central Group 5: Kingsway (8-4) at Hillsboro (12-0), 1 p.m. Hillsborough is the Central Jersey champion, having won its three playoff games by a 133-28 margin. Senior Jay Mazuera has thrown for 1,839 yards and 21 touchdowns. Kingsway on the other hand has won three close playoff games, by a total of 12 points. The Dragons also beat Clearview, 24-6 the night before Thanksgiving for their fifth win in a row.
South/Central Group 3: Woodrow Wilson (9-2) at Cedar Creek (12-0), 7. Wilson has won seven in a row following a 28-12 Thanksgiving victory over rival Camden. Senior quarterback Devin Kargman has thrown for 2,714 yards and 22 touchdowns. Cedar Creek beat Delsea, 30-13 in the South Jersey Group 3 final. Pirates quarterback Joseph Landicini has thrown for 2,942 yards and 31 touchdowns. Receiver JoJo Bermudez has 78 receptions for 1,526 yards and 13 touchdowns.
Sunday at Rutgers
South/Central Group 1: Woodbury (12-0) vs. Salem (10-2), 10 a.m. Salem beat Paulsboro, 13-12 to win the Central Jersey Group 1 title. The Rams then lost on Thanksgiving to Woodstown, 20-14 in a game they led 14-0. Salem quarterback Jakhi Coates has thrown for 1,322 yards and 13 touchdowns and run for 627 yards (7.0 avg.) and 12 scores. Woodbury beat Woodstown, 8-6 in the South Jersey Group 1 title game. The Thundering Herd are coming off a 34-7 win over Gateway on Thanksgiving.
South/Central Group 4: Winslow Township (9-3) vs. Millville (11-1), 4 p.m. Winslow Township beat three-time defending sectional champion Shawnee, 33-22 in the Central Jersey Group 4 final. After that win, the Eagles lost to St. Joseph, 29-6, the night before Thanksgiving. Winslow Township quarterback Hamas Duren has thrown for 2,600 yards and 35 touchdowns and rushed for 331 yards (6.9 avg.) and six touchdowns. That type of offense will be needed to keep up with Millville. The Thunderbolts are averaging 45.3 points per game. Millville senior LeQuint Allen has rushed for 1,670 yards (8.9 avg.) and 21 touchdowns
Article continues below
---
advertisement


---
Author:
Marc Narducci
Archives
---
Just Getting Started
Shawnee's Joe Kessler Continues his amazing run
Sixers offer hope for Philadelphia sports fan
On the Horizon
New key rules for seeding high school boys & girls basketball teams
2022 Annual Resource Directory
Setting the Standard: Top CEOs/CFOs 2022
Tax-Saving Tips
Early story lines in the South Jersey boys' basketball season
South Jersey Soccer Coaches Association names the best of the best
Is Jalen Hurts the Eagles QB of the Future?
South Jersey Coronavirus (COVID-19) Developments (January 14)
Big Season for Timber Creek grad Devin Leary of N.C. State
Camden-Lenape highlights the best of South Jersey boys' basketball
Just Getting Started
More...