Old Gloucester County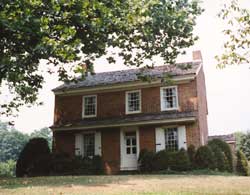 The present Township of Gloucester was one of the original townships that comprised Old Gloucester County. It became the county's first political subdivision in 1685. The boundaries of the county extended from the Delaware River to the Atlantic Ocean until 1683, when it was divided into two townships; Egg Harbor Township and Gloucester Township.
One of the first settlers of Gloucester County, James Whitall, built a house in 1688. The Chew-Powell House, on Good Intent Road, in Blenheim, is a well-preserved landmark that is privately owned and occupied, and is listed in both the New Jersey and National Registers of Historic Places. Blenheim was referred as Upton by the very first settlers of the area, but since the strategic location was not needed to defend against the peaceful Indians they encountered, many of the settlers left the area, and it became known to historians as the "Lost Town of Upton." The Chew-Powell-Wallens Burying Ground, adjacent to the house, is believed to be the oldest cemetery in the township, and it not only contains the remains of early settlers, but also those of Revolutionary and Civil Wars soldiers, and Leni Lenape Indians.
Gloucester Township, which took its name from the cathedral town of Gloucester on the banks of the Severn in England, was further subdivided into four smaller townships, and on June 1, 1695 became one of the first New Jersey municipalities to incorporate. In 1884, the township became part of the newly-formed County of Camden.
The Gabreil Daveis Tavern House, located at 4th Avenue in Glendora, is a pre-revolutionary war tavern. Built in 1756, for many years it served as an inn for boatmen who transported their products to Philadelphia via nearby Big Timber Creek. It was recently restored and now serves as Gloucester Township's historical centerpiece. This building has also been referred to as The Hillman Hospital House because it was designated a hospital by George Washington during the Revolution. It is listed on the National Register of Historic Places.
For more information about Gloucester Township, visit their website at www.glotwp.com/.
For more South Jersey History, visit our History page.
Article continues below
---
advertisement


---
Author:
R. Cohen
Archives
---
In Good Health
2017 Executives of the Year
Superior Sandwiches
Raise a Glass
Impressive New South Jersey BBall HOF class
The Promise of Public Transportation
Empowering the Next Generation
Singles: January 3
River Revitalization
Spreading Cheer
Singles: December 27
Winter Retreat
Are Holiday Parties Back in Favor?
Support System
Singles: December 20
More...