Last C-141s Sent to Storage in NJ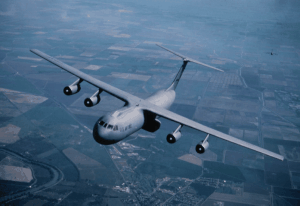 McGuire Air Force Base said farewell Thursday to the last two C-141B Starlifters on active duty.
The cargo plane has been the workhorse of the Air Force airlift fleet for more than 40 years. It's been deployed in every war and conflict since Vietnam.
Members of the 305th and 514th Air Mobility Wings are flying the planes to Davis-Monthan Air Force Base in Arizona, where they wll be placed in long-term storage.
The C-141s will be replaced at McGuire by the more technologically advanced C-17 Globemaster Three. The first C-17 is set to arrive at McGuire next Friday.

Author:
Copyright 2004 by
Archives
---
In Good Health
2017 Executives of the Year
Superior Sandwiches
Raise a Glass
Impressive New South Jersey BBall HOF class
The Promise of Public Transportation
Empowering the Next Generation
Singles: January 3
River Revitalization
Spreading Cheer
Singles: December 27
Winter Retreat
Are Holiday Parties Back in Favor?
Support System
Singles: December 20
More...