Keeping Cool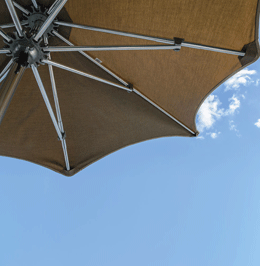 …From the pages of House & Home…
Shade makes summer more enjoyable
Things are heating up out there. While the summer sun often beckons us to spend more time outside, it can also make the deck or patio uncomfortable if it's a particularly hot day. Fortunately, there are a variety of shade solutions that can help keep outdoor living spaces cooler, more enjoyable, and of course, safe from the sun's harmful rays.
Safely shaded
How you choose to shade your outdoor space will depend on factors like budget, size of the space and style preference. There are, of course, many benefits to providing shade. One of those benefits is protection from harmful, skin-cancer causing UV rays, says Marc Kaufer, president of Frankford Umbrellas, a one-of-a-kind umbrella company focusing on commercial quality umbrellas used as far away as resorts in Maui. "Frankford Umbrellas manufactures market umbrellas and beach umbrellas that allow our customers to enjoy their time at the beach, on the patio, or by the pool while reducing their exposure to the harmful UV rays of the sun," Kaufer says. "We also find that during the ridiculously hot days, our customers cannot even be outside unless they're able to find comfort in the shade."
That is certainly true of our area, where temperatures can skyrocket by midday. "Even if it's only 85 degrees out, it can easily get to 100 on your deck," says John Keller, owner and founder of Sequoia Supply and Sequoia Out Back. "You spend a few minutes sitting outside and you can't stand it. Shade is a necessity to be able to enjoy your outdoor space."
It's also helpful to identify where outdoors you will spend most of your time and when you will be out there, suggests Gail Marinaro, owner of Ultimate Patios. That will help you determine where you should place the shade and how large of an area you need shaded, she says.
Umbrellas and awnings
Umbrellas are likely the most cost-effective option for shading your deck, Marinaro says. They can cover an area from 6.5 feet to 13 feet, while rectangle umbrellas can be as large as 10 by 12 feet. "If you need an area larger than an umbrella can cover, you may want to invest in an awning, which can cover up to 12 by 25 feet," Marinaro says. "An awning will also add to the value of your home."
Awnings reduce cooling costs and can be motorized for easy opening and closing, says Jack Caparro of Caparro Awning Company, which specializes in all types of awnings. Awnings even have the added benefit of keeping the indoors cooler by blocking harmful UV rays before they can enter the home. That also helps prevent fading or damage to the interior parts of the home, such as flooring or furniture. Caparro says that according to a study by the American Society of Heating and Air Conditioning Engineers, "these awnings can reduce temperatures in homes and businesses during periods of direct sunlight by as much as 77 percent." Caparro says that overall, awnings can reduce air conditioning costs by as much as 25 percent.
Under the awning, it can be as much as 15 to 20 degrees cooler, adds Albert Mastrando, owner of Albert's South Jersey Wallpaper. That can be significant on an outdoor patio or deck. A motorized retractable awning is also quite convenient, he says. "It provides instant shade at the push of a button," Mastrando explains.
"Homeowners really appreciate the motorized control."
Because the awning retracts into a protective cassette, it is not subject to damaging weather, which gives it a much longer lifetime. Mastrando says that motorized retractable awnings are easy to use, and because the frames are made of powder-coated aluminum, they also won't rust. An awning can also have aesthetic appeal. "You can choose from a wide variety of designs and colors including stripes, solids, textures and more," Mastrando says. "There is something for every home."
Other options
If you're looking for more structure, a pergola adds aesthetic appeal while also delivering functionality. "It also adds dimension to a patio or deck by adding some height," says Peter Twaite, owner of Penumbra Designs. "It makes your living area a much more inviting spot and pulls people in, as it becomes the focal point of the space."
Because a pergola provides broken shade, Twaite says that some homeowners choose to grow vines such as grape or wisteria through the pergola so that it provides cover, while also offering a unique and attractive look. Adding a canvas canopy or even a motorized awning to the pergola has also become a popular option, Twaite says. If the canopy is positioned on top of a pergola, homeowners also have the option to add a motorized fan underneath to further help cool down the space.
The most expensive option, but one that also adds great value, is adding a structural roof to your deck or patio. A structural roof allows you to truly set up an outdoor living area that is protected from the elements. Some homeowners go as far as adding oversized couches and an outdoor television. A ceiling fan can also be affixed to the ceiling to both cool the space and help keep bugs away.
Randy McHenry, owner of McHenry Decks, says that although this option can be costly, it can add great value to the home and provide great benefit, as well. "I hear from many homeowners that although they like their deck, they don't get much use out of it due to the sun and heat," McHenry says. "Adding a roof covering is a great way to make your outdoor living space enjoyable any time of day. We all know that a great outdoor living space adds to the market value of your home. But in my opinion, it is more important to make the area an extension of your home that will add function and comfort for your own individual needs. For some people a covering can make all the difference in transforming a seldom used outdoor living space into the 'go-to' place during the summer months."
Get some shade
No matter what option you choose, the benefits of adding shade make it a worthwhile pursuit. Explore your options and find the best one for your budget and your space, and you'll find the effort will pay off. Keller sums it up well: "If you're going to invest in an outdoor living space, you want to be able to enjoy it," he says. "Adding shade will help you do just that."
RESOURCES
Albert's South Jersey Wallpaper
Haddon Hts., N.J.
(856) 546-5655
AlbertsWallpaper.com
Caparro Awning Company
Norristown, Pa.
(610) 416-0604
CaparroAwning.com
Frankford Umbrellas
Mt. Laurel, N.J.
(856) 222-4134
UmbrellasUSA.com
McHenry Deck Builders
Spring City, Pa.
(484) 369-1261
McHenryDecks.com
Penumbra Designs
Califon, N.J.
(908) 428-4137
PenumbraPergolas.com
Sequoia Supply
(Hatfield, Pa.)
Sequoia Out Back
(Warrington, Pa.)
(866) 650-DECK
DeckSupplies.com
Ultimate Patios
West Chester, Pa.
(610) 430-2171
UltimatePatios.com
Published (and copyrighted) in House & Home, Volume 15, Issue 1 (July, 2014).
For more info on House & Home magazine, click here.
To subscribe to House & Home magazine, click here.
To advertise in House & Home magazine, call 610-272-3120.
Article continues below
---
advertisement


---
Author:
Lindsey Getz
Archives
---
Family Fun
Live from the White House
Collingswood
Stepping Up to the Plate
Local Story
Lingering Questions
Still Fresh
Under the South Jersey Sun
Riverside Retreat
Against All Odds
Like a Girl
Going Her Own Way
Fall In
Aiming to Please
Walk of Fame: Natalie Hope Sommermann
More...